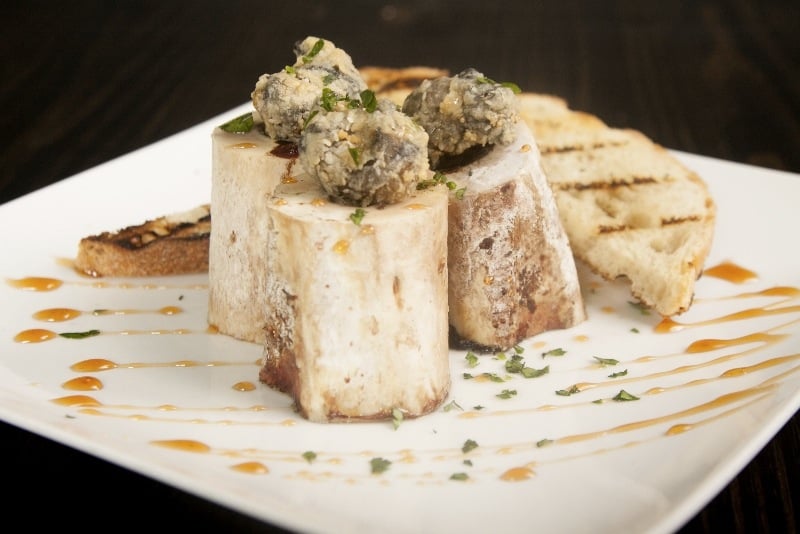 Bone Marrow and Escargot at Red Door
We're used to seeing buttery snails on menus at French restaurants, but lately the mollusk has been showing up in unusual places. On flatbread. Topping bone marrow. In grits. Whether you're a longtime snail fan, or want to explore them in an unfussy way, head to one of these spots for a new spin on escargot.
At Red Door, escargot are placed atop segments of bone, which are filled with roasted bone marrow. The dish comes with grilled sourdough bread, so you can make a little sandwich out of the marrow and escargot.
At Allium, the new bar menu includes flatbreads topped with escargot for a surprising take on pizza.
At Frog and Snail, the Southern-inspired dish Snails Y'all features a mushroom and snail ragout atop goat cheese grits and butternut squash.
For a more traditional preparation, Henri's Escargot Bourgogne includes snails with truffle brioche, garlic hollandaise, and preserved lemon.
Quince is hosting a Bressan wine dinner on Thursday, May 2 at 6:30 pm featuring four courses paired with wines. The starter is escargot, made with spring garlic, basil, mustard, and a savory cake, paired with Pinot Grigio.
Quince
1625 Hinman Avenue, Evanston
(847)-570-8400
Website
Red Door
2118 North Damen Avenue, Chicago
(773) 697-7221
Website
Allium
120 East Delaware Place, Chicago
(312) 799-4900
Website
Frog and Snail
3124 North Broadway, Chicago
Chicago, Illinois 60657
(773) 661-9166
Website
Henri
18 South Michigan Avenue, Chicago
(312) 578-0763
Website