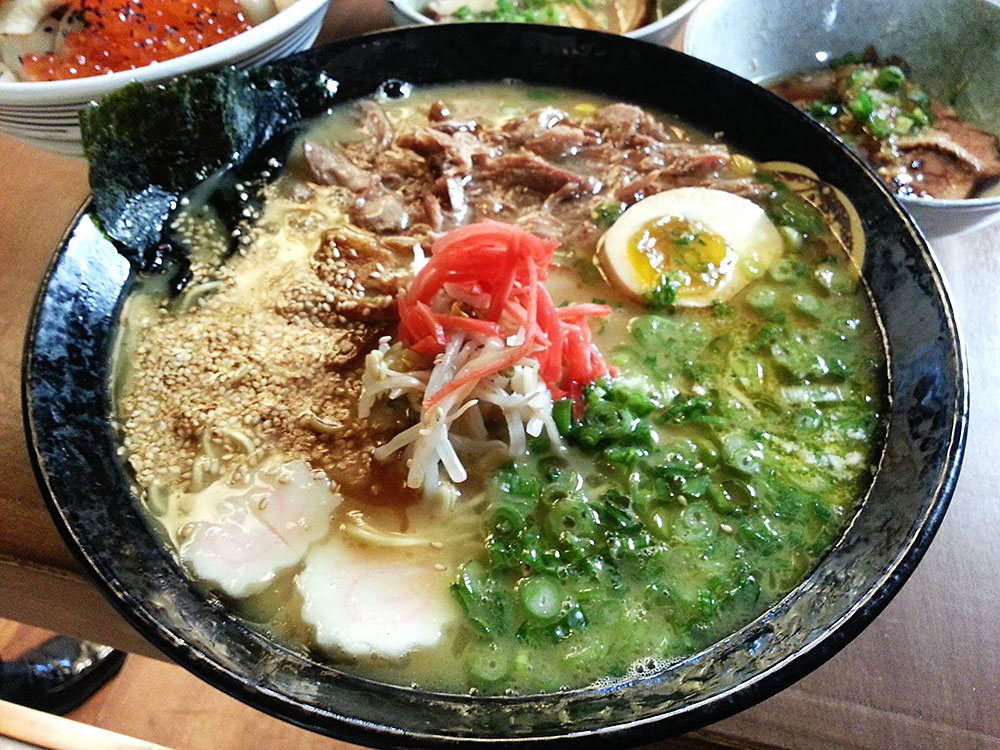 Strings Ramen Shop
Ramen fever shows no sign of dissipating anytime soon with ramen-centric menus launching citywide (and nationwide for that matter).
The first restaurant fervently dedicated to ramen is Strings Ramen Shop, a recent addition to Chinatown Square that takes the art of ramen to a whole new level. One slurp of Strings' stellar ramen and all memories of college-era starvation-induced noodles will be washed away. With the aid of an imported mixer and noodle-maker from Japan, guests can witness the ramen-making right before their eyes, as the dough progresses to thin, toothsome strands before taking a dip in broth. Going above and beyond the call of noodle duty, Strings features four styles of ramen: shio, tonkotsu, shoyu, and miso. Examples include the shio ramen laden with turkey, chicken, sea salt broth, scallion, red pickled ginger, cured fish cake, and boiled egg; the tonkotsu ramen awash with black garlic oil, fresh crushed garlic, sesame seed, scallion, fermented bamboo shoots, and a 48-hour black bore bone broth.
Another hot new entrant to the city's ramen gamut is Ramen-San, a flashy, brothy addition to the Lettuce Entertain You portfolio. Situated in a portion of the former Paris Club space (now Paris Club Bistro & Bar), Ramen-San is the result of tireless research, travels, and slurping by R.J., Jerrod, and Molly Melman, who traversed Japan exploring the world of ramen along with chef/partner Doug Psaltis. Traditional ramens with both classic and contemporary supplements are the name of the game at Ramen-San, which offers a concise menu of six ramens. It all starts with one of three housemade broths, one of four styles of seasonings, noodles made by Sun Noodle, and meats, which range from Berkshire pork belly to Bub City brisket. Optional toppings include kimchi, molten egg, and wakame.
One under-the-radar ramen standout is the brothless ramen being served at Big Bowl's Gold Coast location. The handiwork of Top Chef alum Patricia Yeo, who joined the restaurant group last year, and chef Marc Bernard, the menu has experienced a few notable additions over the past few months. One of which is a stellar riff on ramen. Inspired by her Malaysian upbringing, Yeo puts her own stamp on the noodle favorite with a savorous bowl of red cooked pork and greens.
Strings Ramen Shop
2141 S. Archer Avenue, Chicago
(312) 374-3450
Website
Ramen-San
59 W. Hubbard Street, Chicago
(312) 377-9950
Website
Big Bowl
6 E. Cedar Street, Chicago
(312) 640-8888
Website