Pumpkin (Spice)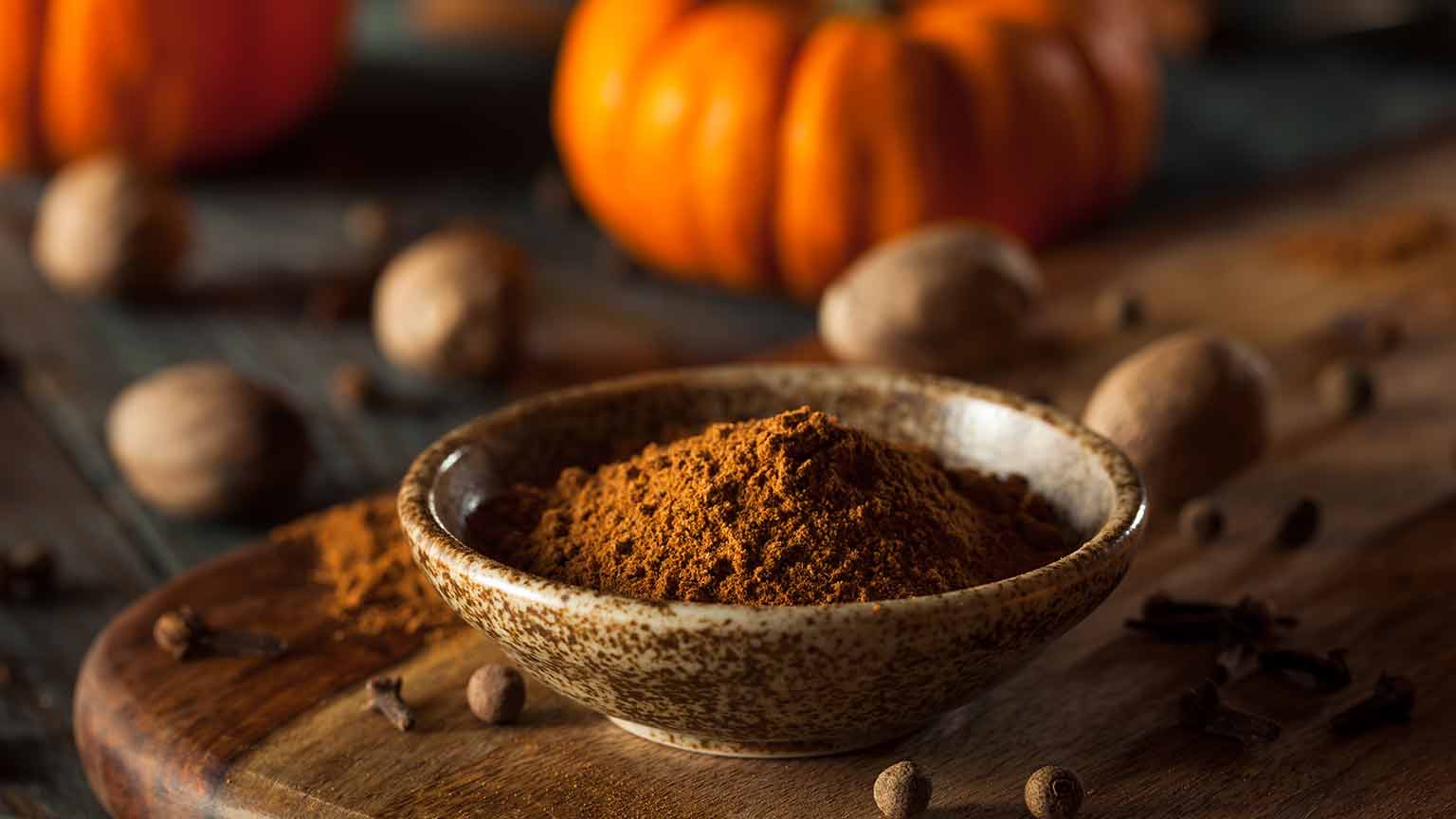 The word "autumn," of course, conjures up many universal images, especially to folks in the Northern Hemisphere: shorter days, muted colors, heading back to school, falling leaves, cooler temperatures, and heavy sweaters. To foodies, though, it means just one thing: pumpkin spice is back! In seemingly everything.
Pumpkin, which is part of the squash family, has been around for centuries; its seeds can be dated as far back as 7,000 BC and it is thought to have originated in Central America. Its name comes from the Greek pepon, which translates to "large melon." The French eventually changed it to pompon; the English called it pumpion, and it was colonists in the New World who finally settled on its current name. Native Americans prized pumpkin for its nutritional qualities (rich in fiber, potassium, and vitamin A), but also used components from it in their apparel and décor. The first white settlers were known to hollow out a pumpkin, fill it with honey, milk, and spices, and cook it over hot embers — this might have been a precursor to pumpkin pie. Pumpkins are grown on every continent save Antarctica, and its components have been used to treat everything from freckles to snake bites.
Ironically, many things that are labeled "pumpkin spice" today have little or no pumpkin in them at all. Rather, they incorporate "pumpkin pie spice," which came along in the 1950s and is a combination of cinnamon, ginger, nutmeg, allspice, and cloves. This bundled spice is sold in grocery stores as a unit, and can be used in many other recipes. And it is.
Who is responsible for the first pumpkin spice food item? Nobody knows, but recipes for pumpkin spice baked goods started cropping up in women's magazines in the 1930s, and by the 1990s, pumpkin spice coffee made its debut, possibly at a small roaster in Colorado. From there, it was only a short leap to the ubiquitous pumpkin spice latte, which was probably not invented but was certainly launched into the culinary stratosphere by Starbucks, whose sales exploded in 2004, the year it was introduced; upwards of 200 million of them have been sold since. (You know you have an iconic product when it becomes an acronym: PSL.)
Today, there are a staggering number of pumpkin spice-flavored products that arrive on the market every autumn, including but not limited to:
Chips, crackers, pretzels, bagels, cookies, donuts, snack cakes, cinnamon rolls, swirl bread, candy, breakfast cereal, oatmeal, trail mix, granola, energy bars, Pop-Tarts
Tea, sparkling juice
Milk, soy and coconut milk, yogurt, ice cream and gelato, cream cheese, dessert topping
Chewing gum
Garbanzo beans, hummus
Cooking spray, butter spread, peanut butter
Pasta, pizza
Protein powder
Alcoholic beverages, including vodka, Kahlua, Bailey's, Jell-O shot mix, moonshine, Kombucha
Marshmallows (Peeps!) and nuts
Salsa, burritos
Caramel corn, candy corn
Applesauce, pudding
Pet food and treats
And in the non-edible category: soap and body wash, candles, nail polish, hand cream, lip balm, toothpaste, deodorant, shampoo, facial masks, and makeup.
If you want to immerse yourself in all things pumpkin, you can visit the Pumpkin Capital of the World: Morton, Illinois, near Peoria. The governor issued this proclamation in 1978, because approximately 85% of the world's canned pumpkin comes from the Libby's pumpkin plant in Morton. The town's annual Pumpkin Festival has been held every September since 1967, attracting more than 70,000 visitors each year (doubling the town's population), and in 2012, Libby became the event's official sponsor. (What took them so long?) Don't miss Morton's "Punkin' Chuckin' Contest," where pumpkins are launched into the air with catapults.
And have some pumpkin pie (Illinois' state dessert!), because when you get right down to it, isn't that the point?
Happy fall!