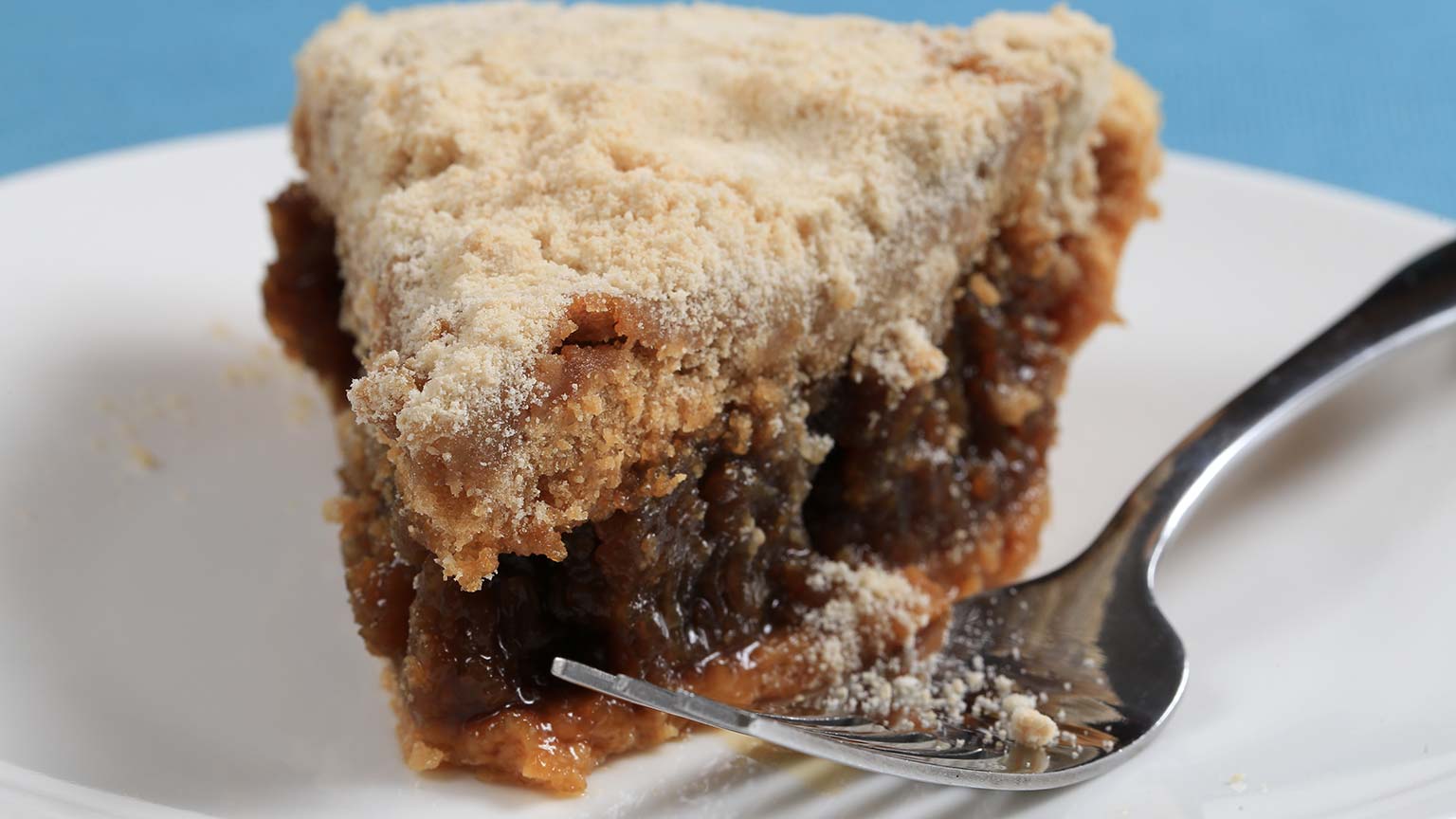 Shoo fly pie
"Shoo Fly Pie and Apple Pan Dowdy,
Makes your eyes light up,
Your tummy say "Howdy."
Shoo Fly Pie and Apple Pan Dowdy,
I never get enough of that wonderful stuff."
— Dinah Shore
The next time you find yourself in the Keystone State and you travel about an hour west of downtown Philadelphia, you will find yourself in another world — a beautiful place frozen in time and shrouded in mystery. A community where simplicity reigns, the people are reserved but friendly, and the food has a unique charm all its own: Pennsylvania Dutch country.
The name is ironic, as the area and its denizens have nothing to do with the Netherlands. The area should properly be called "Pennsylvania German," which refers as much to the dialect being spoken as the population's ancestry (the "Dutch" may have come from "Deutsch"). Even that is a bit misleading, as the original settlers in this area of southern Pennsylvania (circa the 18th and 19th centuries) were from countries speaking Germanic languages — not just Germany, but also Austria, Belgium, and Switzerland, among others. These new arrivals were not devotees of a unified religion, either, but included Lutherans, Mennonites, Hutterites, Moravians, and, of course, Amish, or "plain people," who have adopted a simple lifestyle that includes modest, nondescript dress; an appreciation for physical labor; and an avoidance of most modern technology. (Think the Harrison Ford film Witness.)
So, what about the cuisine? Given that this region is known for its rich and fertile farmland, you can expect to find (and will certainly want to patronize) plenty of stands selling locally harvested fruits, vegetables, and grains; natural, grass-fed beef, pork, and poultry; fresh dairy products; homemade jams and butters; and other foods that can be canned and frozen to be eaten later. By and large, the best way to describe a typical Pennsylvania Dutch repast is "comfort food," and tradition dictates that each meal contain "seven sweets and seven sours." In any event, you won't walk away hungry!
What are some quintessential Pennsylvania Dutch dishes? Aside from the cleverly named Shrimp Wiggle Esche Puddle (shrimp and peas in cream sauce) and the self-explanatory Chicken Corn Soup, here are a few:
Dandelion Greens with Hot Bacon Dressing — Speaking of "sweet and sour," this dish includes both — the leaves are slightly bitter, but the dressing, which is heated, includes sugar, bacon fat, apple cider vinegar, and mustard. Note that if you're going to gather your own dandelion greens for this purpose, make sure they are pesticide-free and get them before the dandelion blooms — they're not so edible after that. This tasty salad is served with crumbled bacon and hardboiled egg on top. Bonus: dandelion makes a great diuretic.
Schnitz un Knepp — Also in keeping with the "sweet and sour" theme, this dish translates to (tart) dried apples and (sweet) dumplings — these are combined with ham or pork shoulder.
Chicken Potpie (a variation is Bott Boi, which combines different meats) — Just as charitable organizations offer spaghetti dinners or pancake breakfasts, the Pennsylvania Dutch do the same with this hearty staple, which does not incorporate a crust but instead uses wide noodles. Essentially, this is more of a stew that includes chunks of chicken, potatoes, onions, and other vegetables in season.
Scrapple — The Pennsylvania Dutch definitely subscribe to the "nose to tail" philosophy, and scrapple is emblematic of this. A loaf is formed from buckwheat flour, cornmeal, savory spices, and scraps of meat left over from other dishes, so that nothing goes to waste. It is served sliced, usually for breakfast, with syrup. Also good for breakfast (and dessert!): apple dumplings, in which an apple is cored, peeled, stuffed with sugar and cinnamon, wrapped in pie dough, and baked. (Believe it or not, this was also once a popular item on the menu at Wendy's.)
Chow-Chow — Essentially, this is a mixture of various vegetables that have been pickled and canned. The dish is served cold, and its name comes from the French chou, or "cabbage."
Shoo Fly Pie — This is probably the best-known Pennsylvania Dutch dish out there — and if you've ever tried it, you know why! The ingredients are simple: brown sugar, molasses, butter, and water, which are mixed together until they become crumbly, and form a sweet, rich pie filling. There are two varieties: dry-bottom, where the molasses is mixed in with the other ingredients to give it a cake-like texture, and wet-bottom, in which there is a layer of gooey molasses underneath the crumbly mixture (presumably, this differs from Mary Berry's dreaded "soggy bottom," which is a bad thing). Where did this concoction get its name? When the pie cools on the window sill, flies have to be "shooed" away from its sweetness.
There are lots of other delicious things to try with unusual names: Bova Shankel, Fasnachts, Getulte Rinderbrust, Hog Maw, Hasenpfeffer, Zitterting, Leber Kloesse…but perhaps you should pay the area a visit, take one of the locals' famous buggy rides, and see for yourself!