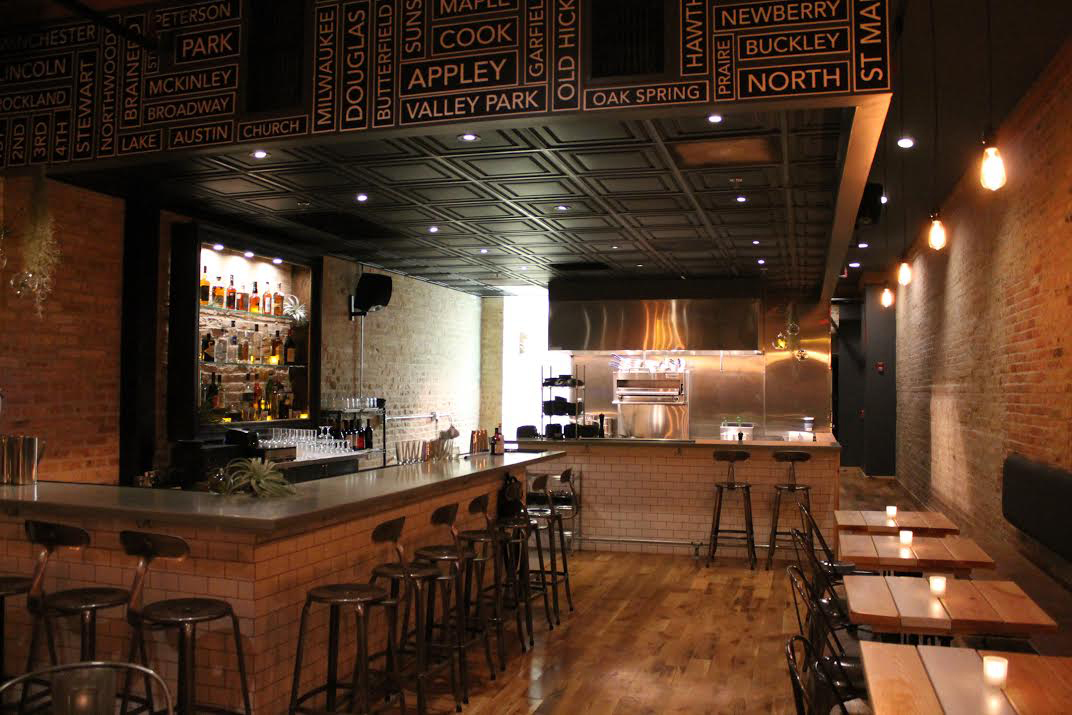 Milwalky Trace
If there's a reason to visit the suburbs for food, Milwalky Trace is it. A new restaurant in downtown Libertyville, Milwalky Trace is laden with contemporary American plates that run the gamut from lobster corndogs and French toast to Gruyère dip and dry-aged steak lush with brown butter. The food is courtesy of Lee Kuebler, a flower grower-cum-chef who honed his chops working with such culinary powerhouses as Michael Lachowicz and Michael Kornick. Now he's doing his own thing at Milwalky Trace, named after the former trail joining Chicago to Milwaukee. Amidst the throes of opening the new restaurant, Kuebler chatted about the inspiration for the restaurant, his background, his most important influencers, and more.
Matt Kirouac: What is your culinary philosophy and how does it manifest at Milwalky Trace?
Lee Kuebler: Food should be fun and delicious. I like to cook things that become a conversation piece at the table. There is nothing I love more than hearing my guests having a conversation about the food they are eating. I try to make food that is simple and approachable, food that really resonates with diners. This is the driving force behind the concept at Milwalky Trace. Serving shared plates really promotes our guests to interact with the food and their dining partners.
Kirouac: Tell us about your menu and your cooking style.
Kuebler: My background is classical French. This part of my cooking style will always be a part of who I am as a chef. Over time my cooking has become more ingredient-driven. I really enjoy getting beautiful product and letting it shine. As I grow as a cook, I keep my interest piqued by studying and learning culinary traditions from around the world and letting them influence my cooking. I love the simplicity of Spanish and Japanese food and the bold flavors of Vietnam, Thailand, and Mexico. All of these things are very apparent on my menu. I take all of these things and marry them with nostalgic American dishes and ingredients to create food that is both familiar and new.
Kirouac: How have your past experiences in kitchens prepared you to work at a place such as Milwalky Trace? Why is this a great fit for you?
Kuebler: I have worked in some very difficult kitchens (The Union League Club of Chicago, Restaurant Michael, Mexique, and most recently for Michael Kornick at Ada Street). I have had all sorts of curve balls thrown at me and learned how to adapt to any situation. I've had the luck of working with some extremely talented chefs and have been able to pull skills from each kitchen I have worked in to develop myself into the chef I am today. I owe everything to the chefs who have taken the time to train me. Milwalky Trace is a great fit for me because I molded it to fit my cooking and management style. I created a restaurant that I would regular.
Kirouac: What are your favorite things to make at Milwalky Trace and why?
Kuebler: I really like to make the French toast. It's two extremely thick cut pieces of baguette soaked in custard with vanilla bean and orange zest topped with berries and pure maple syrup. Just the smell makes me smile every time. It's also such a crowd-pleaser. It's so satisfying to cook and watch people enjoy. Cooking the dry-aged steak is also great. Nothing is more sexy than a piece of dry-aged meat coated in salt and cracked pepper being basted in brown butter with garlic and thyme. It really excites every sense for me; the sizzling of it being seared, the aroma of brown butter with garlic and thyme, and the color contrast between the dark brown crust and juicy red center when it's sliced. I only wish I could taste every one!
Kirouac: Why Libertyville?
Kuebler: I grew up in Gurnee, Illinois, so coming to Libertyville is a bit of a homecoming. A longtime family friend who is very involved with the community owns the space Milwalky Trace is in. When his last tenant left, he was excited about the work I was doing and thought opening a restaurant with me would be a great addition to the downtown area of Libertyville. It's a great location.
Kirouac: Tell us about yourself: how did you get into cooking and why did you decide to pursue it as a career?
Kuebler: I have always loved food and cooking. I loved helping my mom in her garden and was always by her side while she cooked dinner. I started working in restaurants when I was a teenager in the front of the house. I took a break from restaurants for awhile and went to school at The School of the Chicago Botanic Gardens. After that education, I became a commercial flower grower for a few years. I became obsessed with cooking as a hobby. At a certain point I was spending all of my free time and money cooking and I decided it was what I wanted to do for living. I went to school at Kendall College while working at The Union League Club of Chicago. I staged a lot, most notably at Mexique. Then I worked for two and a half years at Restaurant Michael in Winnetka, training under Michael Lachowicz. I really got my foundation here cooking classical French cuisine. Most recently I helped open Ada Street for Michael Kornick and David Morton; this is where I found my voice as a chef.
Kirouac: Who have been your most memorable influences in your career?
Kuebler: This is a tough question. I have had the fortune of having a lot of positive influences in my life. My mother has always pushed me to do what makes me happy over what makes me money. I owe her a lot for that advice. As far as my career goes, I have to give a shout out to Mark Leider, who owned the greenhouses where I was a flower grower. He gave me a great business sense. Michael Lachowicz gave me a foundation in French cuisine that is hard to find. No one cooks like he does anymore. He is a real craftsman. I also owe a lot to everybody at DMK Restaurant Group. Michael Kornick and David Morton taught me a lot about being a restauranteur and Zoe Schor, the head chef at Ada Street, provided me with a contemporary take on food and instilled in me the importance of food cost and management.
Kirouac: What's your favorite thing to eat/cook at home?
Kuebler: At home I like to braise meat. It makes the house smell amazing and it provides me with a base to make meals for the rest of the week.
Milwalky Trace
603 N. Milwaukee Avenue, Libertyville
(847) 530-7172
Website