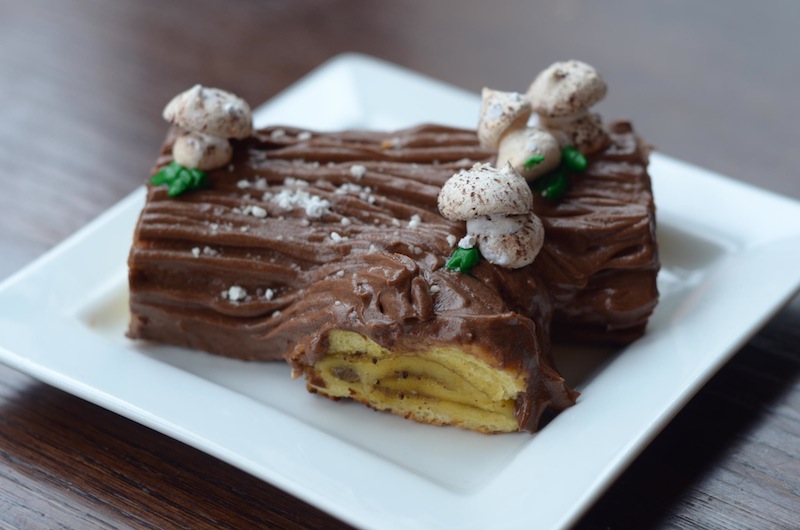 Glazed and Infused
Now that the holiday season is in full swing, it's time to treat your taste buds to a gift. Area restaurants and bakeries are offering special dishes, drinks, and events, but you'll have to act quickly to snag them before the season is over.
Doughnut shop Glazed and Infused puts a spin on a classic desert with miniature bûche de Noël doughnuts. The Yule log cake is a French treat, which consists of yellow cake with chocolate and hazelnut filling that's frosted to resemble a log. The doughnuts are $5 each and available December 17-23 by pre-order. Email sales@goglazed.com or call at (312) 226-5556.
Floriole is also offering bûche de Noël cakes, but they're less traditional than inventive. Try the lemon gingerbread chocolate, pistachio cranberry honey buttercream, or milk chocolate passion fruit
When you need a break from holiday shopping (or just from an afternoon at the office), head to the Christkindlmarket, where you'll find German treats like bratwursts and strudels, along with hot mulled wine that will chase away the chill. The market is open 11 a.m. - 8 p.m. daily through December 24 and until 9 p.m. Fridays and Saturdays.
Upgrade from the carton—The Bristol is whipping up a boozy eggnog made with cognac, rum, amaros, spices, cream, and eggs. At Grass Fed, you'll find a hot buttered rum, made with a house-infused pecan rum.
If beer is more your thing, Leopold is offering the 12 Beers of Christmas, with a list of holiday beers. There's a range of brews, from saisons to porters, and they come from as close as down the street in Chicago and as far away as Belgium. Leopold will offer a different beer on special every few days, so pop in to try them all.
City Winery's weekly Klezmer Brunch offers two opportunities to celebrate Hanukkah. On December 9 and 16, nosh on rugelach, kugel, challah French toast, a build-your-own latke bar, and other dishes. Tickets are $30, which also includes bottomless mimosas and Bloody Marys. Brunch runs from 10 a.m.-1 p.m., and klezmer music begins at 10:30 a.m.
Glazed and Infused
Various locations
312-226-5556
Website
Floriole
1220 West Webster Avenue
Chicago, IL 60614
(773) 883-1313
Website
Christkindlmarket
Daley Plaza
50 W. Washington Street
Chicago, IL 60602
Website
The Bristol
2152 N Damen Avenue
Chicago, IL 60647
(773) 862-5555
Website
Grass Fed
1721 North Damen Avenue
Chicago, IL 60647
(773) 342-6000
Website
Leopold
1450 West Chicago Avenue
Chicago, IL 60642
(312) 348-1028
Website
City Winery
1200 West Randolph Street
Chicago, IL 60607
(312) 733-9463
Website