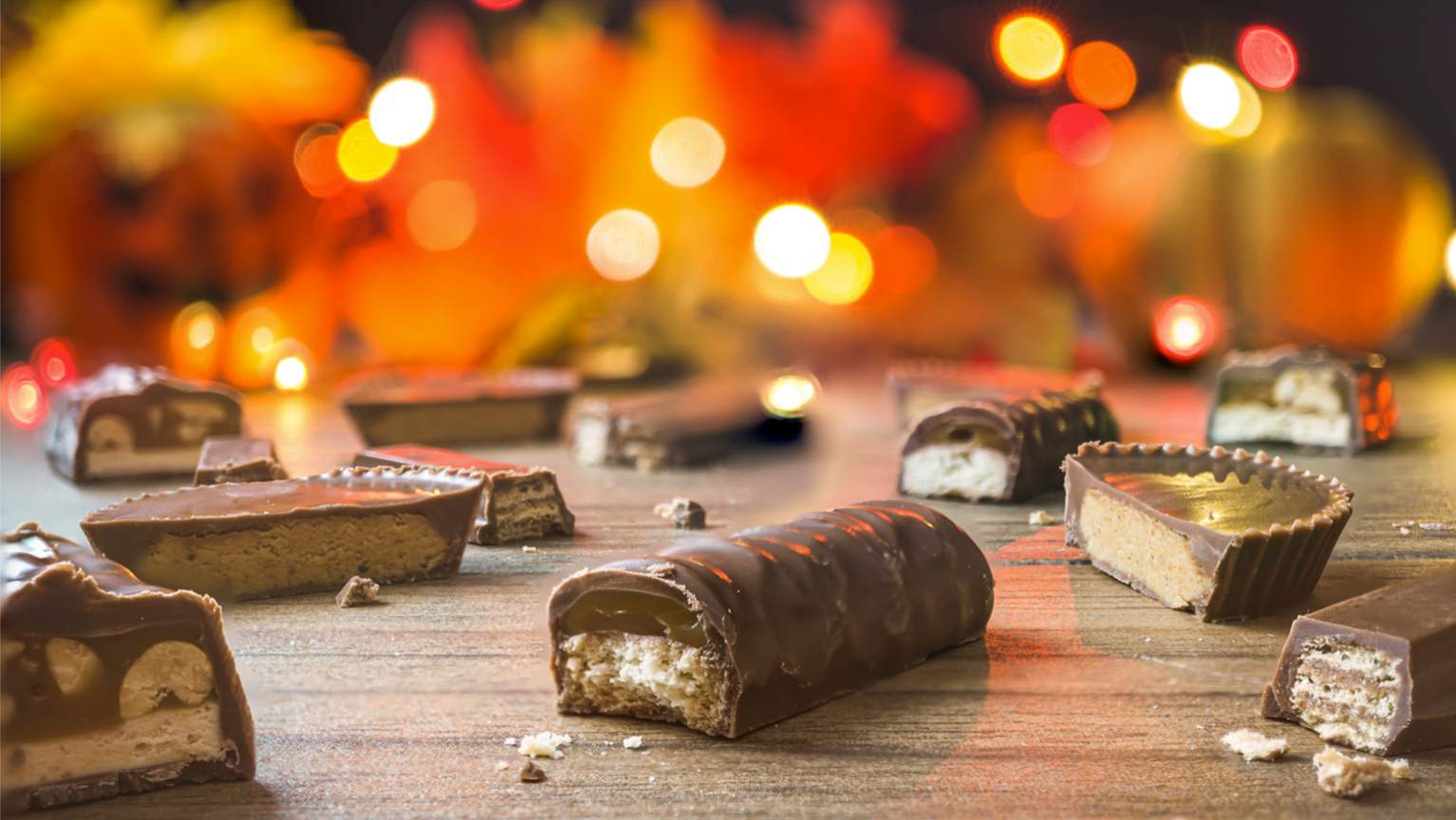 As usual, I went a little overboard with the Halloween candy this year and bought way more than I needed. I usually try giving the extra away, but most of my friends are bursting with their own surplus supply. I feel bad about throwing away perfectly good candy, but I know leaving it in the house will only lead to more temptation for me. Since I'm the queen of turning leftover food into more food, I thought, why not use them for baking?
As much as I love exploring Chicago restaurants, I also love to cook. I listen to podcasts or music and just tune out the world while I whip up a dish. It's a form of meditation for me, and I find the whole process very relaxing.
After experimenting with a few recipes, I decided that the easiest and most delicious way to use up leftover Halloween candy is by making blondies. A blondie is a sweet dessert bar similar to a brownie, but made with brown sugar and vanilla in place of the cocoa. Like a brownie, it is baked in a pan and cut into squares. You can add almost anything to a blondie — pretzels, nuts, and yes, Halloween chocolates of all kinds.
This recipe produces a bar that is about a 1/2 inch in height. The browned butter sounds a lot more complicated than it really is; just keep your eye on it so it doesn't burn!
I guarantee that if you make these blondies, nobody is going to turn one down and, you'll start looking forward to having leftover candy!
Halloween Candy Blondies
Makes 16 (1-inch) squares
Total Time: 40 minutes
Ingredients
1 stick of unsalted butter
1 cup light or dark brown sugar
1 large egg
1 teaspoon vanilla extract
1/4 teaspoon kosher salt
1 cup all-purpose flour
1-1 1/2 cups Halloween chocolates of your choice (my favorites are Hershey's, Reese's Peanut Butter Cups, M&M's, and Heath Bars)
Directions
Heat oven to 350°F. Butter an 8×8-inch baking pan.
Melt butter in a small saucepan, stirring occasionally, until it becomes toasty, browned at the bottom, and has a nutty aroma . Pour into a medium or large bowl and whisk in sugar until smooth. At this point, it should be cooled to lukewarm, but if it's not, let it rest for a few minutes, then whisk in egg, vanilla, and sea salt. Stir in flour and Halloween chocolates of your choice.
Spread batter into prepared pan and smooth with spatula; the batter will be thick. Bake for 20 to 25 minutes, until lightly browned at edges but looking a tiny bit under-baked. Let blondies cool in pan. Turn them out onto a board and cut into 16 or more squares.
You can also double the recipe and use a 9x13 pan.