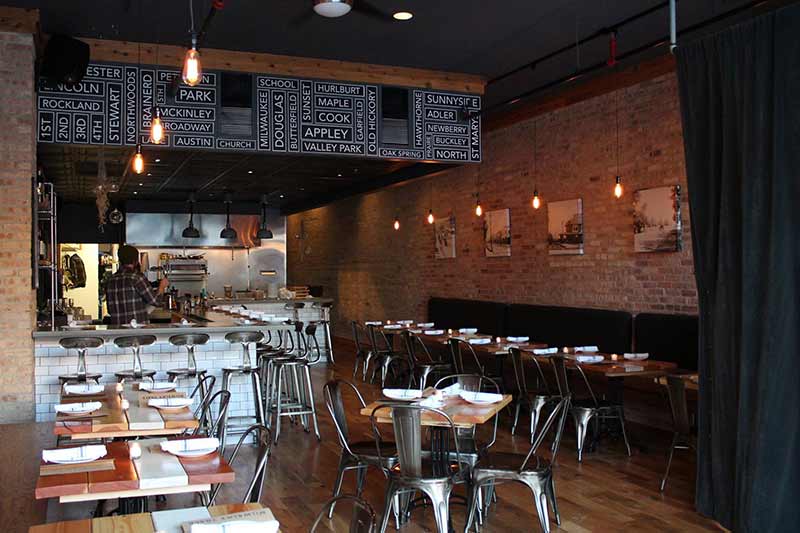 Hello! The suburban restaurant scene has sometimes gotten a bad rap for being stale, full of chains, or just unoriginal. But these days, many top chefs are bringing their unique flair to the 'burbs, inspiring city-dwellers to venture out. One such restaurant is Milwalky Trace in Libertyville, north of Chicago. This week, I spoke to its chef/owner Lee Kuebler about his cooking, restaurants, and why he decided to pack up his knives and head to the suburbs. Here's what he had to say:
Cat: What is your culinary philosophy and how does it play out in your menu?
Kuebler: My culinary philosophy evolves as I learn and mature. I would say the theme that is central to my philosophy is "keep it simple." My Chef de Cuisine and I shop at the farmer's market three times a week during the market season and order winter produce from local farmers throughout the winter months. I use the best ingredients I can, pair them with just a few flavors that make sense, and focus the rest of my efforts on execution. I don't try to reinvent the wheel, or make food that is overly fussy with dozens of ingredients. My background is in French cuisine, so I draw from that, and use flavors and techniques that are a more relevant to today's tastes and preferences. I basically make food that I would be excited to eat.
Cat: You have worked for some great chefs before you broke out on your own. Tell us about your experiences and some of the highlights.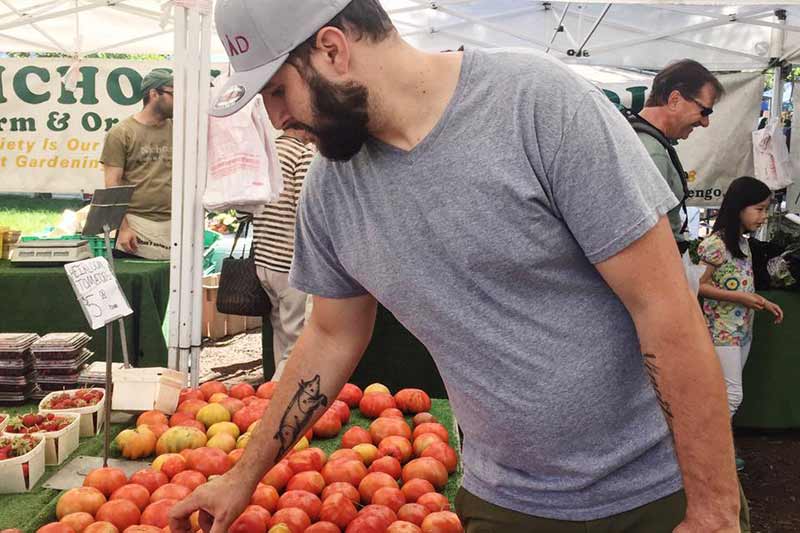 Chef/Owner Lee Kuebler
Kuebler: I have been very lucky to work for some incredibly talented chefs. While I was still in culinary school I had the pleasure of working for Chef Michael Garbin at the Union League Club of Chicago. While working there, in the banquet kitchen, I was able to learn some fundamentals that have stayed with me throughout my career. When cooking for events of up to 1,200 people, you learn speed, efficiency, and time management. I got a lot of practice through repetition that I feel really catapulted me past many of my peers.
I was also blessed to work for Michael Lachowicz who is, in my opinion, one of the most talented chefs in Chicago. With Chef Lachowicz, I learned the reasons why French cuisine is so important in this industry. He has spent his life studying and perfecting French cuisine. He uses no tricks, chemicals, or modern cooking equipment. I truly believe I received an education from him that very few cooks outside of France get. For three years, I honed my skills cooking Escoffier-era French food, which gave me an understanding of how food behaves when certain techniques are applied to it.
Most recently, I was able to help open Ada St. with Chefs Michael Kornick and Zoe Schor. During my tenure there, I learned how to be a manager and run not only a kitchen, but an entire restaurant. DMK Restaurant Group does a great job training well rounded managers, and they are very supportive of their employees' ambitions. Chef Schor helped me learn how to manage people and inventory while Chef Kornick is an expert on the hospitality side of the business. All of this training was invaluable to my running my own establishments.
Cat: Milwalky Trace could just as easily be in downtown Chicago. Why did you decide to leave the city to open a place in the suburbs? And why Libertyville?
Kuebler: This is a great question. At the time, I felt that good dining and the atmosphere of a Chicago restaurant were missing in the suburbs. My investors agreed that the concept of Milwalky Trace filled a niche in downtown Libertyville. I really wanted a small neighborhood restaurant where I could cook seasonal, market driven food. I felt that Libertyville was the perfect place full of people who were looking for honest food that was local, sustainable, and cooked by someone they knew. My favorite thing about being outside of the city is that I am on a first name basis with most of my guests. I wanted the opposite of a big anonymous restaurant and I was lucky that Libertyville received me with open arms. Being a part of a community is something I feel was missing in my life living and working in Chicago. I have that here.
Cat: You also own another place next door to Milwalky Trace. Tell us a bit about Milwalky Taco.
Kuebler: Over the past decade, I fell in love with Mexican food and culture. Unfortunately, Mexican food often gets modified to appeal to the American palate. I wanted to open a place that served very traditional tacos to show people bold and true flavors. We make our own corn tortillas in-house and the kitchen has a wood-fired grill that gives all of our food a rustic and authentic flavor. From the grilled meat that goes into our tacos, to tomatoes, tomatillos, and dried chiles that make our salsas, just about everything on the menu touches that grill in some way and gives all the food a hint of smoke and wood. We pair that with an outstanding cocktail program full of fresh juices and carefully selected spirits. Milwalky Taco also has a robust whiskey, tequila, and mezcal list and a beer tap full of custom brews and limited releases along with classic Mexican beers. It's the perfect neighbor for Milwalky Trace!
Stay tuned next week for three more great restaurants and some more inside dish right here on my blog!
Cheers,
Catherine
For an additional serving of inside dish follow Catherine on Instagram @catdeorio and Twitter @CatCalls.