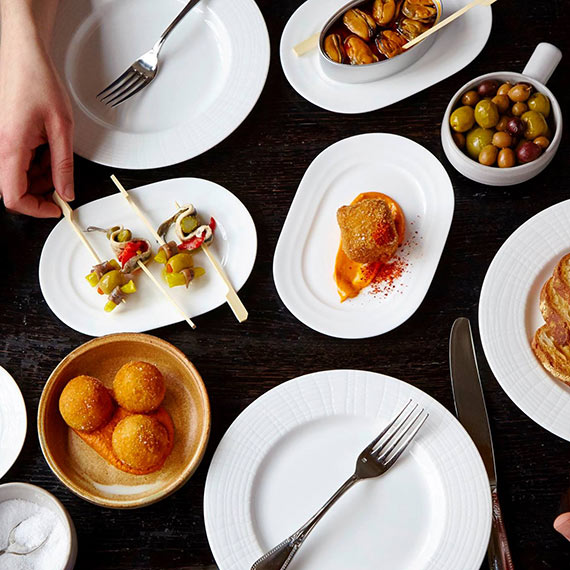 Pintxos at Salero
Hello! This week, we had some great guests and three unique restaurant selections that will have you traveling all over town. We take you to Salero in the West Loop, Izakaya Sankyu in Mount Prospect, and Tiztal Cafe in Ravenswood. This week I spoke with executive chef Ashlee Aubin about Salero and Basque cuisine. And since I love watching new episodes of Check, Please! with a cocktail in hand, Salero bar manager Suzie Whitacre shared a recipe for a Spanish-style gin tonic. Here's what they had to say:
Q. The cuisine at Salero is Spanish with heavy Basque influences. Can you talk about the characteristics and flavors of Basque cuisine?
Ashlee Aubin: Basque cuisine is heavily influenced by its spot on the Atlantic Ocean. Basques are known for their immaculate seafood... bonito (tuna), salt cod, sardines, anchovies, and sole. They are famous for preserving (canning and salting) their seafood.
Q. Which dishes on the menu are most representative of Basque cuisine?
Ashlee Aubin: Our pintxos are very traditional. Basques love to snack on small tapas while enjoying a drink. We serve anchovies, grilled peppers, and fried croquettes, which all go very well with sherry and Basque cider.
Q. When most people think of Spanish food in the States, they immediately think of tapas. Salero is not a traditional tapas restaurant, though you do serve some…as well as pintxos, Basque-style tapas, in the bar. Can you talk a bit about the culture of pintxos in Spain, and some of the other bites at Salero?
Ashlee Aubin: We serve tapas and pintxos. The main difference between the two is size. Pintxos are fast, small, finger food. No fork necessary! Tapas are a little more substantial. Being able to try lots of little bites makes Spanish food great for sharing. You can easily try seven or eight different flavors.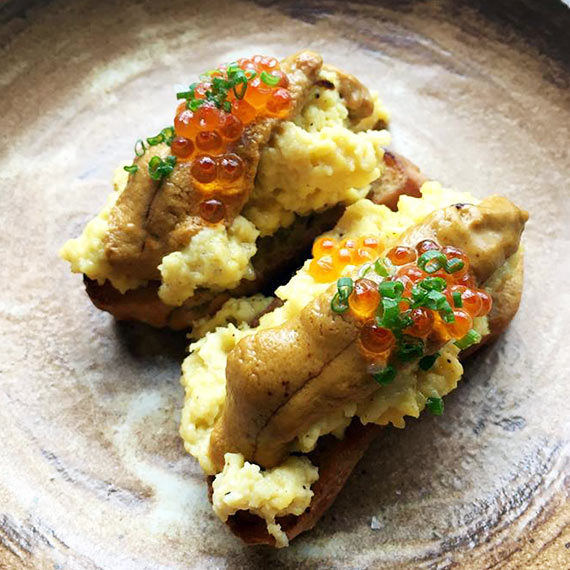 Pintxos
Q. I am a huge fan of the gin and tonics at Salero. Most people don't know that "gin tonics" – as the Spanish call them – are a big part of the drinking culture in Spain. Can you tell us what makes a Spanish gin tonic different than the American gin and tonic?
Ashlee Aubin: The beautiful thing about gin tonics in Spain (and at Salero) is that the ingredients are of the highest quality. Many types of premium gins are mixed with just enough artisanal tonic and garnished with fresh herbs, vegetables, or fruit. We make house infusions with cucumber, lemongrass, ginger, and spices to provide variations on the theme. Gin tonics are also one of the most food-friendly cocktails due to the sweet and sour balance.
Gin & Tonic #1
Recipe provided by Suzie Whitacre, Bar Manager at Salero
Ingredients:
2 oz. CH Death's Door Gin
1 oz. Sherry Quinine Syrup
2 oz. Tonic
.5 oz. Lemon Juice
.25 oz. Licor 43
Garnish:
Express and Discard Lemon Peel
Method:
Combine ingredients in a wine glass, add ice, garnish, and serve.
Sherry Quanine Syrup
Ingredients:
3 cups Manzanilla Fino
1 cup Water
.25 cup Powdered Chincona Bark
Zest of 1 Lemon, 1 Orange, 1 Lime
1 tsp. Allspice
.25 cup Citric Acid
1 tsp Kosher Salt
1 cup Lemongrass
Method:
Simmer 20 minutes. Strain out solids, then restrain through coffee filters until the liquid runs through easily. Then reheat on the stove and add .75 cup of Manzanilla Sherry and .75 cup of sugar per 1 cup of initial liquid. Heat until sugar is fully dissolved and the syrup has a deep clear gold color. Cool before using.
Stay tuned for some more inside dish right here on my blog!
Cheers,