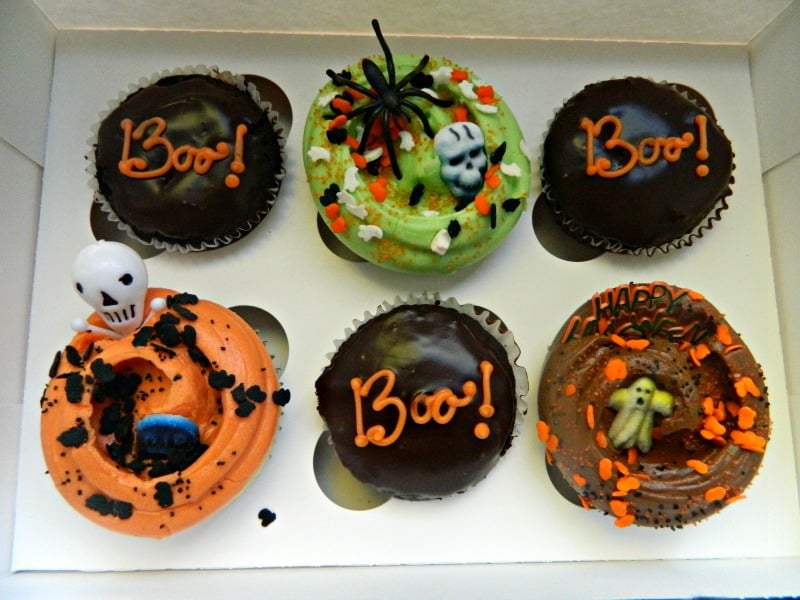 Whether you spend October 31 taking the kids trick-or-treating or dressing up yourself, it's a day for carving pumpkins, wearing orange – and eating anything but one more mini candy bar. Chicago restaurants are offering a wide range of events and specials, so you'll be able to give your taste buds lots of treats.
DMK Burger Bar has a special burger that's available through October 31. The Bloody Burger is topped with steak tartare, garlic aioli, a fried egg, salt and vinegar chips, and is wedged between garlic bread. Add a Bloody Mary to your order for $3.
Prasino is holding a trick-or-treat family dinner at 6:00 pm at their Wicket Park location. For $10, kids will get Halloween macaroni and cheese and a kiddie cocktail. Parents can sip a specialty cocktail garnished with raspberry candy corn, and everyone can paint pumpkins. For reservations, call (312) 878-1212.
$2 burritos? Chipotle is offering customers who come to the restaurant in costume $2 burritos, bowls, salads, or tacos. Up to $1 million in proceeds from the promotion benefit the Chipotle Cultivate Foundation.
Sweets are a must for Halloween, and Magnolia Bakery has vanilla and chocolate cupcakes decorated with colored frosting, sprinkles, and Halloween decorations. For more adult tastes, pumpkin pecan bars are a cross between two favorite fall pies.
Hash House A Go Go is offering two special cocktails for the holiday. The Spice Goblin is a play on the pumpkin spice latte and combines house-infused pumpkin spice tequila, ginger beer, and a cranberry sugar rim. Dracula's Mary twists the traditional Bloody Mary with fresh basil and red wine. It's garnished with a rosemary sprig and meat loaf cubes – yes, you read that right.
Ada St. will be screening "Halloween" at 10:00 pm. They're serving popcorn and candy, and if you're wearing a costume, you'll get half off your drinks. The best costume wins a $100 gift card.
If beer's more your thing, Smallbar Division is offering five pumpkin beers on draft. The list includes Southern Tier Pumking, Shipyard Smashed Pumpkin, and Jolly Pumpkin La Parcela.
And if you're looking to celebrate the Mexican holiday the Day of the Dead, head to Mercadito for the La Muerte cocktail, which is available now through November 3. It's made with tequila, prickly pear puree, and has an ancho chile powder salt rim.
DMK Burger Bar
2954 North Sheffield Avenue
Chicago, IL 60657
(773) 360-8686
Website
Prasino
1846 West Division Street
Chicago, IL 60622
(312) 878-1212
Website
Chipotle
Multiple Locations
Website
Magnolia Bakery
108 North State Street #128
Chicago, IL 60602
(312) 346-7777
Website
Hash House A Go Go
1212 North State Parkway
Chicago, IL 60610
(312) 202-0994
Website
Ada St.
1664 North Ada Street
Chicago, IL 60642
(773) 697-7069
Website
SmallBar Division
2049 West Division Street
Chicago, IL 60622
(773) 772-2727
Website
Mercadito
108 West Kinzie Street
Chicago, IL 60654
(312) 329-9555
Website