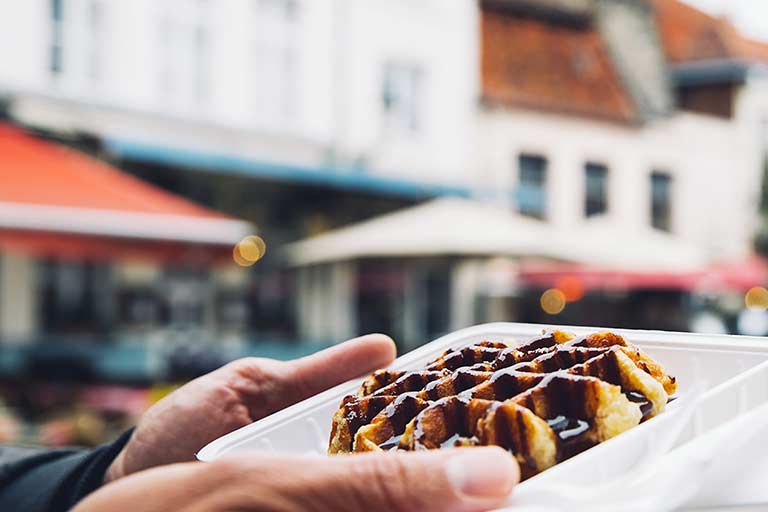 "What you say when you're drunk should have been thought about beforehand."
— Belgian proverb
The Kingdom of Belgium, a small country approximately the size of Maryland, is located in western Europe, squeezed in between France and Luxembourg to the south, Germany to the east, and the Netherlands (of which Belgium was once a part before declaring its independence in 1830) to the north. Its northwest corner, for about 41 miles, borders the North Sea. Undeservedly, Belgium tends to be overshadowed by its much flashier neighbors, which is too bad because the country has a lot to recommend it, especially from a culinary standpoint. Just consider: Belgium is known internationally for four things that most people absolutely love: chocolate, waffles, beer, and fries.
Like so many other regions, Belgium's cuisine is heavily influenced by the countries it borders, and it is sometimes said that its culinary tradition combines the quantity of German food with the quality of the French. A win-win, right? Let's look at the country's most popular exports, and some other quintessentially Belgian specialities. Starting with…
What other dishes are popular? Here are a few quick hits:
Carbonnades Flamandes. A meat dish very similar to Beef Bourguignon, but with beer substituted for the burgundy. Of course.

Filet Américain. This, essentially, is steak tartar, but mixed with a special sauce made from mayonnaise, ketchup, onions, celery, capers, and chervil. Tastes better than it looks.

Waterzooi. This is a savory fish stew, often made with chicken instead.

Boudin blanc. This is a white sausage with lots of milk added, which gives it a silky texture and mild flavor. It's usually served with a fruit compote or mashed potatoes (you can pretty much expect these with almost everything).


Boudin blanc
If you don't like the cuisine here, Paris is only about an hour away by train. But everyone will surely find something to love in friendly and easygoing Belgium — the country's sense of humor is embodied in its most beloved tourist attraction, a Brussels landmark called Manneken Pis that is often garbed in seasonal costumes. See what we mean?