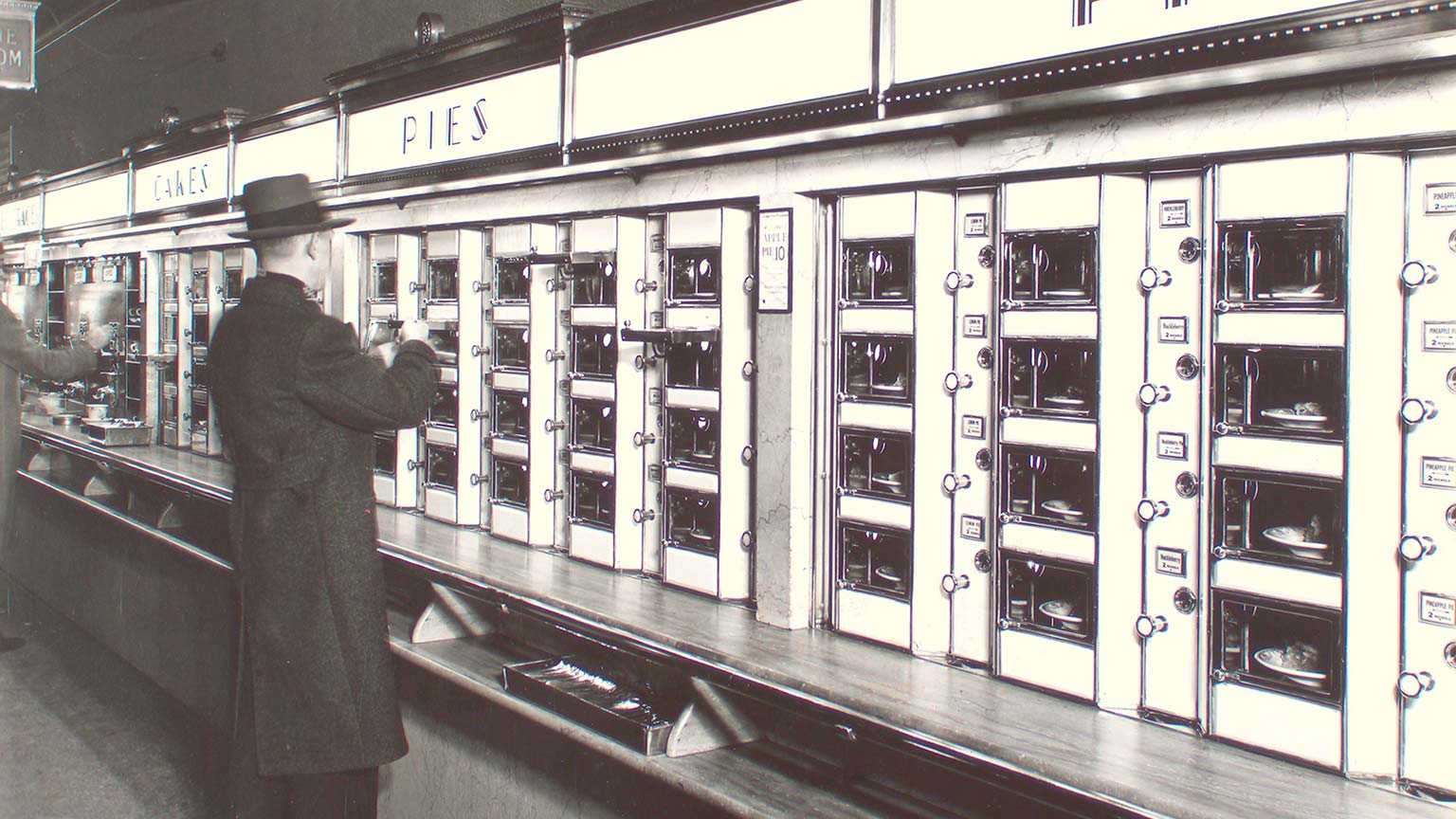 An automat in Manhattan in 1936
"A kiss on the hand may be quite continental
But diamonds are a girl's best friend
A kiss may be grand…but it won't pay the rental on your humble flat
Or help you at the Automat…"
— "Diamonds are a Girl's Best Friend," Gentlemen Prefer Blondes
"The Automat! The Maxim's of the disenfranchised."
— Neil Simon, playwright
Imagine, for a moment, that it's sometime during the first half of the twentieth century, a time when a nickel had a buffalo on it and was worth almost a dollar in today's money. You are a single person of very modest means residing in the heart of a big city. Maybe you're on a break from your office job, or perhaps you're unemployed or an aspiring actor or a struggling musician.
All you want is a very cheap, filling meal and a cup or two of strong coffee. You want your food instantaneously, in a clean, respectable place where it's socially acceptable to dine alone and nobody minds if you linger. And it's an era before fast food chains existed as we know them today. Where do you go?
The Automat! What was that, and how did it come to be?
Sometime in the 1890s, Philadelphia luncheonette owners Joe Horn and Frank Hardart took at trip to Germany, where they marveled at a new innovation: a fully "automatic" restaurant where the food was vended rather than served, eliminating the need for waitstaff and moving satisfied customers through quickly. Having already perceived an increasing need for lunchtime speed in their own restaurant back in Philly, Horn and Hardart opened the first U.S. Automat at 818 Chestnut Street in 1902.
Patrons would make their way into a bustling dining hall — shiny marble floors and counters, gleaming chrome, polished wood — where the walls were lined with row upon row of little glass doors (not unlike a post office) with servings of freshly prepared food behind them — a plate of pot roast, a piece of pie, a ham sandwich, a bowl of soup or cole slaw or Jell-O, a roll and butter.
Each door had a corresponding coin slot, and as you entered, you'd stop off at a cashier who deftly converted your cash into nickels (later, tokens). You'd locate what you wanted, insert your nickel(s) into the slot, turn a knob and its glass door would click open. You would then retrieve your choice and make your way to a table. Instantly, a new plate of food would appear behind the empty window, placed there by some unseen person in the busy kitchen behind the wall. Strong coffee (also a nickel until the early 1950s and brewed at 20-minute intervals) streamed from silver dolphin-shaped spigots inspired by some that Horn had admired in Italy.
The food was prepared with care each day using fresh ingredients, served on real ceramic plates with metal cutlery, and nothing was left over. It was the perfect spot for harried office workers to grab a quick bite on their lunch hour, and it also attracted families with small children who were enchanted by the "magic" windows.
It took 10 years for the Automat to make its way to New York City's Times Square, but it was a hit once it got there, especially during Prohibition. At one point, despite the complaints of a few dining purists who saw the Automat as a sign of civilization's decline, the Horn & Hardart franchise was the biggest chain in the world, with upwards of 80 establishments around the East Coast and Mid-Atlantic areas. An Automat did exist in Chicago (likely on Van Buren Street in the Loop), but Chicagoans didn't really cotton to it as Easterners did.
Eventually, the fast food chains took over, and even the Horn & Hardart Company caved, converting many of their establishments to Burger Kings, Arby's, and Bojangles chicken restaurants. The last Automat, located in New York City, closed its doors in 1991. Happily, part of Horn & Hardart's original Philadelphia establishment is preserved at the Smithsonian.
Want to see the Automat in action? Luckily, it was featured in several films, including the 1937 screwball comedy Easy Living; the 1952 film Just This Once; and perhaps most famously, the 1964 comedy That Touch of Mink, where we even get a glimpse into the kitchen as attendant Audrey Meadows slips food through the window to her roommate Doris Day.
Naturally, today there are plenty of different kinds of stand-alone food vending machines, but the classic Automat is sadly a thing of the past — in America, at least; a chain in the Netherlands seems to have embraced the concept. Although it must be said that "Snackomatic" doesn't have quite the same retro charm!