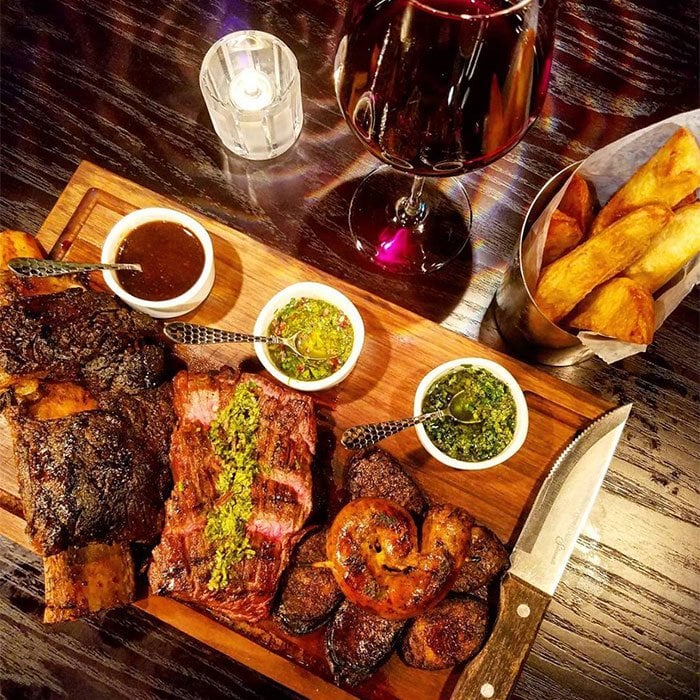 To the uninitiated, Argentina is the South American country depicted in Andrew Lloyd Webber and Tim Rice's Broadway musical Evita (in which its late legendary First Lady Eva Peron famously admonished her subjects not to cry for her), and for the passionate (and impossibly athletic!) Argentine tango. Also, it's the only nation in the world that is named for a precious metal (silver, or "argentum.")
But as is always the case, there is a lot more to it than that. As the eighth largest country in the world encompassing a vast area of the southeast region of the continent), Argentina has something for everyone, geographically speaking: plains (the pampas), wetlands, mountains (the Andes), beaches, waterfalls, jungles, and islands (the Falklands); big cities (Buenos Aires) and small towns; and, given that it boasts both deserts and glaciers, visitors should prepare for major extremes in temperature.
Given the many immigrant groups over the centuries who found a home there, Argentina's delicious cuisine is as varied as its topography, but it's safe to say that one food is very much a big part of everyday life: beef, beef, and more beef, cooked on a grill (a method, and a dish, known as asado). According to Wikitravel, Argentina and its close neighbor Uruguay are "the top two countries in the world in consumption of meat per capita."
How did Argentina's love affair with beef come to be? It appears to date back to the 1500s with the arrival of Spanish settlers who brought their cattle with them to their new country, and they must have been pleased to discover that the pampas were such a perfect "home on the range" for their herds. Naturally, not having high-tech cooking equipment at their disposal, they found that with a little wood, a little fire, a spit, and some homegrown seasonings…¡ahí está! Steak was on the menu.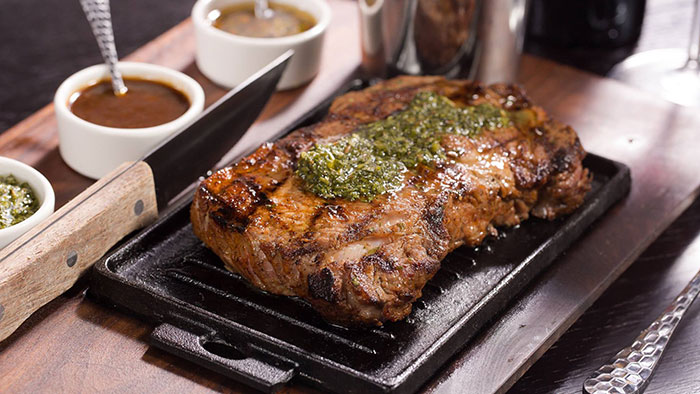 Artango Steak with Chimichurri
Over the years, the grilling of all this meat has been elevated to an art form; renowned Argentine chef and restaurateur Francis Mallmann, in his aptly titled book Seven Fires: Grilling the Argentine Way, outlined seven different methods of grilling over a flame (again from Wikitravel): "parilla (barbeque), chapa (cast-iron griddle or skillet), infiernillo (little hell), horno de barro (clay oven), rescoldo (embers and ashes), asador (iron cross), and caldero (caldero)." Beef (steaks, ribs), pork, lamb, goat, fish…all are enthusiastically consumed with a chimichurri sauce composed of herbs, garlic, and vinegar.
Also popular – in Argentina and elsewhere – are empanadas, small savory pastries that are stuffed with a variety of fillings – a combination of meat, corn, cheese, spices, and many others, with accompanying sauces and other condiments. There are many places in Chicago to sample this perfect example of South American "street food."
Given the country's cultural diversity, other immigrant groups have certainly left their mark on Argentina's cuisine – Italian influences, for example, are rampant…Argentinean-style pizza (with lots of cheese); lasagna, spaghetti, and other pasta concoctions are readily available and popular. And surprisingly, the British passed on their love of afternoon tea – still customary in a country where dinner is eaten late in the evening. To tide you over until then, instead of English scones and crumpets, you might be served small ham-and-cheese sandwiches known as tostados.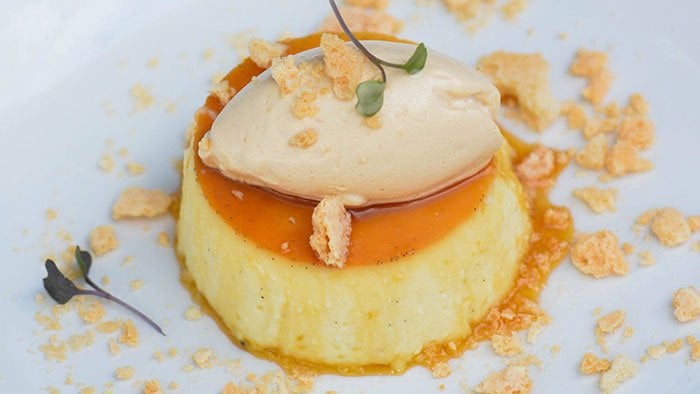 Artango Flan Dulce de Leche
Dessert in Argentina generally includes dulce de leche – an all-purpose caramel-flavored paste that is used in a fashion similar to Europe's Nutella -- as a spread on toast, and a filling in pastries, pancakes, cakes, and the very popular Alfajor, a sandwich cookie sold under many different brand names, all favored by Argentineans. The ice cream here is a close cousin to Italy's gelato – thick, rich, and flavorful.
How about a nice local libation with all of that food? Argentineans love yerba mate (think coffee, only herbal and not quite as caffeinated), or you can hit a Havanna (Argentina's version of Starbucks), or sample one of the country's fine wines – perhaps from Mendoza, one of the most popular wine regions in the world due to its proximity to the Andes. You might also try Fernet, a dark bitter herbal drink that originated in Italy and is often mixed with regular (never Diet!) Coke.
As is probably obvious, there is a lot of see – and eat, and drink – in Argentina. And if need to work off those calories, there's always the tango!