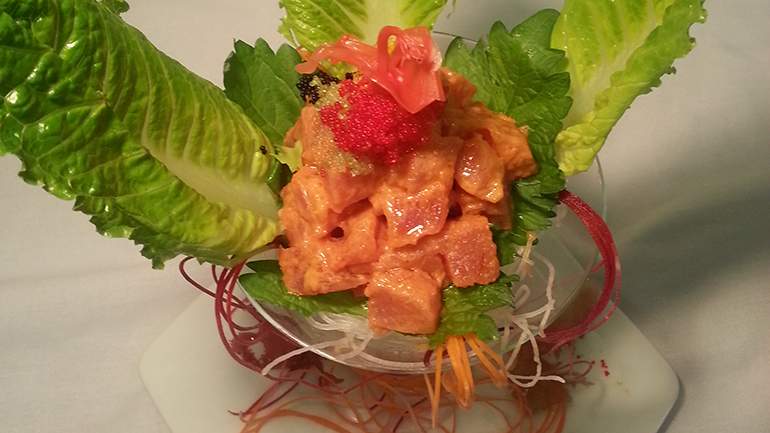 Chef: Frank Wu
Ingredient List:
4 ounces of yellow fin tuna, sashimi grade
2 teaspoons of mayonnaise
¼ teaspoon of chili oil
Pepper paste
Pepper power
1 teaspoon of tobiko
1 teaspoon of ponzu sauce (recipe below)
Shredded beet
Shredded daikon
Romaine lettuce
Ponzu Sauce:
8 ounces of rice vinegar
Soy Sauce
Lime Juice
Directions:
Put mayonnaise, chili oil, pepper paste, pepper power, into a bowl. Mix them until all ingredients are smooth and thick.
Chop the tuna and toss them until it is thoroughly combined with the prepared sauce.
Prepare a chilled martini glass. Layer the bottom of the glass with shredded beet and shredded daikon.
Put the spicy tuna mix on top of the shredded vegetables, sprinkle the tobiko on top and garnish with romaine lettuce.