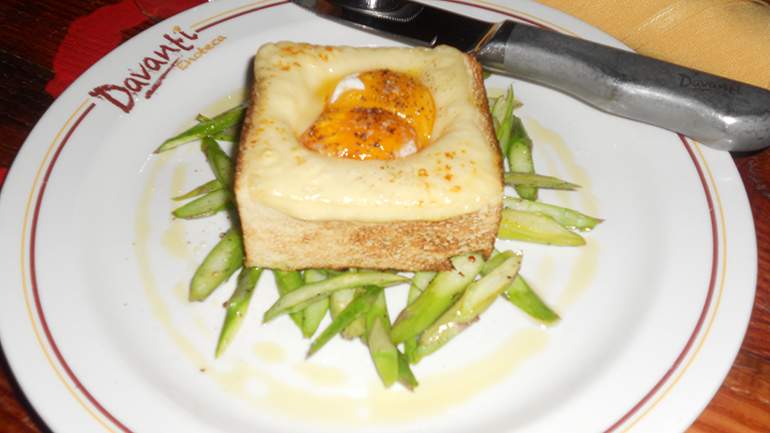 Ingredient List:
1 Loaf Pullman white bread, crust removed, cut into 1 ½ inch thick slice, center slightly removed
2 large egg yolks
1 slice of fontina cheese
2 ½ ounces of asparagus, peeled and shaved lengthwise 1 inch long
Butter
Salt and pepper
Truffle oil to finish
Directions:
After bread is portioned and slightly hollowed out, add the sliced fontina into the hole with 2 egg yolks on top, season with salt and pepper.
Bake in a 425 degrees Fahrenheit oven for 10 minutes covered, 2 minute uncovered.
For the asparagus, place them in a sauté pan and heat with a touch of butter, salt and pepper, lightly roast till still al dente.
For plating place asparagus on plate as a bed for the egg toast, finish with truffle oil and cracked black pepper.
Notes:
It is crucial that you do not overcook the egg yolks. They should be slightly coddled but still runny as the yolk and truffle oil creates the sauce for the dish. You must bake them covered for long enough to warm the yolk without drying them out on top
The cheese must be the exact size of the bread, trim any excess cheese hanging over the side as it will make the bread soggy and feel untoasted.
The asparagus must be shaved slightly thicker maybe 1/8th an inch thick and 1 inch long and very lightly cooked. This is a textural contrast between the creamy yolk and cheese and the fresh lightly roasted asparagus.
* Serving Size: 1 piece egg toast, 2 ½ ounces of shaved asparagus, 1 teaspoon of truffle oil, salt and black pepper to finish