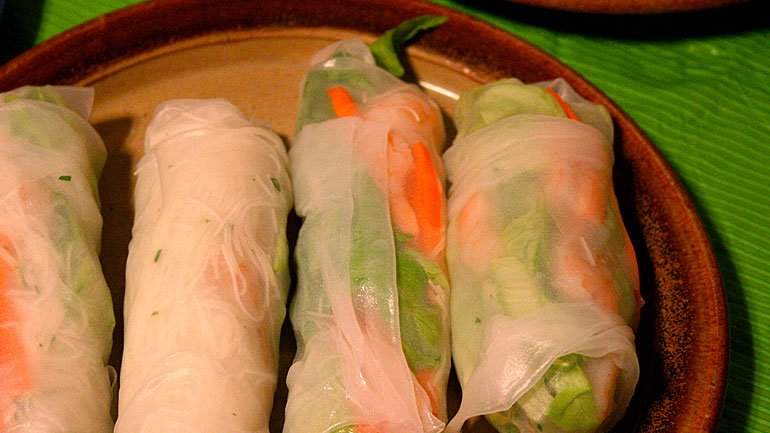 Ingredients:
Rice Paper
Poached Shrimp, peeled and cut in half (Length wise)
Rice Noodles
Lettuce
Mint
Bean Sprouts
Chinese Chives (optional)

Directions:
Re-hydrate rice paper by running it under hot water, and shaking off any excess moisture.

Set aside for a few minutes to soften

Layer lettuce, bean sprouts, mint, chives, noodles, and shrimp in a small mound on top of each other across lower third of the rice paper

Fold the left and right ends of the rice paper over

Starting at the bottom, fold the bottom of the rice paper over the shrimp mound and roll to encase (like a burrito).

Serve with peanut dipping sauce Peanut Dipping Sauce Ingredients:
1 cup of hoisin sauce
1/3 cup o peanut butter
2tbs of water
A pinch of sugar (to taste)

Peanut Dipping Sauce Directions:
Bring a small saucepan to heat.

Add hoisin and peanut butter, mixing well.

Add water to dilute, bring to a gentle simmer, making sure to stir often.

Add sugar (to taste) or if you think it tastes to salty.

Cool and serve.