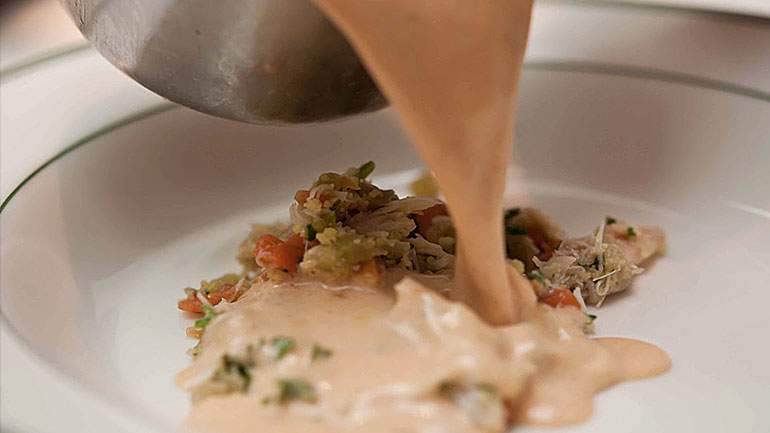 Ingredients:
1 oz. olive oil
12 oz. weight of onions
8 oz. weight of carrots
½ gallon Stone Crab Shells
1 cup white wine
½ cup Brandy
½ gallon vegetable stock
1 gallon cream
2 each of bay leaves
½ oz. weight black pepper
3 oz. weight tomato paste
Salt (to taste)
White pepper (to taste)
1 tbsp. corn starch
3 oz. water

Directions:
1. In stockpot, heat olive oil.

2. Add onions, celery, and carrots

3. Add stone crab shells, sauté for 15 minutes.

4. Add white wine and brandy. Reduce.

5. Add vegetable stock; reduce by half.

6. Add heavy cream, bay leaves, black pepper.

7. Simmer for 15-20 minutes on medium heat.

8. Add tomato paste, crab base, salt and white pepper. Cook for another 8 to 10 minutes, then strain.

9. Make slurry with corn starch and water, add to bisque and simmer for 5 minutes. 10. Cool in ice water bath.

11. Label, date and store.

Garnish soup with crab meat and small dice of sautéed carrots, onions, and celery.

Garnish Ingredients:
¼ cups onion, minced
¼ cups carrot, minced
¼ cups celery, minced
1 tbl butter
Pinch salt and white pepper
? cups stone crab meat
Pinch parsley, chopped
Pinch fresh thyme (optional)

Garnish Directions:
1. Sauté onion until clear.

2. Add carrots and celery and sauté for 2 minutes.

3. Season and cool on a sheet pan.

4. When cool, mix with crab meat and parsley.