View all Recipes
Buffalo Chicken Mac and Cheese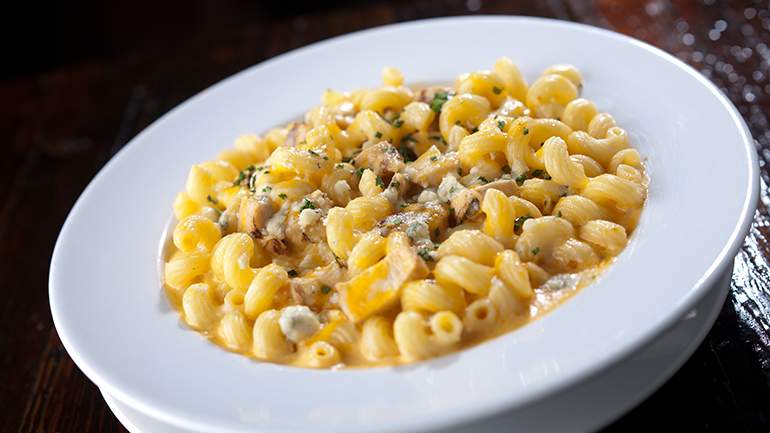 Chef: Amanda Downing
Serving for 4 People
Ingredient List:
1 package of Cavatappi pasta
3 cups of heavy cream
¼ cup of grated parmesan cheese
½ cup of shredded cheddar jack cheese
¼ cup plus 2 tablespoons of crumbled gorgonzola cheese
Kosher salt
Fresh cracked black pepper
2 each roasted or grilled boneless, skinless chicken breasts, cubed
¼ cup prepared buffalo sauce
¼ cup chopped fresh chives
Directions:
Cook pasta in boiling salted water until el dente. Set aside.
In a medium saucepan, add heavy cream, bring to a boil, reduce by one quarter and reduce heat. Whisk in parmesan cheese, cheddar jack and ¼ cup of gorgonzola. Season the sauce with kosher salt and black pepper. Toss pasta with sauce, set aside. Heat cubed chicken breasts and toss in the buffalo sauce.
Fold the buffalo chicken into the pasta and spoon into four pasta dishes. Sprinkle remaining gorgonzola cheese and chives on top of each.