Friday, February 15, 8:00 pm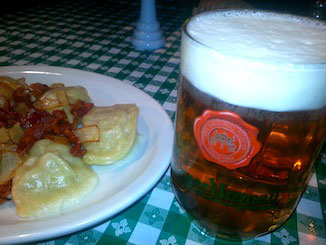 On this week's show we have a brand new episode featuring the comfort food of Berwyn classic Czech Plaza. Pierogis, duck, homemade gravies, Czech beer – all in an authentic spot that has been serving the community for over 45 years. It's perfect viewing on a cold winter night.
If you think that Chicago's Greek cuisine is limited to Halsted Street, think again. Taxim in Wicker Park offers a modern twist on Greek food with dishes like wood grilled octopus and duck gyros. It might be too forward thinking for the guest who picked Czech Plaza, but you never know. Also, Alpana has some enlightening thoughts on the emergence of Greek wine in Chicago.
When we interviewed Taxim Chef David Schneider, he had a lot of interesting things to say about Greek cuisine in Chicago and how he's doing it different at Taxim. Check out his raw interview.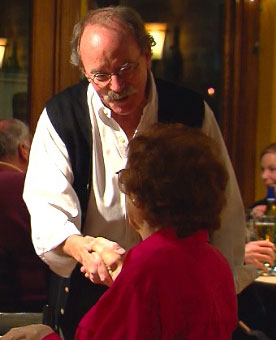 Finally, we stopped at Marion St. Grille, which is the epitome of a neighborhood joint, serving classic Americana favorites such as grilled tenderloin and shrimp cocktail. Everyone in the place seems to be a regular, and longtime owner Terry Thulis hops from table to table saying "hello" to familiar faces. If you're looking for a place where everyone knows your name, this is it.
In other news, we've received more than 250 audition videos from folks all over the Chicago area who think they have what it takes to sit at the head of the Check, Please! table. We're still getting about 10-15 a day and we're looking at them all! Take a look here and here for some cute ones we've received so far.
We're taking applications until March 1, 2013, and then on March 15, we'll put the semifinalist round videos on our website for you to vote on and help us pick the finalists. After that, we'll have more official auditions and announce the new host on May 1. Good luck to all!
Enjoy this week's show!