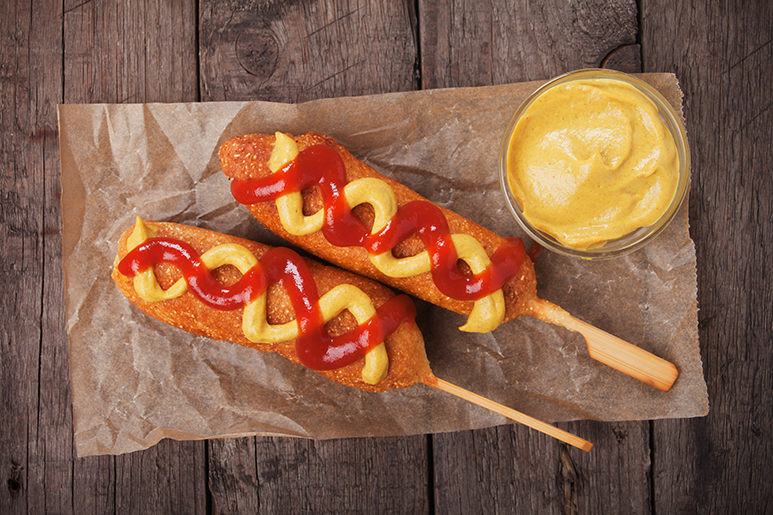 Corn Dogs
You have surely heard the phrase "as American as apple pie." Well, that's a misnomer, as it turns out that this quintessentially American dessert really originated in Great Britain. Hamburgers and hot dogs? Germany – or to be more specific, Hamburg and Frankfurt, respectively. Mac 'n' Cheese? Italy (or France). French fries? Not France at all, but Belgium.
If you decided you wanted to celebrate Independence Day with foods that were actually born in America, what might you choose? Don't worry – as you're about to see, there are many options. True, most are ridiculously decadent, but isn't that what freedom is all about? To paraphrase Patrick Henry, give us liberty or give us death (and a diet plan starting on July 5th).
Corn Dogs – If you have ever visited a State Fair, you have surely tried this down-home delicacy: a hot dog mounted on a stick, dipped in cornmeal batter and deep-fried. These are thought to have been invented in Portland, Oregon in 1941, and their original name was Pronto Pups. While we're on the subject, while the hot dog was not created here, the Coney Island – chili dog – was. And not on Coney Island but in Detroit. (Go figure.)
Cobb and Waldorf Salads – The Cobb Salad was a product of Hollywood's famed Brown Derby restaurant – its chef, Bob Cobb, was raiding the eatery's refrigerator for something to eat late one night in 1937 with his friend Sid Grauman (owner of Grauman's Chinese Theatre of the movie star footprints), and they concocted this tasty salad out of leftovers. The mayonnaise-laden Waldorf Salad was born in New York City…at the Waldorf-Astoria Hotel, which was also responsible, according to culinary legend, for the invention of Red Velvet Cake.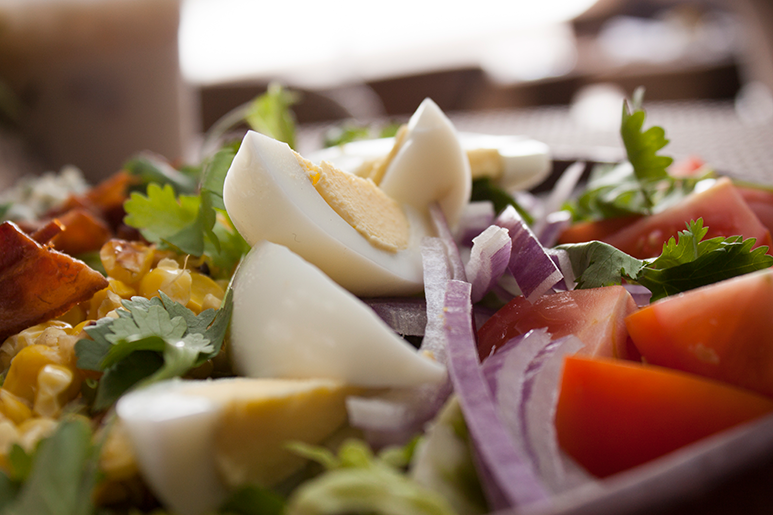 Cobb Salad
Buffalo Wings – Another pretty easy guess – these spicy sports bar mainstays were dreamed up in Buffalo, New York by Teressa Bellissimo at her Anchor Bar in 1964, where they are still proudly being served today.
Turducken – Cajun chef Paul Prudhomme always claimed to be the inventor of this dish (he actually trademarked it in 1986), a turkey-stuffed-with-a-duck-stuffed-with-a-chicken. But the concept of stuffing animals inside other animals and roasting them goes back to the Middle Ages – the technical term for this process is "engastration." (Yum!) A close relation is the Cherpumple which debuted in 2009, a three-layer cake with a pie baked into each layer and the whole structure slathered with (lots of) cream cheese frosting. Want to learn how to make it from its creator, Charles Phoenix? Well, you can! Bonus: you get a glimpse of some great vintage stoves, too.
Hot Brown – The signature sandwich of Louisville, Kentucky, this open-faced turkey dish smothered in Mornay sauce was created sometime in the 1920s by chef Fred Schmidt at the city's elegant Brown Hotel, which is still going strong.
Po'Boy – You can read about this New Orleans staple here. The Muffaletta originated in the same city, as did Bananas Foster, which was devised as an ingenious way to make use of overripe bananas. Speaking of bananas…
Banana Split – Perhaps the only culinary creation dreamed up by an optometrist, the banana split, which has been in existence since about 1904, later became the signature dessert at Walgreen's soda fountains in Chicago.
Jibarito – A relatively new innovation, this steak sandwich substituting fried and flattened plantains for bread came from a Puerto Rican diner in Chicago, sometime in the 1990s.
Deep Dish Pizza – Another Chicago original, this often-maligned but always delicious variation on the Italian thin-crust classic originated at Uno's Pizzeria in River North. Often imitated, never duplicated (except maybe by its sister eatery Due's down the street).
Reuben – Who invented this sandwich, which has been around since the 1920s? There are at least two claimants – Omaha native Reuben Kulakofsky and Arnold Reuben, a deli owner in New York City. One thing is clear: the Reuben was the winner at the first-ever National Sandwich Idea Contest in 1956.
Brownies – One more Chicago innovation, created at the Palmer House Hotel at the special request of Mrs. Bertha Palmer during the 1893 World's Fair for the Women's Pavilion; she asked her chefs to come up with a dainty dessert suitable for boxed lunches. Not surprisingly, they were a hit, and the hotel is still making them today.
Chocolate chip cookies – All hail Ruth Graves Wakefield, proprietor of the Toll House Inn in Whitman, Massachusetts! She created the "Toll House" cookie there in 1938. Bags of Nestle's chocolate chips still carry her original recipe.
Fortune cookies – This obligatory add-on to Chinese takeout actually came from America; there are a number of theories about exactly who invented them and where, the most popular of which appears to be Japanese immigrants in San Francisco. But really, it's anybody's guess, including the identity of the person who writes the fortunes.
S'Mores – Not surprisingly, the Girl Scouts were the first to come up with this gooey campfire treat in 1927 – combining graham crackers (another American invention!) with a piece of melting chocolate and a perfectly toasted marshmallow.
Baked Alaska – This complicated and delicate dessert did not come from Alaska, but from Delmonico's Restaurant in New York City; the chef is said to have created it to commemorate the 1867 purchase of the territory from Russia, which was big news at the time.
So, in honor of this Independence Day, dine American (and stock up on antacids). And now…on your marks, get ready, EAT!