Loop Lunch News: NOSH around Block 37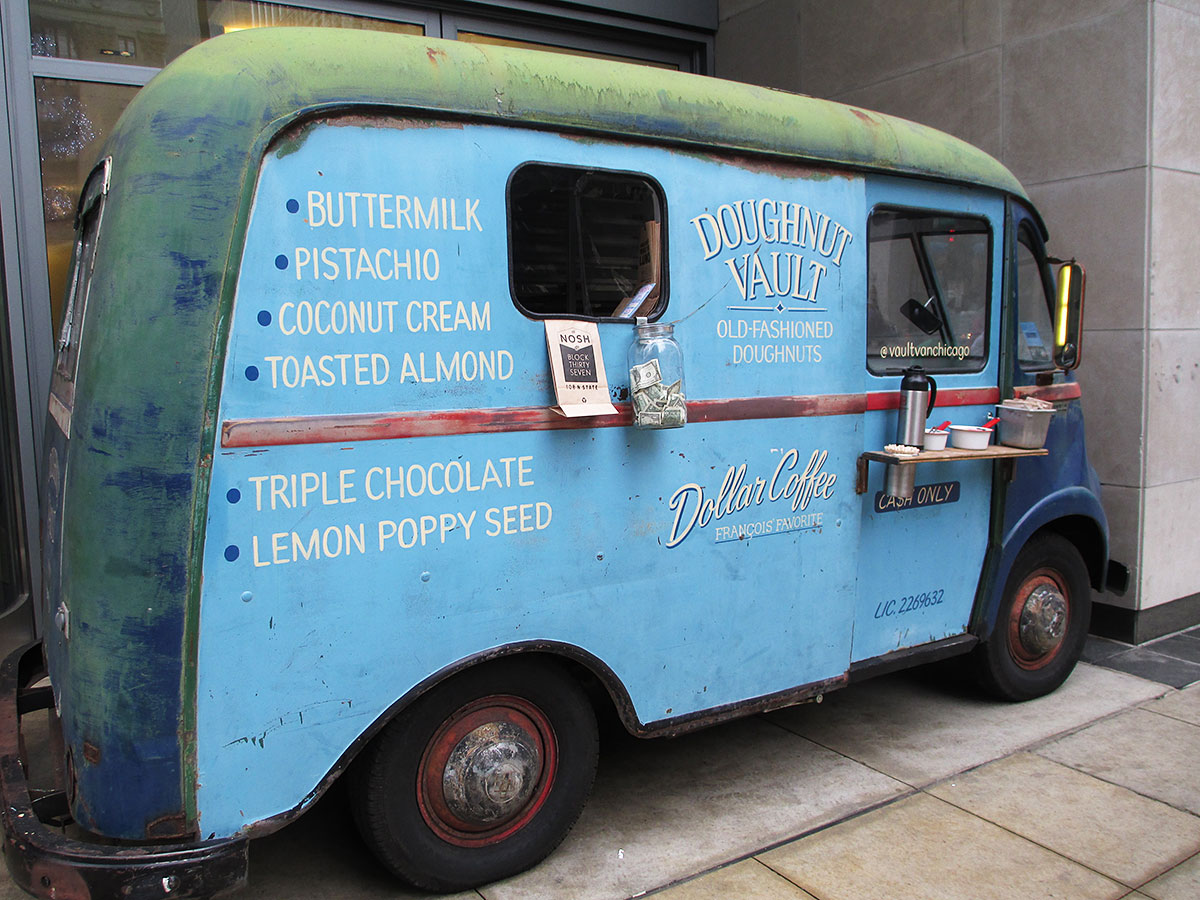 There's a sprawling new lunch option in the Loop, and for the time being it has usurped a large chunk of Block 37. The NOSH, the acclaimed food market that made a name for itself in Wicker Park over the summer, is taking up residence in the central shopping Mecca through December 13, featuring a miscellany of artisanal food vendors slinging their wares to hungry downtown denizens. It's a veritable gourmet food court, stocked with local restaurants, pop-up operations, food trucks, and more. Here's a sampling of what you can expect to nosh on over the next several days, available every weekday from 10:30 am until 2:00 pm.
Food Trucks
Block 37 opens its garage-style doors along Dearborn Avenue to welcome a litany of food trucks, including The Salsa Truck, Bergstein's NY Deli, and Doughnut Vault Van. Once inside the building, doors are closed, so you don't have to worry about scarfing doughnuts with mittens and hypothermia.
Savories
Head upstairs to rove around the rest of the food vendors. Get your chicken fix with Pecking Order's country bird sandwiches, warm up with some spicy kimchi and banh mi sandwiches from Bento Box, breathe in the comforting aromas of smokey pumpkin bisque from Karl's Kraft Soup, tuck into dumplings from Simply Thalia, and experience gooey nostalgia with grilled cheese from Gayle's Best Ever Grilled cheese, a farmers' market fixture and a surefire hit on a frigid day.
Sweets
In case you haven't overindulged at the Doughnut Vault Van, there are plenty of sweets you'll want to save room for. Lindy's Chili is equally renowned for their ice cream, while Bang Bang Pie brings the pie. Dia De Los Tamales may be known primarily for their savory masa creations, but don't overlook the chocolate-peanut butter tamales with chocolate sauce, peanuts, and whipped cream.
Coffee
The NOSH brings the caffeine via Passion House Coffee Roasters. They're passionate indeed about good coffee, and it shows in their three blends, the Bassline blend, Mexico Santa Teresa blend, and the Costa Rica Las Lajas Estate blend.
The NOSH at Block 37
108 N State Street, Chicago
Website