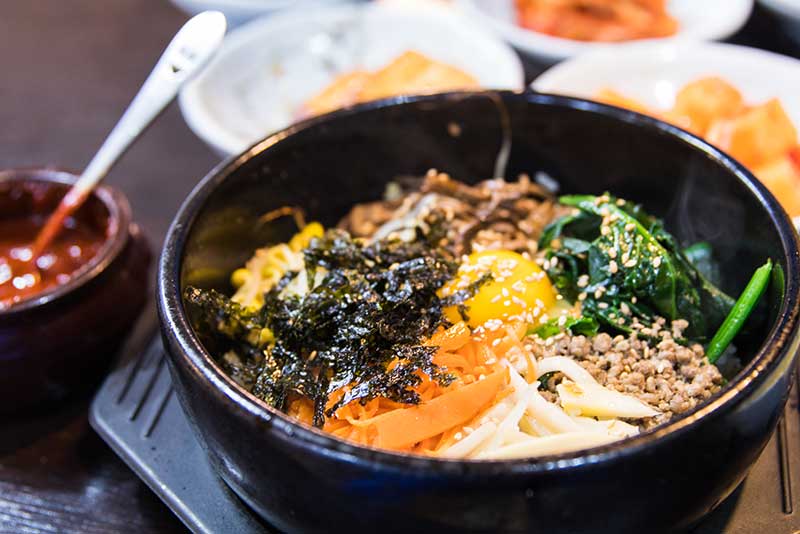 Unless you've been living on Mars, you're probably aware that the 2018 Winter Olympics are officially underway in Pyeongchang, South Korea. As we settle in to marvel at triple axels, giant slaloms, and curling competitions (or each country's uniforms), let's take a look at the area's cuisine, which has taken hold in Chicago in a big way.
When Chicagoans think of Korean food, barbecue is most likely the first thing that comes to mind; of course, there's a lot more to Korean cuisine than that. It's safe to say, though, that all roads lead back to one ubiquitous and crucial element: kimchi, widely considered the national dish of Korea. It's been around in some form since before the birth of Christ, and is culturally significant in both North and South Korea.
What is kimchi? Its base ingredient is usually salted and fermented Chinese ("napa") cabbage leaves, to which can be added radishes, shrimp (also salted), scallions, ginger, garlic, sugar, horseradish, kelp powder, red peppers, and red chili flakes. There are more than 200 varieties of kimchi, depending on what you choose to put in it. If you're planning on making it at home, leave plenty of time — the salted cabbage needs to soak in water for several hours, and the whole mixture needs to ferment in a sealed jar for several days before being refrigerated and then consumed. Even then, it's at its best after a couple of weeks or, if you like it "ripe," be prepared to wait a year.
If you're an "instant gratification" type and would prefer to let the professionals handle it, head to your local Korean restaurant — the odds are that a dish of kimchi will be on your table, ready to eat. You might also find banchan — a number of small dishes that can include anything from marinated or fermented vegetables, meats, seafood, eggs, and tofu.
What are some popular main dishes? Here are just a few:
Bulgogi — Here's where that barbecue (or "fire meat") comes in. This is marinated slices of beef, chicken, or pork grilled with onions, sweet soy sauce (ganjang), and garlic. It is often served with lettuce for wrapping and ssamjang (a spicy red paste).


Bulgogi

Bibimbap — This translates to "mixed rice," or a mixture of rice, mushrooms, vegetables, soy sauce, beef, and chili pepper paste, topped with a fried egg.

Haejangguk — This rich and spicy pork broth, which is served in a steaming hot, earthenware bowl, is known throughout South Korea as "Hangover Stew." And yes, it's been known to be a great remedy for hangovers! This is a dish that truly adheres to the Korean belief that "food is the best medicine."

Hoeddeok — A popular street food, especially in the winter months, this is a sweet pancake grilled to be crunchy on the outside and soft on the inside, and boasts a filling of peanut pieces, honey, brown sugar, and cinnamon. If sweets aren't your thing, try Haemul Pajeon, a pancake that incorporates green onions and seafood — squid, clams, shrimp, or oysters.

Japchae — Where there is rice in Asian cuisine, noodles are almost sure to follow. This dish is a tasty stir-fry that, in addition to long, thin, chewy noodles typically made from sweet potato starch, incorporates thin slices of beef, shredded vegetables (especially sweet potato), and mushrooms, with a dash of sugar and soy sauce. By the way, noodles are traditionally served at wedding receptions and on birthdays because they signify a long and healthy life.
How about beverages? There is quite a wide variety to choose from, especially if you enjoy alcohol. One of the most popular is rice wine (makgeolli), and there are also varieties such as pine knot, red, distilled, and wild pear liquor; in addition, there's cloudy wine, farmer's wine, and an increasingly trendy libation called soju which is flavored with grains and sweet potatoes. In short: you won't be thirsty…and might just need that Hangover Stew!
Locally, we know that the first officially recorded Korean immigrant arrived here in Chicago in 1916 — he was an architect named Kyung Kim, who grew tired of designing homes and turned to the restaurant business, soon establishing several eateries around the city. Interestingly, the first official Korean business in town was a restaurant that appeared in the 1920s: the Diversey Cafeteria at Clark and, well…Diversey. Today, the city's large Korean population is all over, but is centered in Albany Park ("Koreatown," in an area bordered by Clark, Foster, Montrose, and Pulaski) and increasingly in the northwestern suburbs.
Want to look for Korean food locally? Check, Please! has you covered; also try the hot-and-happening Korean-American eatery Parachute. And if you think kimchi wouldn't mesh well with American fast food, check out this FOODPHILES segment on BopNGrill.
Sai Mo Kko! (Eat well!) And enjoy the Olympics!