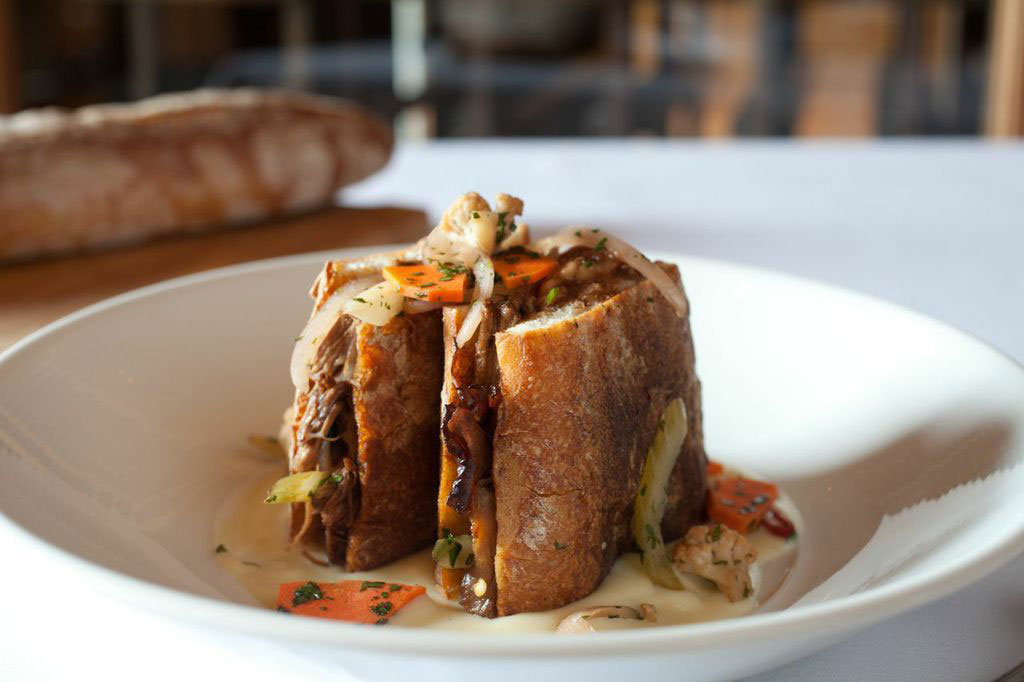 Labriola Ristorante & Cafe
A couple heavy-hitting new restaurants recently made their debuts with dinner service, but now that they've found their respective footing, it's time to feed the masses midday. Labriola Ristorante & Cafe and Formento's have both instated new Italian lunch menus to help tide your eggplant Parm cravings.
Michigan Avenue's newest multi-tiered bar, bakery, and restaurant, Labriola Ristorante & Café, has a lot of culinary cred behind it. Rich Labriola is a veritable demigod in the Chicagoland baking world, and he's brought his wares downtown with this glistening jewel of a restaurant on par with any of the lustrous designer stores that surround it. The latest addition to the concept is lunch service, featuring the modern Italian stylings of chef John Caputo via midday dishes like handmade bucatini all'Amatriciana, eggplant Parmesan tartine with Burrata and kale chips, and meatball subs on baguette with marinara and provolone.
In other Italian lunch news, Formento's has jumped on the afternoon bandwagon in the West Loop. In case casual takeout-oriented sister spot Nonna's isn't enough to leave you drooling, full-service Formento's should do the trick with assorted antipasti, zuppa, insalate, sandwiches, pasta, and more. Dishes include stuffed peppers, clams casino, calamari fritti, eggplant Parmesan, wedding soup, macaroni, chicken Parmesan subs, shrimp scampi, and plenty more.
Labriola Ristorante & Cafe
535 N. Michigan Avenue, Chicago
(312) 955-3100
Website
Formento's
925 W. Randolph Street, Chicago
(312) 690-7295
Website