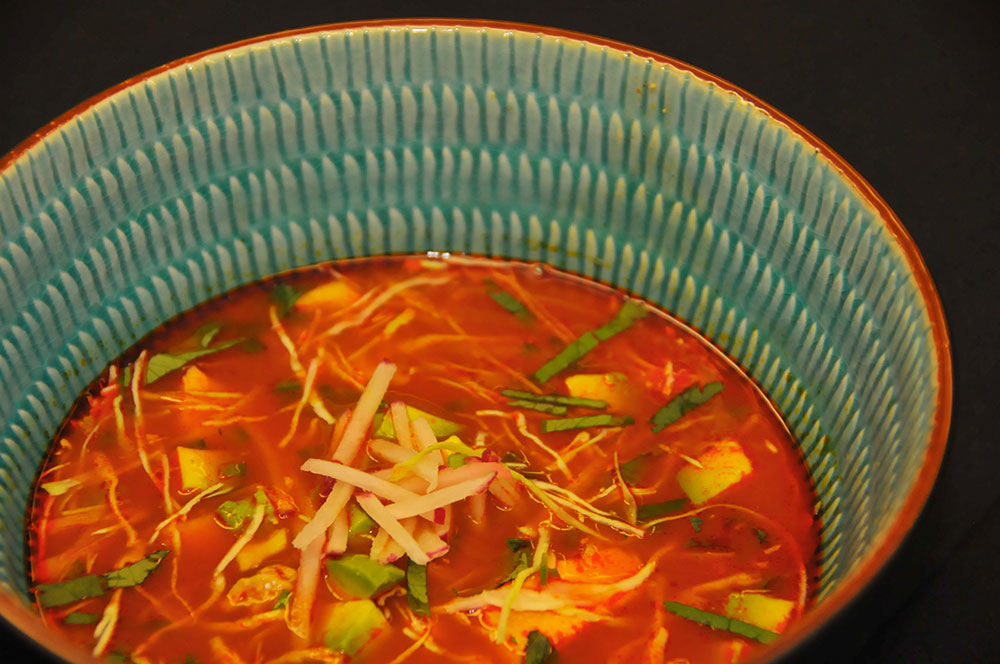 deca RESTAURANT
The best defense against a blustery January day in Chicago is a piping hot bowlful of soup. It's like a wool scarf for your soul. Seeing as January is fittingly National Soup Month, a few restaurants are stewing up soup through the chilly weeks.
At deca RESTAURANT, guests can select from three special soups and three special sandwiches created for National Soup Month. Executive chef Martin Knaubert's trifecta of soups and sandwiches can be mixed and matched for various combos. Soups on deck this month include Asian-style beef noodle soup, chicken posole, and creamy stout and aged cheddar soup. Sandwich options include BBQ pork with cilantro and hoisin, grilled heirloom tomato and basil sandwich, and a green chili chorizo torta. All profits from the soup and sandwich menu go to the local Make-A-Wish Foundation chapter, so these soups are even more heartwarming than usual.
Each week this month, Birchwood Kitchen's Jessie Williams is cooking up a different soup and sandwich combination as well. Pairings include minestrone soup with grilled caprese sandwich January 12 through January 16; lentil soup with chicken makhani sandwich January 20 through January 23; and matzoh ball soup with corned beef on rye the rest of the month.
Another weekly soup destination can be found at River Roast, where executive chef John Hogan is doling out bowlfuls of nourishment throughout National Soup Month. Week one was lentil soup with smoked ham and root vegetables, week two is split pea soup, week three is chicken tortilla, and week four rounds out the month with white bean and escarole.
deca RESTAURANT
160 E. Pearson Street, Chicago
(312) 573-5160
Website
Birchwood Kitchen
2211 W. North Avenue, Chicago
(773) 276-2100
Website
River Roast
315 N. LaSalle Street, Chicago
(312) 822-0100
Website