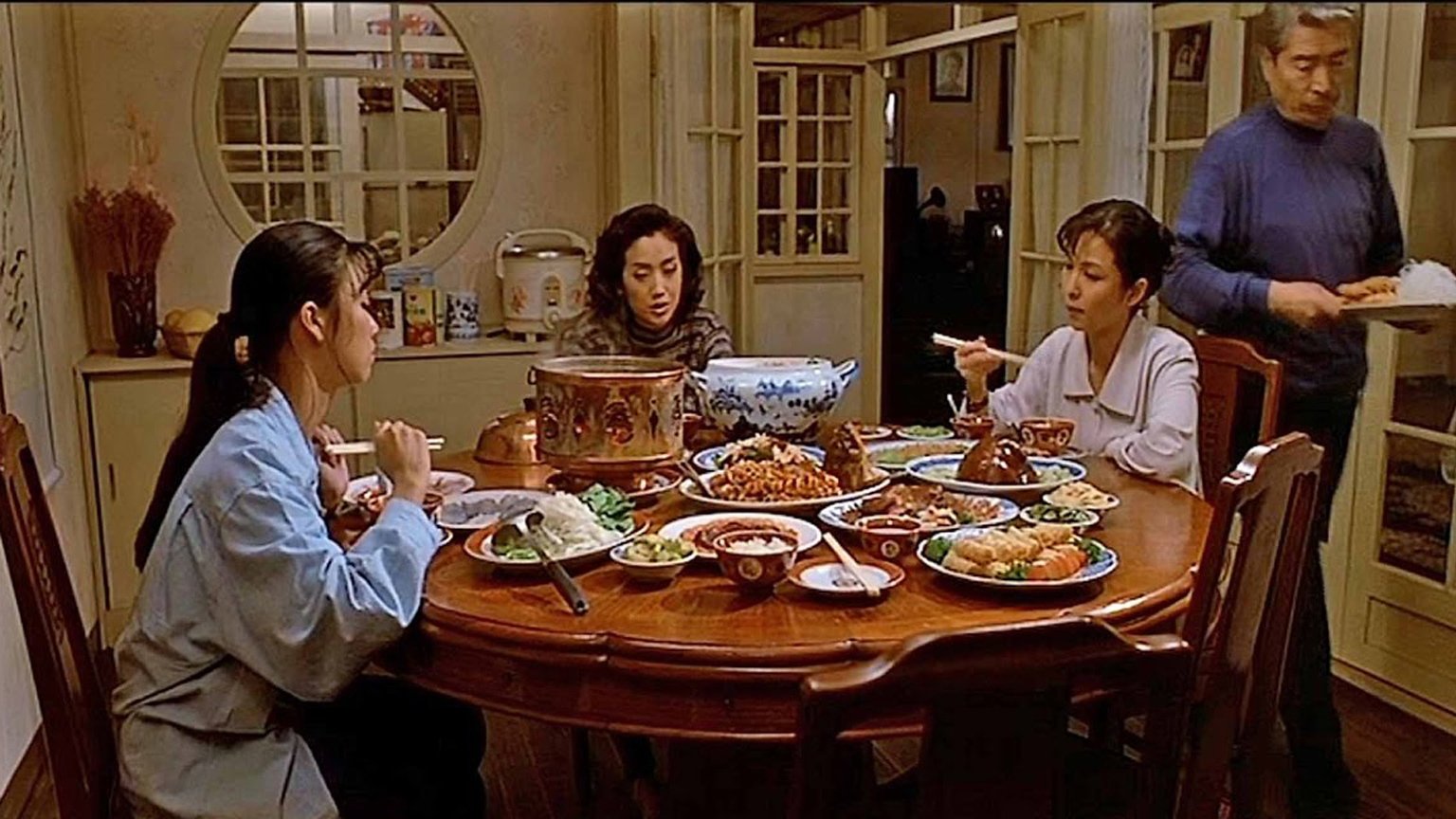 Still from Eat Drink Man Woman
One of the most frequent comments I get from fans of Check, Please! is how we make the food look so delicious, enough to make you hungry—and I absolutely agree. Our signature close‐up shots of a hand twirling pasta or dunking an eggroll into a luscious sauce put the viewer in the diner's seat. The intention is to make it a more immersive experience by tapping into your sense of sight and imagination and leaving you with the feeling that you're the one doing all of the eating and enjoying. The mind is a very powerful thing, especially when it comes to food!
Check, Please! is hardly the first production to use this method of virtual food immersion. I have a long list of "foodie movies," where food takes a starring role on the screen and the story is wrapped around a featured cuisine. As you watch the delicious food scenes unfold, you can't help but be pulled into the storyline as you imagine yourself eating and drinking alongside the characters, allowing you to empathize and connect with them. It's a pretty genius move when you think about it—that's the power of food.
It was hard for me to narrow down my favorite food movies to just five, so forgive me if I missed one of your top choices; I'm sure I would agree with you. In my humble opinion, these are the movies that have endured the test of time and become part of the foodie canon. I definitely don't recommend watching them on a hungry stomach!
Eat Drink Man Woman (1994)
Ang Lee's Oscar-nominated film is centered around Chu, the greatest chef in Taipei, and his complicated relationship with his three grown daughters. He prepares elaborate Sunday family dinners as a way to connect with his children, but struggles to communicate with them. Chef Chu is also losing his legendary sense of taste, further adding to his strife. Food is used as a connective tissue that binds the two generations together.
Like Water for Chocolate (1992)
Like Water for Chocolate is based on Laura Esquivel's novel of the same name. It tells the story of Tita de la Guerza, the youngest daughter of a family living in Mexico at the turn of the twentieth century. Tita has the ability to transfer her emotions into the food that she cooks, allowing whoever eats it to feel whatever she was feeling while preparing it. Many of Tita's emotions are centered around her unrequited love for a man named Pedro.
Jiro Dreams of Sushi (2011)
This documentary film follows Jiro Ono, an 85‐year‐old sushi master and owner of Sukiyabashi Jiro, a Michelin three‐star restaurant in a Tokyo subway station in Japan. Jiro is an unrelenting perfectionist with an incredible passion for his craft. You'll never look at sushi the same way again after seeing this movie.
Big Night (1996)
Big Night is just as much of a restaurant movie as it is a food movie: it tells the story of two Italian brothers, Chef Primo and Secondo. Secondo tries to get his brother Chef Primo to adjust his "authentic" food to accommodate the locals, but Primo refuses, and the business struggles as a result. When they run out of money, they decide to throw a big party featuring a famous guest in a desperate attempt to save their restaurant.
Ratatouille (2007)
No other movie in recent memory has done more to inspire a new generation to believe in the magic of food. Remy the Rat's dream is to become a chef, even though he's a rodent. Despite all odds he pursues his passion for food in one of the most elite kitchens of Paris.