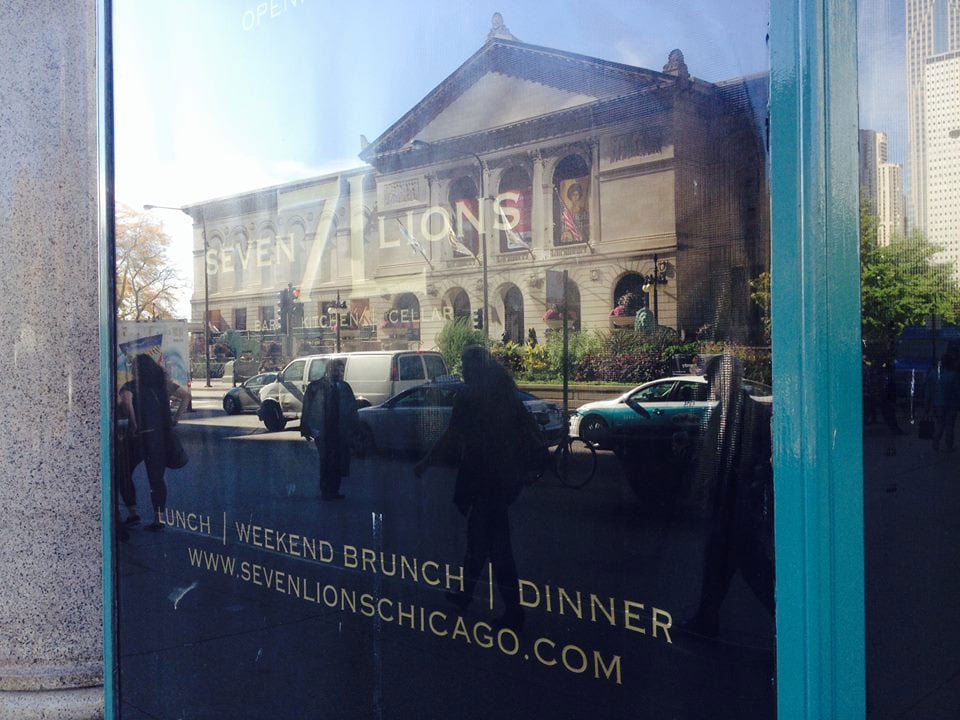 Seven Lions
For years, the lay of the Loop has been primarily comprised of financial businesses, State Street shopping, and lunch-focused restaurants that close on weekends. After 6:00 pm on weekdays, much of the Loop turned into a quiet ghost land as workers and tourists recede to their respective dwellings and hotels, or venture out to other neighborhoods with more nightlife options. Well, those days are quickly fading away, as a slew of new restaurants and bars set up shop in the Loop, transforming the neighborhood into the downtown destination it has the potential to be, alongside River North, the Gold Coast, and the West Loop.
On the heels of other recent Loop newcomers like Pearl Tavern and Eastman Egg Company, Alpana Singh is prepared to mark her second restaurant in the coming weeks. The Boarding House partner and former Check, Please! host signals her sophomore restaurant effort with Seven Lions, a Michigan Avenue restaurant specializing in contemporary American clubhouse fare. Think neo shrimp cocktail, pork & beans, and other re-imagined classics, prepared by executive chef Chris Curren. Situated across the street from the Art Institute of Chicago (between Seven Lions and the Art Institute's lion statues, this is turning into quite the popular intersection for lions), the sprawling restaurant will serve brunch, lunch, dinner, and of course feature a substantial bar program with lots of American representation across the wine list. Look for Seven Lions to open soon.
When Chicagoans think of Land & Sea Dept., the collective responsible for barstaurant hits Longman & Eagle and Parson's Chicken & Fish, the last neighborhood they think of is probably the Loop. Known more for plaid-clad bartenders, raucous nighttime vibes, and indulgent fare befitting a long evening boozing, Land & Sea Dept.'s outlets are more aligned with the lifestyle of Logan Square. But these guys have proven their mettle as gentrification soothsayers, and they're once again on the move into new territory, proving that the Loop is indeed a very different place these days; a hipper place where you actually want to hang out. Or you will once their new restaurant opens in the imminent Chicago Athletic Association Hotel on Michigan Avenue across from Millennium Park at 12 S Michigan Avenue. Situated in a second floor space that once contained the Cherry Circle Room restaurant, the multifaceted venture will also contain a bar, a tasting room, and a game room. This should all open next year at some point.
Speaking of the Chicago Athletic Association Hotel, another big name restaurant is setting up shop there in the coming months. Following its debut location in Chicago in River North, New York-based Shake Shack announced its second local location will be inside the hotel, which is quickly becoming the hottest hotel for eating and drinking in Chicago and it hasn't even opened yet.
Chicago is unabashed about its love for steakhouses, and it's about to get another downtown option with the forthcoming premiere of Prime & Provisions, the latest from DineAmic Group. The powerhouse restaurant group is responsible for hits like Siena Tavern and Public House, and they're poised to make their move on the north end of the Loop with this grandiose new endeavor. The 12,000 square foot space boasts seating for up to within a historic building near the river. Veering away from modernity and trendy cooking, Prime & Provisions takes a step back with its menu to focus on classic American steakhouse fare, all prepared with farm-fresh ingredients. This means prime Heritage Black Angus beef dry-aged for a month amidst Himalayan rock salt, pristine shellfish towers, and Tuscan kale Caesar salads. The steakhouse should open in the spring.
One of the shimmering anchors of the Loop nowadays is Block Thirty Seven, a mall that has steadily amassed solid retailers and dining options over the years. While Magnolia Bakery remains a popular tenant on State Street, the mall will soon up the ante substantially. Famed chef Richard Sandoval announced plans to open a Latin food hall in the mall for his first foray into Chicago's restaurant scene. And Loopers can also expect a new restaurant in the mall from Billy Lawless, the gent responsible for other Loop trendsetters The Gage and Acanto.
There's a lot to get hungry for in the Loop these days.
Seven Lions
130 S. Michigan Avenue, Chicago
(312) 280-0720
Website
Land & Sea Dept.
Website
Shake Shack
Website
Prime & Provisions
222 N. LaSalle Street, Chicago
Website
Block Thirty Seven
108 N. State Street, Chicago
Website