Hey there! A question I get all the time is what to bring to various BYO places so I enlisted the help of my friend and award-winning sommelier Liz Mendez, co-owner of Vera (not BYO) in the West Loop which serves up sophisticated Spanish cuisine by her husband and chef/co-owner Mark Mendez complemented by her well-curated wine list with an impressive sherry selection. Liz shares pairings with everything from Japanese to pizza as well as giving a wonderfully informative, yet succinct, guide to sherry. Here's what she had to say:
Q: Vera serves Spanish cuisine. What are some great Spanish wines you suggest?
Liz Mendez: Picking favorites from the Iberian Peninsula is tough. However, since there are well-known regions such as Rioja and Priorat, when offering suggestions of great wines, I like to share less-known regions for wine lovers to explore. Mencia from Ribeira Sacra in Galicia has become a new favorite and one of my favorite wine makers from this area is Pedro Rodríguez of Guímaro. I'd love to also encourage people to seek out Portuguese still wines — there is a tremendous amount of wines coming from the country, at affordable prices. I highly recommend wines from a producer named Esporão.
Q: Let's do a speed round of cuisine pairings.
Liz Mendez: Sure! Here is my Pairings Primer:
Spicy Thai:
Traditional: Riesling, Kabinett, or Spätlese. If there is a touch of sweetness to the wine, it's a nice complement to the spice levels.
Non-Traditional: California Chardonnay, with very little oak, and even a bit of age is a favorite with curries. I have a go-to in Jordan Chardonnay.
Chinese:
Traditional: I truly want to say tea, as I'm sort of a tea nerd, but I don't know how well tea is going to work in a BYO situation. So, since green tea might not work, let's go with what they call "green wine" — Grüner Veltliner. Search out a Grüner, which is light and crisp for Chinese cuisine.
Non-Traditional: Cider. While it's a large category, I particularly like French and Spanish cider which can pair well with a variety of Chinese dishes from fried food, to seafood, and spicy beef. Cider can be a fun, unexpected pairing. Two to look for: Eric Bordelet (France) and Trabanco (Spain).

Liz and Mark Mendez of Vera
Japanese:
Traditional: The easy answer is sake. I cannot stress enough that you should buy sake from retailers who are informed on the subject to make sure you end up with one which you will enjoy. Sake has a lot in common with sherry, and it's easy to end up with one you don't like and write off the beverage category as a whole.
Non-Traditional: Sherry. This may seem odd, but as I've noted in my favorite pairings, I adore sherry with Japanese food. There is an umami quality in both the food and wine, and they lift one another. My go to with BYO sushi is Fino or Manzanilla sherry. I particularly like the Valdespino Inocente Fino.
Indian:
Traditional: There are of course the more well-known pairings of Gewürztraminer or Riesling, but I really enjoy Chenin Blanc — fresh or with some age. The fresh version pairs how a Sauvignon Blanc would. An aged Chenin Blanc like Vouvray will have some oxidation and will make the spices pop in Indian food. I recommend Domaine Perrault-Jadaud.
Non-Traditional: IPA. I know it may seem as though a beer high in hops might fight with the spices, but an IPA will stand up to the heat while complementing it.
Mexican:
Traditional: Beer. Yes…sommeliers like beer too, especially after a day of wine tasting. I prefer a beer on the lighter side such as a lager.
Non-Traditional: I'm a big fan of Sauvignon Blanc with Mexican food. Depending on a guest's preference I would recommend either a Sancerre or a Sauvignon Blanc from New Zealand. I don't know if it's non-traditional but maybe we don't talk a great deal about wine with Mexican food.
Red meat:
Traditional: Steak and California Cabernet are pretty traditional, especially in Chicago. Last May I was able to spend a good amount of time in Alexander Valley and really enjoyed Hawkes Winery.
Non-Traditional: Oloroso Sherry. Red meat and Oloroso don't only pair well, they lift the flavors of one another. The sherry makes the red meat even more meaty, and isn't more meaty what we want from our steak and burgers?
Wild game:
Traditional: Game is a diverse category with a multitude of preparations, but traditionally it's hard not to hear game and think about Rhône. This is a very general statement, but you can't go wrong with Châteauneuf-du-Pape.
Non-Traditional: Oregon Pinot Noir. I am such a fan of Oregon, and I love Pinot Noir from Oregon with game. A favorite is from Brooks.
Pizza:
Traditional: Sangiovese — especially Brunello DI Montalcino. Red fruit flavors pair with the tomato, and bright acid cuts through the richness of the cheese.
Non-Traditional: Rosé Champagne is one of my favorite pizza pairings, for a few of the same reasons the Brunello Di Montalchino pairs well with pizza. Rosé Champagne, red fruit, acid, and the bubbles with pizza are a great and surprising pairing.
Fish/shellfish:
Traditional: Chablis. There is a salty, seashell quality to some of my favorite wine from Chablis, which makes it a classic complement to shellfish.
Non-Traditional: White wine is usually the first go-to when pairing fish and shellfish, but there are times when I prefer a lighter red such as Beaujolais, which won't overpower the fish.
Q: What are some of your favorite pairings?
Liz Mendez: Some of my favorite pairings are "special occasion" wines with foods we eat every day. Fried chicken and Champagne are pretty common to pair now, but some of my favorites are along those lines. As I mentioned, Rosé bubbles with pizza is a favorite. The fruit of the Rosé pairs with the tomato sauce and the bubbles cut through the richness of the cheese and toppings. One of my other favorite ideas is to take sherry out of its normal Spanish food context. One of my favorite sherry pairings is with Japanese food. The drier styles pair similarly to sake and the richer and nuttier styles pair similarly to Japanese whiskey.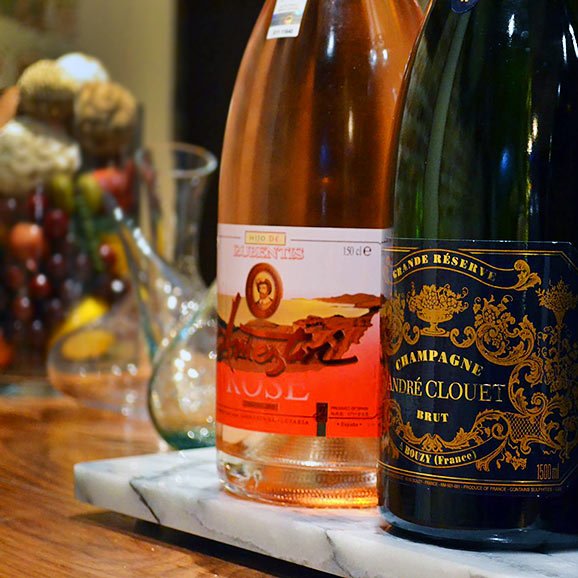 Wines at Vera
Q: What are some of the trickiest pairings?
Liz Mendez: Pairing wines with dessert and chocolate can be tricky as you don't want them to clash or overpower one another. I tend to recommend wines that are a bit brighter and not quite as heavy on the palate, such as Moscato d'Asti. I tend to stay away from still red wine with chocolate. My current go-to pairing is Madeira, because it's so diverse. I pair Sercial with chocolate desserts, such as mousse finished with sea salt. For denser chocolate desserts, I lean toward Malmsey or Bual.
Q: Do you have any hard and fast rules when deciding what to pair with your meal?
Liz Mendez: Drink what you like, because we find some of the best pairings when we don't stick to the rules.
Q: Since you are the Chicago sherry maven, can you give us some of your best tips?
Liz Mendez: From bone dry to rich and nutty, and then the more familiar dessert styles of sherry, sherry is one of the most diverse wines in the world. It's a fortified wine, but different than port and Madeira because the neutral grape spirit is added after sherry is made into a regular distilled white wine. We like to give guests a guideline on where they can substitute sherry throughout their meal.
Aperitif/Champagne: Fino or Manzanilla Sherry
White wine: Amontillado Sherry
Red Wine: Oloroso Sherry
Dessert Wine: Moscatel or Pedro Ximenez
It's also important to remember that sherry is a wine best enjoyed with food, as are so many of the most classic wines in the world. I also love to BYO sherry, because some of the best bottles come in 375 ml, at affordable prices, which makes it easy to carry a couple of different bottles to try multiple styles.
We are gearing up for Season 17 and would love to hear your recommendations for new places for the show. If you are interested in sitting at the table and sharing your favorite restaurant next season be sure to apply. I'd love to see you at the table! Until then, happy dining!
Cheers,
Catherine