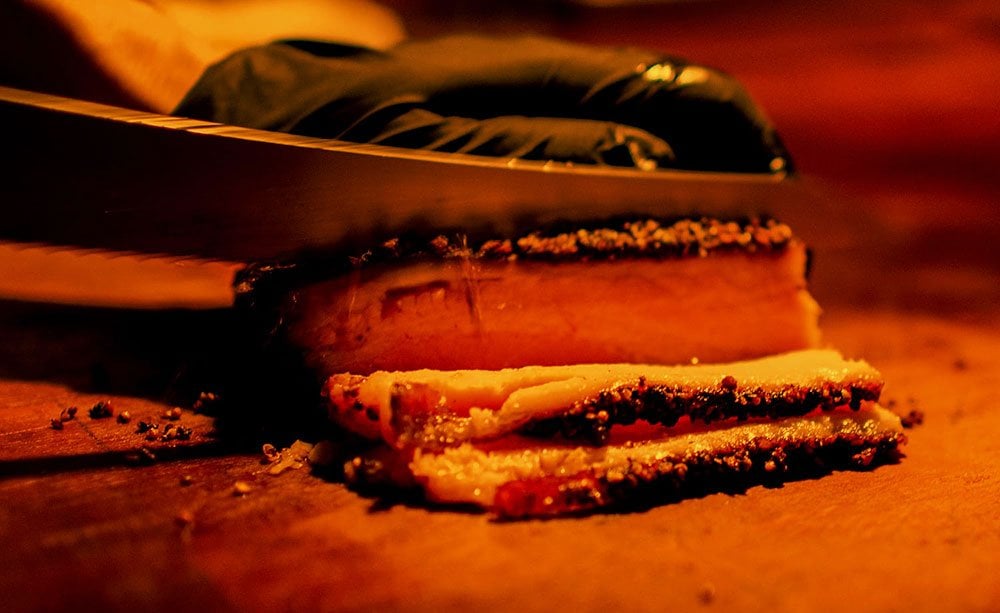 Green Street Smoked Meats (photo by Kari Skaflen)
In terms of summer dining, barbecue is paramount. As the temperatures heighten in July, so do cravings for this meaty pastime. Chicago rises to the occasion with a bevy of barbecue options all over town.
One of the well-traveled destinations for barbecue in Chicago is Smoque BBQ. Barry Sorkin's casual eatery offers a streamlined version of regionally inspired barbecue, covering all the bases from ribs and brisket to Texas sausage and peach cobbler. The 1/2 and 1/2 sandwich combo is a good way for newcomers to get an ample taste of the Irving Park eatery, wherein guests get half a pulled pork sandwich and half a brisket sandwich, the latter available sliced or chopped.
A barbecue newcomer this year looks to be a solid addition to Chicago's already solid barbecue landscape. Dinosaur Bar-B-Que, based in New York, made its local debut recently in Lincoln Park with a massive bi-level space, complete with a sprawling beer garden. Perfect for large groups and varied taste preferences, Dinosaur Bar-B-Que boasts a little bit of everything, from pulled pork and beef brisket to apple-brined and pit-smoked chicken, soy-splashed lamb shoulder, barbecue catfish, sausages, burgers, and even notable vegetarians options like smoked portobello mushrooms and fried green tomatoes with pimento cheese.
For homey barbecue in a more upscale environment, head to Lillie's Q in Bucktown. This full-service restaurant offers a rendition of the comfort food experience, featuring a substantial menu of entrees, appetizers, sides, and drinks. You can start off with beer batter fried pickles and seasoned boiled peanuts before progressing to entrees like hot link sandwiches and smoked fried chicken.
bellyQ is a great spot for modernized barbecue with an Asian accent. Bill Kim's sprawling Asian barbecue-focused restaurant features lots of Asian dishes alongside American classics updated with Asian touches. Take the BBQ pork spring rolls, for example, filled with pulled pork, kimchi nuoc cham, and cilantro. Another fusion option is Mac & cheese spiced with Thai curry, sesame-flecked rib tips, pork ribs splashed with housemade hoisin, kimchi potato salad, tea-smoked duck breast.
Doubling up on comfort food in Logan Square is newly opened Q-Tine, which combines barbecue and poutine under one roof. The menu fuses Southern staples with Canada's most famed comfort food with dishes like a smoked meat poutine, smoked pork with gravy, and smoked salmon in sour cream-yogurt "gravy." There are also more straight-up versions of both barbecue and poutine individually, along with an apple caramel poutine for dessert.
While much of the Loop hustles around at a rapid pace during the lunch rush, Blackwood BBQ slows things down with a focused menu of slow-cooked meats. The menu is small and straightforward, making it easy to get a taste of this honest counter-service eatery. The restaurant serves three main items, brisket, pulled pork, and pulled chicken, each available as a sandwich, a platte, or a salad, with optional sides like apple coleslaw, beans, cornbread, and mac & cheese.
The diminutive Irving Park nook is as tiny as the name suggests, with a concise menu of Asian-tinged American barbecue staples. Think smoked brisket with Tiger Cry sauce and garlic rice, buttermilk brined fried chicken with banana ketchup, smoked tofu platters, and barbecue brisket bibimbap.
If you're looking for a barbecue restaurant with a poultry focus, Lem's Bar-B-Q is your answer. Nestled on Chicago's south side, this joint is known for its fried chicken in various cuts and sizes, including breast, wings, livers, and gizzards. Adjoined with a side of barbecue sauce, the chicken is quite unique. There are also ribs, hot links, and classic sides such as potato salad, cole slaw, and white bread.
Follow the din of hungry diners down a Green Street alleyway in the West Loop to find Green Street Smoked Meats. It feels like a glorified backyard barbecue party, with a barnyard vibe echoed by a soaring ceiling, a big bar, and a cafeteria-style line where people queue up for 'cue. As the name suggest, smoky meats are essential here, from impossibly tender slices of beef brisket to pork belly, ribs, pulled pork, and smoked chicken legs.
Smoque BBQ
3800 N. Pulaski Road, Chicago
(773) 545-7427
Website
Dinosaur Bar-B-Que
923 W. Weed Street, Chicago
(312) 462-1053
Website
Lillie's Q
1856 W. North Avenue, Chicago
(773) 772-5500
Website
bellyQ
1400 W. Randolph Street, Chicago
(312) 563-1010
Website
Q-Tine
2339 N. Milwaukee Avenue, Chicago
(773) 227-5100
Website
Blackwood BBQ
307 W. Lake Street, Chicago
(312) 621-9663
28 S Clinton Street, Chicago
(312) 631-3431
Website
smalls.
4009 N. Albany Avenue, Chicago
(312) 857-4221
Website
Lem's Bar-B-Q
311 E. 75th Street, Chicago
(773) 994-2428
Website
Green Street Smoked Meats
112 N. Green Street, Chicago
(312) 754-0431
Website