Southern hospitality in the middle of the park! Giant City Lodge offers a menu of classic down-home cooking. Fried chicken, mashed potatoes, BBQ beans, and a Friday night fish fry are served in a spacious rustic lodge setting. The Lodge also features a historic lounge and bar, gift shop, and guest cabins.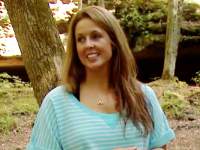 Candace Snapp
,
Candace loves the rustic Giant City Lodge inside the state park!<br><br>

See all of the restaurants featured on <a href="/video/episode/1313"><em>Check, Please! Touring Illinois</em></a>.
Candace recommends:
Candace Snapp