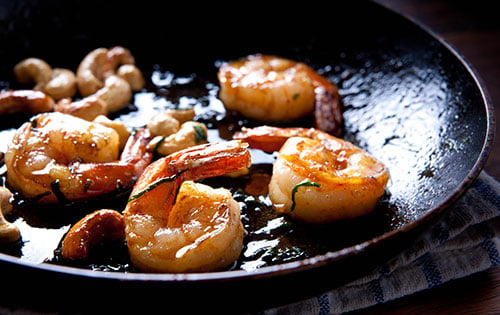 I am not one of those people who incessantly complains about cold weather. I was born and raised in Chicago and then went to University of Wisconsin-Madison for college. Cold weather is something with which I am very familiar. It's not worth being upset over because you know it will eventually warm up.
This winter, however, I find my tolerance being pushed to its outermost limits. Lately I seem to be living vicariously through friends' Facebook updates from sunny locales, day dreaming about running along Lake Michigan, and meeting up with friends for al fresco dining.
Coincidentally, all the restaurants featured on Check, Please! this week have fantastic outdoor spaces. Chief O' Neill's has an enormous backyard that even allows you to bring your leashed dog once a week to hang out. Bad Apple's patio runs along the side of the restaurant and is always packed with families from the neighborhood. And Libertad's outdoor area is tucked away behind the restaurant, giving it the feel of dining in someone's backyard.
Speaking of Libertad, the food there focuses on Latin American cuisine – a fusion of various Latin cultures…cultures that conjure up visions of curling my toes into sandy shores, soaking up sunshine, and sipping on a cooling cocktail. But alas, we have weeks (months?) left of brisk temps here in Chicago and since I can't jump a plane to Brazil, I try to bring a little summer to my suppers.
Here's a recipe of mine that I make when I want something comforting but light (unlike so many of the heavy braised meat dishes I crave at this time of the year). The base for the glaze is made with the Caipirinha cocktail's three ingredients: Cachaca, fresh lime juice, and sugar. Red pepper flakes are added to bring in the heat of the equatorial sun. And to add some flavor to the shrimp from the inside out (and reference the cachaca derivative) sugarcane is used as skewers for grilling. Traditional coconut rice is punched up with a tart shot of lime and smoky-sweet grilled mangos for a comforting accompaniment.
Caipirinha Glazed Shrimp Skewers on a Bed of Lime-Scented Coconut Rice with Grilled Mangos
Serves 4
Ingredients:
20-24 raw shrimp (size 21-25); cleaned, de-veined and peeled, tails on
Kosher salt
Freshly ground black pepper
Glaze
1/2 cup Cachaca
1/2 cup dark brown sugar
1 Tablespoon fresh lime juice
1/2 teaspoon grated garlic
1/4 teaspoon red pepper flakes
I lime; cut into four wedges
Lime zest
Coconut rice
1 cup Jasmine rice; rinsed and drained
1 mango; skinned and cut into 4 pieces
1 Tablespoon extra-virgin olive oil
1/2 Tablespoon yellow onion; finely chopped
1/4 teaspoon garlic; grated or minced
3/4 cup coconut milk
3/4 cup water
2 1/2 teaspoons fresh lime juice
2 teaspoons lime zest
1/4 teaspoon Kosher salt
Garnish
Red pepper flakes
Cilantro leaves
Additional lime zest
Special Equipment: Sugar cane skewers (can be made or purchased at hulagirlfoods.com or amazon.com)
Directions:
Rinse shrimp in cold water and pat dry with paper towels. Trim the end of each sugarcane skewer to form a point. With a small knife or bamboo skewer, start a hole with a knife (or bamboo skewer) in each shrimp where it will be skewered with the sugarcane and then thread 5-6 shrimp onto each skewer through that hole.
Combine the cachaca, brown sugar, lime juice, garlic, and red pepper flakes in a small, non-reactive saucepan over high heat. Stir and bring the mixture to a boil. Once it reaches a boil, reduce the heat slightly and continue to simmer until the liquid is reduced by half and thickens for approximately 8 minutes. Note that this glaze will not be as syrupy as a traditional glaze. Season to taste with salt. Remove from heat and set aside.
Turn grill to high. Remember to oil or spray grill with non-stick spray before grilling. Season the shrimp with salt and pepper. Using a basting brush, brush with glaze. Place skewers over direct heat on the grill grates. Grill the shrimp for 2-3 minutes each side, basting with glaze 2-3 times during cooking. They are done when they are firm and opaque white. Remove from grill and squeeze the juice of one lime wedge over each skewer.
To make the rice: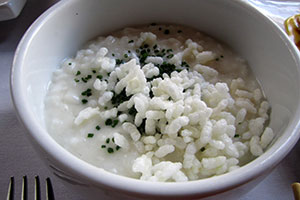 Grill the mango segments for about 2 minutes each side. Baste with caiprinha glaze while cooking. Remove from heat and dice. Set aside.
Heat one Tablespoon of olive oil over medium high heat in a medium, heavy-bottomed saucepan. Add onion and garlic and sauté until fragrant and translucent, approximately 3-5 minutes. Add rice and stir to coat the grains with oil. Stir in water, coconut milk, and salt and bring to a boil. Stir again, reduce the heat, cover the pot, and let simmer for 15 minutes. Once finished, remove from heat and leave covered for an additional 5 minutes. Uncover, fork fluff, and add lime juice, zest and mangos.
To Plate:
Divide rice evenly between four plates. Place a shrimp skewer on top of rice. Sprinkle red pepper flakes and lime zest over shrimp and rice. Garnish with fresh cilantro leaves.
Cook's Tip: The shrimp and mango can be grilled using a cast-iron grill pan.
I hope you are all staying warm out there and that you enjoy this week's show!
Cheers,
Catherine