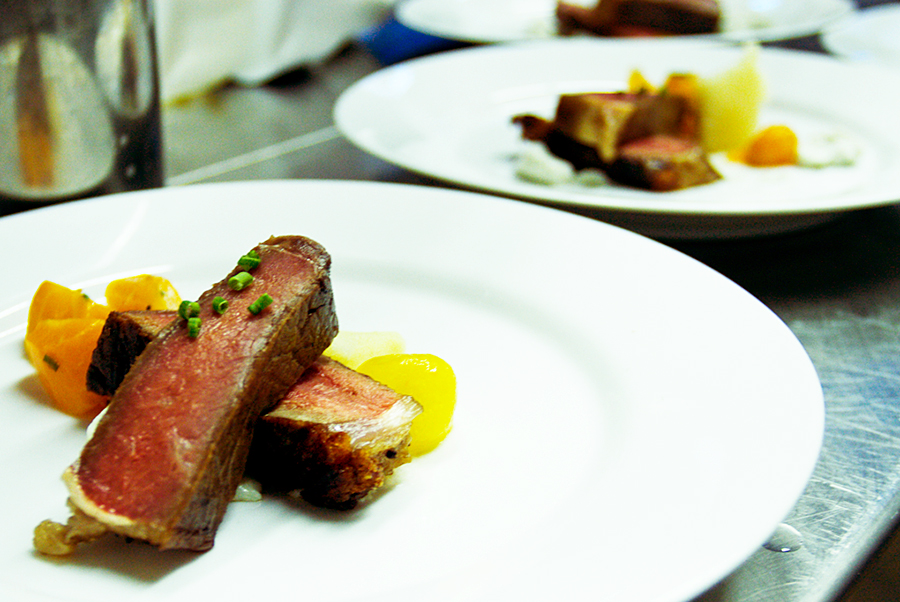 It takes a special dining concept to go from pop-up restaurant to a permanent dining operation in a short span of time. But considering the ravenous opening success for Under the Table, that's precisely what is happening just north of the city.
Under the Table started a short while ago as a roving pop-up restaurant concept, originally situated at a restaurant incubator space in Evanston called Company. The quasi restaurant aimed to deliver fine dining-caliber cuisine in a fun, informal setting at accessible prices. They offered tasting menus featuring molecular techniques and highly unconventional flavor combinations, both for dinner and brunch. Things were going well, but as they picked up steam, their chef was unable to dedicate the time, necessitating a new top toque. They found such toque(s) in head cook (he doesn't like the term "chef," because he feels he is always learning) Marcus Townsend, an Alinea alum, and new sous Jake Novar, previously of Elizabeth. Such fine dining-reared talents were able to take Under the Table to the next level and prepare it for a new phase.
The cooks have put their own twists on the menu at Under the Table, gradually expanding the degustations up to seven-, 10-, and 12-course affairs. In such capable hands, the restaurant was able to sign a lease at a space about a mile west of Company in Evanston. The plan is to stay there for six to eight months and build a following and a reputation, then ideally open a full-time space in the city. Beginning October 1, 930 Pitner Avenue will be the new home base for Under the Table. Until then, diners can partake in prix fixe dinners and brunches at the Company location on September 14, 15, 22, and 28.
Under the Table
1307 Chicago Avenue, Evanston
(Future address 930 Pitner Avenue, Evanston)
(224) 628-8696
Website