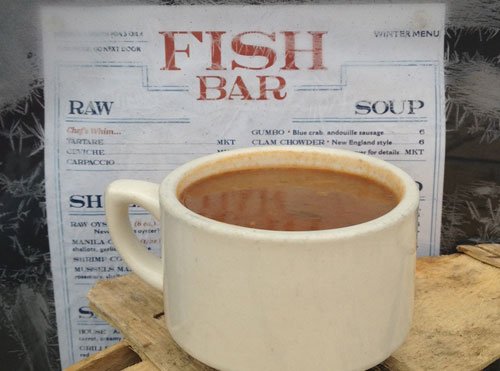 Whether you're still searching for the perfect Super Bowl party food or you just want a spicy meal to warm you up this winter, we've found the perfect recipe – Fish Bar's gumbo. The Lakeview restaurant shared their recipe for the seafood and sausage dish, which is served with rice.
Fish Bar's Gumbo
Yields 2.5 quarts

Ingredients:

½ pound andouille sausage, large dice
1.5 quarts crab stock (fresh or made with 1.5 quarts water and 1.5 oz. crab base)
1.5 cups peeled and diced plum tomatoes
½ cup diced celery
½ cup diced Spanish onions
8 oz. fresh or frozen diced okra
1 green bell pepper, diced
2.5 tbsp. minced garlic
6 sprigs thyme
2/3 cup dark brown roux (recipe follows)
1 tbsp. gumbo file
½ cup canola oil
cayenne, salt and pepper to taste
12 oz. crabmeat, for garnish
12 oz. wild rice cooked for garnish

Directions:

Brown the sausage in the oil.
Add celery, onions, and green pepper and cook until tender (~10 minutes).
Add garlic & thyme.
Add okra & tomato.
Add crab stock and gumbo file.
Bring to a boil and temper the roux into the soup by whisking briskly until the soup thickens (if it gets too thick add more stock).
Return the soup to a simmer for 20 minutes.
Season with salt, pepper and cayenne.
Serve with crabmeat and wild rice
Roux
Ingredients:

0.5 pound butter
0.5 pound flour

Directions:

Melt the butter in a heavy bottomed saucepan.
Stir in the flour with a wooden spoon and stir continuously until the roux becomes dark mocha brown and smells toasty (not bitter).
Fish Bar
2956 North Sheffield Avenue, Chicago
(773) 687-8177
Website