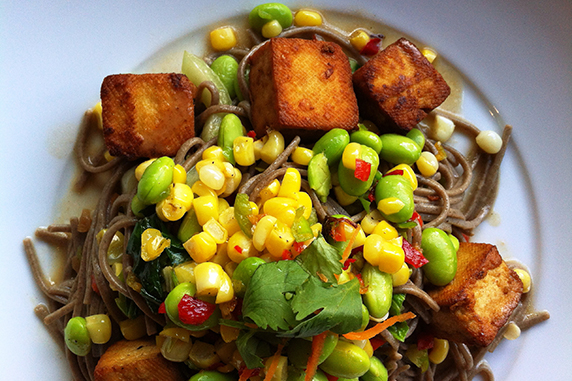 As corn season ebbs, ease your sorrows at Sola and help the kernels go out with a bang by partaking in the restaurant's corn-centric prix fixe menu. Happening now through the end of September, the corn degustation is a collaboration between Sola's chef/owner Carol Wallack and One Part Plant's Jessica Murnane.
The three-courser is entirely vegan, in conjunction with One Part Plant's philosophies of plant-based clean-eating. Murnane partners with restaurants throughout Chicago to curate seasonal vegan dishes proving that food need not lean on meat for flavor. Thus, corn is at the crux of Sola's current prix fixe.
Dinner starts with a corn-accented ginger soup with shallot salad and chile oil. Second course is soba noodles with chile tofu, corn-edamame succotash, and soy-lime vinaigrette. For dessert, corn and chocolate make unexpected playmates in a gooey chocolate brownie with sweet corn, coconut sorbet, blackberry-cocoa coulis, and cocoa nibs.
Sola
3868 N. Lincoln Avenue, Chicago
(773) 327-3868
Website