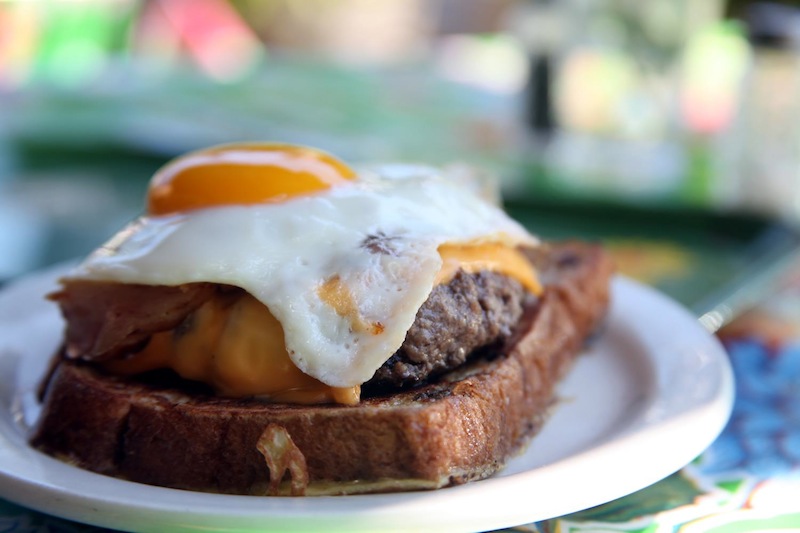 It's Friday, and that means it's almost time to sleep in…and hit brunch. A few spots around town have launched brand new brunches to help you shake up your weekend routine.
GT Fish & Oyster isn't just a spot for oysters and lobster rolls anymore – starting tomorrow, from 10 am-2:30 pm each Saturday and Sunday, you can nosh on crab benedicts with Swiss chard and hollandaise, biscuits with lobster gravy, or French toast with key lime, grapefruit, and mascarpone. There's a brunch cocktail menu as well, with a Bloody Mary garnished with shrimp joining Bellinis and mimosas.
Red Violet is offering a Dim Sum brunch on Saturdays and Sundays from 11 am-3 pm. The brunch is $20 for two, and includes mixed greens with citrus carrot dressing, potstickers with beef and pork, taro fries with black garlic miso sauce, shrimp shumai, and soup dumplings, among other dishes, plus a lychee mimosa, cucumber bloody Mary, tea, or coffee.
Grange Hall Burger Bar offers The Farmer's Breakfast from 8 am-2 pm on Saturdays and Sundays. You can find quiche, biscuits and gravy, and griddle cakes. But those are dainty in comparison to the breakfast burger, which consists of a beef patty served on French toast and topped with Canadian and Applewood bacon, maple syrup, cheddar, and a fried egg.
Slurping Turtle has launched a new Bento Brunch, which is available Sundays from 10:30 am-2:30 pm. You can fill the bento box with your choice of items, such as chicken yakitori skewers, vegetable tempura, or sashimi. All boxes are served with fishcakes, green beans, sweet potatoes, edamame, and white rice.
Grange Hall Burger Bar
844 West Randolph Street
Chicago, IL 60607
(312) 491-0844
Website
GT Fish & Oyster
531 North Wells Street
Chicago, IL 60654
(312) 929-3501
Website
Red Violet
121 West Hubbard Street
Chicago, IL 60654
(312) 828-0222
Website
Slurping Turtle
116 West Hubbard Street
Chicago, IL 60654
(312) 464-0466
Website