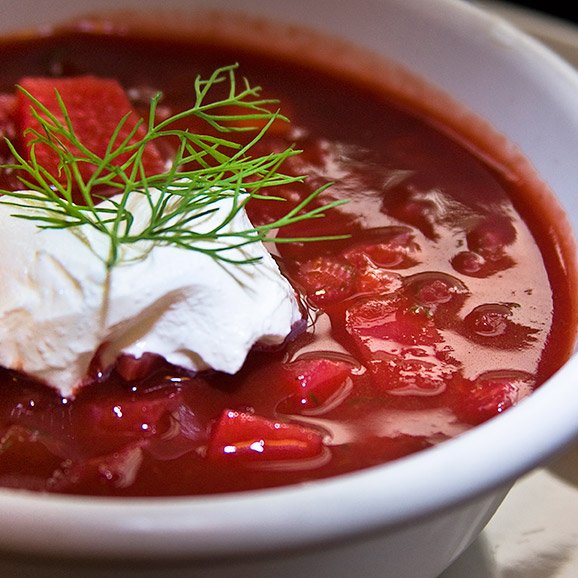 Borshch
This diverse Eastern European country gained its independence when the Soviet Union broke up in 1991, and by area, it is Europe's largest, if you don't count Russia (France comes in second, followed by Spain). Ukraine's people are known for their friendliness and hospitality, and in honor of one of this week's featured restaurants, Shokolad, here are some mouthwatering Ukrainian culinary mainstays. You will notice that most of them incorporate a readily available common ingredient.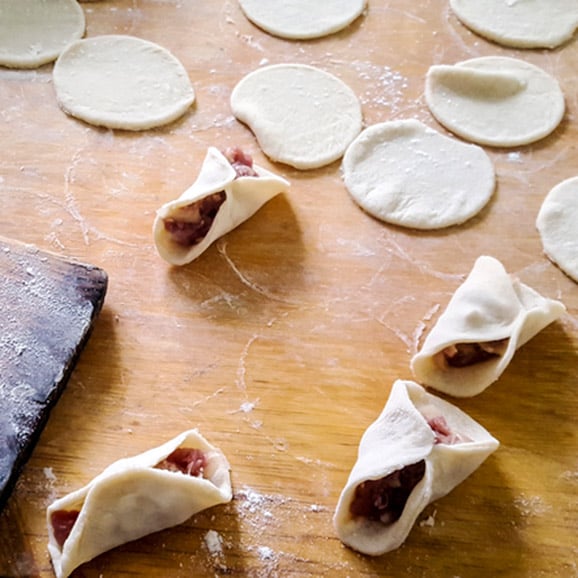 Varenyky
Varenyky: Almost every culture has its own version of filled dough (Polish pierogi, Italian ravioli, Chinese dumplings), and this is Ukraine's. They are easy and inexpensive to make (the dough is composed of just water, flour, and salt), and can be stuffed with just about anything — chopped meat, mashed potatoes, mushrooms, or fruit (the sweet incarnation of varenyky is generally served with honey and sour cream).

Borshch: This traditional soup is a staple, and made from grated beetroot with stewed tomatoes and a variety of other ingredients, which can include anything grown in your vegetable garden — onions, peppers, cabbage, and carrots. For protein, pork or fish can be added, along with a generous dollop of fresh sour cream (sultana). There is also a green borshch made with sorrel and vegetables, which also includes chopped hardboiled egg and sour cream. Other popular soups include rosolnyk (pickle) and kapustniak (sour kraut).

Banosh: The traditional food of shepherds in the highlands of the Carpathian mountains, in the Transcarpathia region of Ukraine, which borders four countries: Hungary, Romania, Slovakia, and Poland. This dish is said to combine the best tastes of all of them — a porridge made from corn flour or grits and (you guessed it!) sour cream, cooked outside in a large pot or cauldron over an open flame, with white mushrooms and bits of crunchy pork fat added, and crushed brynza (sheep's milk cheese) sprinked over the top. Banosh is always prepared by men, a local tradition when a recipe incorporates anything from a sheep.

Holubtsi: These are rolled cabbage leaves with a rice filling that may also contain diced meat (beef or bacon). They are baked in a batter of oil, caramelized onions, and possibly tomato soup or — yes — sour cream, and roasted with bacon strips on top.
(Note: as Kiev is the capital of Ukraine, you may be wondering about Chicken Kiev. Turns out, the dish is not native to Ukraine, but was a 19th century Russian import from France. Its name was supposed to make it more marketable to Russian restaurants in Western Europe and America.)

Uzvar: Ukraine's national non-alcoholic beverage is really more of a honey and cinnamon-laced compote composed of a variety of dried fruits, which can include apples, pears, lemons, apricots, raisins, and sometimes prunes. It is especially popular at Christmas dinner (Ukrainian Christmas is celebrated on January 7), and is served warm. (Not surprisingly, there is no sour cream added.)

Horilka: This is Ukraine's national alcoholic drink; it is similar to vodka, but boasts one important distinction: it is sometimes infused with chili pepper, which might explain the English translation of its name: "burning water." Consume at your own risk!

Paska or babka: A close cousin of the familiar Italian panettone, this is a fruited egg bread which is a mainstay of Ukrainian Easter dinner. It is frequently given as a gift, and Ukrainian tradition dictates that a person must try 12 different varieties of paska to have good luck for the coming year (and presumably, exercise a lot). Babka is traditionally shaped as a tall cylinder; paska is short, round, and decorated on top.
What might you find on the menu for dessert? There's pampushky (similar to the Polish paczki) — donuts tossed with sugar with a variety of fillings; Kiev cake, made with meringue, chocolate glaze, and cashews, with a buttercream filling; syrnyky, a cheese fritter that often includes raisins, served with apple sauce, jam, honey, or…wait for it…sour cream. And for Christmas Eve, kutia is popular — a concoction made with poppy seeds, wheatberries, honey, dried fruit, walnuts, and/or raisins. It contains no milk or egg products, making it also ideal for Lent.
If a trip to Ukraine isn't in your plans (or your budget), you can experience the country's Old World charm through its distinctive and flavorful cuisine, at restaurants such as Shokolad. As everyone knows, on her television series, the late legendary "French Chef" Julia Child used to sign off with "Bon appetit!" As most regions do, Ukraine has its equivalent, so be sure to wish your fellow diners a pleasant meal with this: "смачного!"