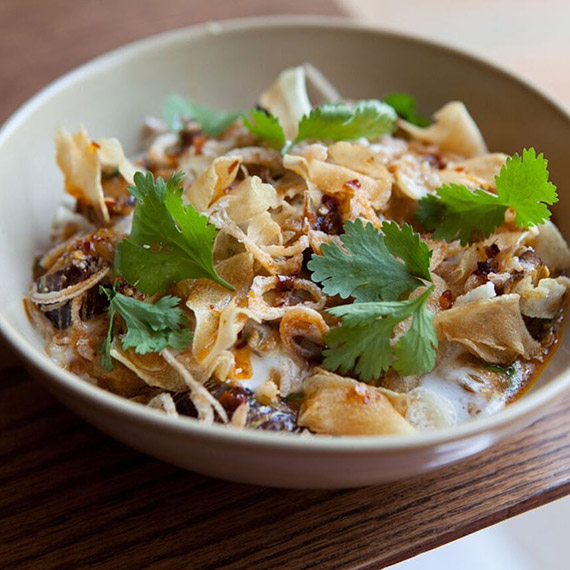 Mi Vit Tiem noodle soup from Thithi's in Evergreen Park
Merriam-Webster defines "fusion" as "a merging of diverse, distinct, or separate elements into a unified whole." There's nuclear fusion, spinal fusion, jazz fusion, and this: "food prepared using techniques and ingredients of two or more ethnic or regional cuisines." Two of the restaurants reviewed on Check, Please! – Wicker Park's Pub Royale (Anglo-Indian) and Thithi's in Evergreen Park (Vietnamese-French-Thai), are prime examples of this trend, along with the previously featured de Quay in Lincoln Park (Dutch-Indonesian).
It may feel as if fusion dining suddenly burst on the American scene in the 1990s along with boy bands, moon boots, and Nintendo. But when it comes to disparate cultures coming together, it's safe to say that fusion in our country has probably been a thing ever since the first Thanksgiving dinner in Plymouth, when the Wampanoag Indians arrived at the Pilgrims' inaugural autumn potluck with their regional contributions to the meal: reportedly venison, beans, corn, and other locally harvested fruits and vegetables, which the settlers later learned to cultivate for themselves and incorporate into the recipes they had brought from their homeland. (Unsurprisingly, there is no evidence that the Pilgrims referred to this practice as fusion – they were just combining whatever components were available to them to create edible concoctions for their families.)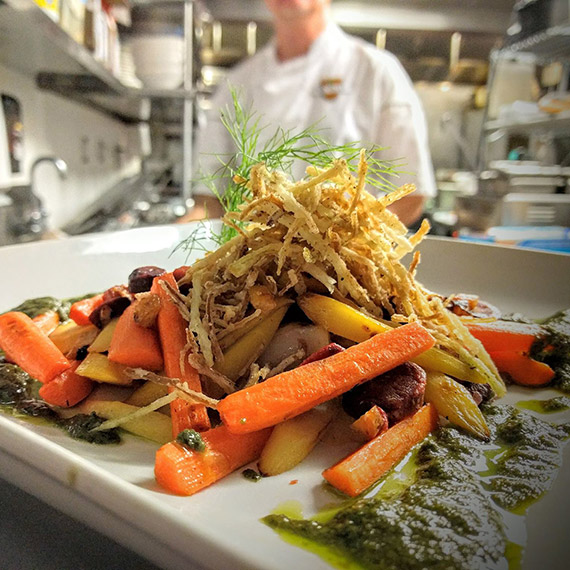 Halibut with Thai basil pesto at Lincoln Park's de Quay
As time moved on and immigrants from other countries followed the Pilgrims to America, each group added their own unique culinary traditions to the figurative melting pot. Still, the information available tells us that restaurants in the U.S. tended to remain fairly homogeneous all the way up to the early 1960s, when, as Chantal Martineau wrote in The Atlantic, "American cooks [began] experimenting with blending European and Asian cuisines. Richard Wing, of Imperial Dynasty in Hanford, California, is widely credited with creating one of the first fusion cuisines when he combined French and Chinese cooking traditions at his family's restaurant."
James Beard Award-winning chef Tory McPhail of the acclaimed Commander's Palace in New Orleans had a different idea, claiming that Louisiana, "the home of the most original food in America," and its chefs in the Big Easy "invented America's first fusion cuisine" when it melded other regional seasonings and ingredients into traditional Creole dishes. In other words, as Charles Perry wrote in the Los Angeles Times, cooks would "adapt the foreign flavors [they] liked to the techniques [they] knew."
Wherever and whenever it began, the Chicago area's vibrant and diverse dining scene offers a variety of innovative examples of fusion cuisine. In addition to the three eateries above, here are more:
As you can see, Chicago's fusion restaurants are limited only by a chef's creativity and need for self-expression, and a diner's willingness to experiment. Be sure to take advantage of this economical way to travel to several different countries in the span of one dinner plate, without ever leaving the city.