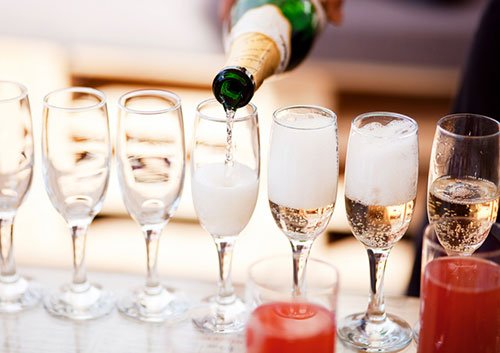 Champagne
"For auld lang syne, my dear,
For auld lang syne.
We'll take a cup o' kindness yet,
For auld lang syne."
– Scottish poet Robert Burns, 1788
"Come, for I am drinking stars!"
– Dom Pérignon, allegedly after tasting his first champagne
Yes, New Year's Eve has come around again, and that calls for celebrations the world over...most of them including a toast with the contents of that "cup o' kindness" that is traditionally smashed over the prow of newly christened ocean liners and sprayed in the locker rooms of winning sports teams: champagne.
All champagnes can be defined as sparkling wines, but not all sparkling wines can, in truth, be officially labeled champagne (although they often are). That honor goes only to vintages made in the Champagne region in northeastern France, an exclusive right guaranteed by the Treaty of Madrid in 1891, and thereafter by the 1919 Treaty of Versailles. Why is Champagne the capital of champagne? The cooler northern temperatures and special qualities of the soil contribute to the (Chardonnay, Pinot Noir, or Pinot Meunier) grapes' acidity, making the area perfect for this singular purpose.
The difference between run-of-the-mill wine and champagne comes down to two added ingredients: sugar and yeast. After the initial fermentation, these are blended in with the wine and the mixture is allowed to ferment again for well over a year, with the bottle turned on its side (this is when it develops its signature bubbles). After that process is done, the bottle is turned upside down so the yeast rises to the top and is ultimately extracted. A little more sugar is added, and voila! The champagne is corked and ready for selling…and drinking.
Anyone who is at all familiar with champagne has probably heard of Dom Pérignon, from the French winery Moët & Chandon. How did this prestigious brand get its name? Here's how: Pérignon, a Benedictine monk and cellar master in the 17th century, is remembered for devising several pioneering techniques for keeping champagne viable – it was he who came up with the idea of using corks instead of wood stoppers, and solved the problem of the volatile mixture causing chain reaction explosions in the cellar by developing thicker glass bottles and securing the corks with hemp string soaked in oil.
Do you like your champagne sweet, or dry? Here's what to look for on the label that might inform your choice:
Doux means the champagne can contain up to 10 percent sugar; it is the sweetest variety on the market.
Demi-Sec is slightly less sweet; it can contain up to 8 percent sugar.
Dry/Sec can contain up to 4 percent sugar.
Extra Dry/Extra Sec can contain up to 2 percent sugar.
Brut is almost dry; it can contain up to 1.5% sugar.
All others (Brut Sauvage, Brut Nature, Brut Zero, Extra Brut, and Ultra Brut) are very dry – these varieties have no added sugar.
What foods should you serve with champagne? Light hors d'oeuvres have always worked especially well as a complement to this fizzy libation – some great options are shrimp, oysters, duck and goose liver pâté, cheese and crackers, mushrooms, and (more recently) sushi.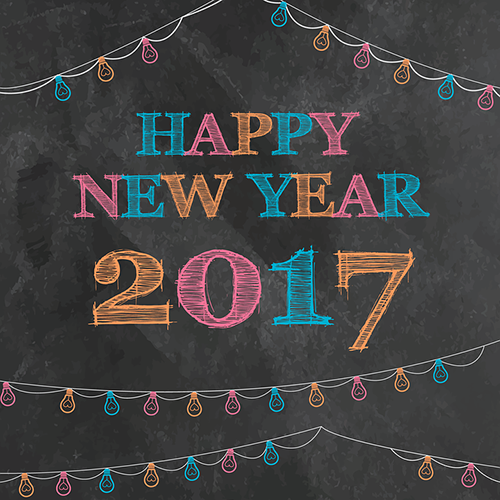 Happy New Year
How about desserts? Strawberries are traditional, but tarts, puddings, or crumbles containing such fruits as apples, pears, and other berries are perfect accompaniments as well. Also ideal are light cakes (such as angel food or sponge), or an array of shortbread/butter cookies.
When it comes to the cost of your champagne, most experts agree that you don't need to spend a king's ransom to obtain something delicious – it really depends on your own personal taste, and in a pinch, a good domestic sparkling wine will enhance your celebration as well as the priciest imported champagne.
So, whether you're dining out, celebrating in the streets, or watching the festivities from the warmth and comfort of home, break out the champagne flutes (or a plastic cup on the go), uncork the bubbly, and toast to a happy, healthy, and prosperous New Year.