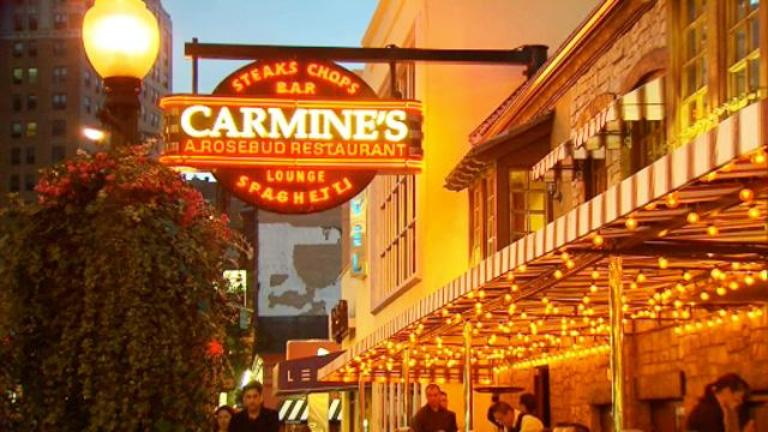 People ask me all the time, do you get hungry working on Check, Please!? And my answer is almost always, "YES. Don't you get hungry watching it?" I mean, there are plenty of reasons for this.
The food itself is reason number one. The presentation of a dish builds your gastronomic expectations. Our camera folks do an extraordinary job of capturing every juicy, melt-in-your-mouth aspect of the expertly, as well as artfully, prepared cuisine created by the chefs at the restaurants we visit. Close-up shots of perfectly seared filet mignon resting on a plate with perfectly prepared and luscious green asparagus or delicately prepared scallops in a buttery sauce lovingly garnished with whole spices leave me salivating every time! Watching the guacamole prepared table-side at Fuego, a Mexican restaurant featured on this week's show, makes me dizzy with hunger. I love guacamole! They prepare it exactly as you like it, adding more tomato or onions at your request. I could eat just that! Or how about witnessing a fork coming in from off-camera to slice effortlessly through cheesy lasagna with strings of cheese pulling away dripping with red sauce and speckled with spices? Someone is about to enjoy that delicious bite somewhere! It is just a killer when you are resigned to the bologna sandwich you quickly prepared for yourself on the way out the door in the morning.
Another element of my torture while editing this show is the enthusiasm for the culinary experience shared by our guests. Some guests can express their tastes in such away that we salivate just listening to their first hand dining accounts. One of my favorites this week is William describing his experience at Fuego. This wasn't even his suggested restaurant, but he loved his meal so much. When he described it in his whispering, slow head-shaking, eyes-closed manner as "Wooonderful"... I was completely sold. I can't wait to go to Fuego. Coming in a close second was Chris's description of how much he loved his dessert at William's recommended restaurant, Carmine's. How he described the best dessert he had ever had was that he just wanted to get up, go to the kitchen, and hug the chef. Priceless! Lynn got one in on this show too... white chocolate mole... "anything in chocolate is the best." Yes, Lynn I must completely agree!
One more reason for the wan look in my eyes during post-production is all the fun everyone looks like they're having at the restaurants. Really. We go out to eat to have a great meal, spend time with special people, and enjoy a different atmosphere other than the same old, same old. Not to mention, the fact that we don't have to do all the cooking before or dish washing after! At this week's featured restaurants, Carmine's and Fuego, there were smiles all around and people truly were enjoying much more than the food and spirits. Even at the counter service restaurant, Sultan's Market, Lynn said that it was an adventure just tasting the Pan-Middle Eastern dishes. William spoke excitedly about having his first taste of falafel! What fun! I find myself wanting to be there, don't you?
Food is meant to sustain us, right? When it comes to working on Check, Please!, I've learned that good food does so much more. It awakens a variety of emotions and feelings, it inspires creativity, it heightens a social experience, and for an associate producer with a bologna sandwich for lunch, it can lead you to near insanity. Well, almost. Happy eating!
Carmen M. Schmidt
Associate Producer, Check, Please!
WTTW