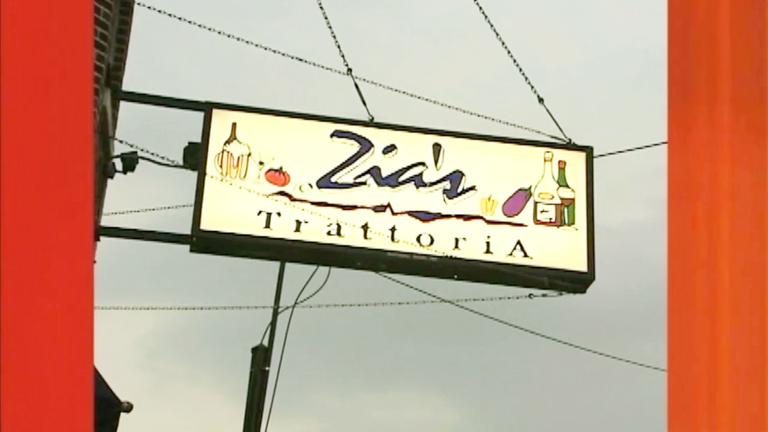 We're at the end of Season 9 on Check, Please! If you're a regular viewer, then you know that the last show is what we call the "comp" or compilation episode. That's when we look back at several restaurants that have been featured on Check, Please! over the past seasons and we focus on a particular theme. This season's theme is "mom and pop" restaurants. You know... those restaurants where a husband and wife team makes the culinary magic happen.
As we edited this episode it struck me that mom and pop restaurants come in all shapes and sizes. Throughout this season on Check, Please! we've heard Alpana and our guest reviewers toss around restaurant descriptions like trattoria, bistro, or café. We've heard restaurants described as "destination restaurants" and "counter service." Each type of restaurant offers a different experience and really should be judged on its own merit. A diner does not typically expect to be compared to a five star, fine dining restaurant. Nor should you expect the same level of service at each. So, rather than assume everyone has a handle on all these restaurant distinctions, I've done a little research and created a simplified glossary of terms for restaurant description.
First we must classify the dining experience. This will certainly affect what you can expect from the overall experience and, in many cases, what you can expect to pay for a meal.
Fast Food - Quite simply, this type of eatery emphasizes speed of service and low cost over other considerations like ambiance. A cafeteria or delicatessen could fall under this classification because of the made-to-order sandwiches and salads served from behind a counter. They range from small scale street vendors to franchised mega corporations like McDonald's.
Family Style - This type of restaurant usually has a fixed menu and fixed pricing. Seating may generally include booth or bench seating. Aside from chain restaurants, like Denny's, these generally tend to be mom and pop businesses.
Casual Dining - A restaurant that serves moderately priced food in a casual atmosphere. No jacket is required! Aside from a buffet style restaurant, most offer table service. The level of service can range from just a step above fast food to what you might find at a fine dining restaurant. Casual dining usually includes a full bar with a separate bar staff. It often includes a large beer selection and a limited wine menu.
Fine Dining - This is a full service establishment with specific dedicated meal courses. The menu may fluctuate according to season and the chef's culinary style. The décor typically features higher quality materials creating an atmosphere the highlights the culinary experience. These restaurants feature highly trained staff who typically wear more formal attire. Fine dining restaurants are almost always small businesses with a single location or may have just a few locations. And, of course, these restaurants are usually on the high end price-wise.
Type of restaurants.
Automat - (You won't find many anymore, but I just had to include it.) An automat is a fast food restaurant where simple pre-packaged foods and drinks are served by coin operated and bill operated vending machines. If you can find an automat today, you are sure to find a microwave oven there too.
Bar and Grill - A place where food and alcoholic beverages are served. Most commonly, these establishments will serve young patrons with contemporary American fare.
Bistro or brasserie - French for café, this is a restaurant that typically serves single dishes and other simple meals in a relaxing setting. In Paris, bistros typically serve moderately priced meals in unpretentious settings. Here the term bistro also indicates a fast casual dining restaurant with a European-influenced menu or a café with a larger menu of food.
Buffet - This form of restaurant offers patrons a selection of food at a fixed price. Patrons typically pay upon entrance and then it is a self serve bonanza. There are usually cold and hot plate selections, soups, salads, desserts, and fruit. The cuisine is often eclectic, but some restaurants will focus on a specific type such as Chinese or Swedish. Your server's job is primarily to take away finished plates and occasionally deliver ordered beverages or refills. I call these "elastic waistband" restaurants.
Café - This type of restaurant offers a range of hot meals and made-to-order sandwiches, in a table service setting. These are informal eateries that often offer a full breakfast and a selection of simple desserts, as well as coffee drinks. Some also provide seasonal outdoor seating.
Cafeteria - A cafeteria is a restaurant that generally serves ready-cooked food arranged at a counter. Most often there is little or no table service. You may get your drink from a server. Customarily these are self service establishments at which you select plated dishes or pre-made food, pay at the register, and take your tray to a table.
Coffeehouse (or Tea house) - These establishments are casual and generally do not have table service. The emphasis is on beverages and there is often a limited selection of cold foods. The most distinguishing feature is that you can relax and socialize for long periods of time without the pressure to leave.
Counter Service - At this type of restaurant patrons typically place an order and play at a counter. They are given a number and when food is ready it is delivered to their table. In some cases patrons are called to the counter to pick up their dish. A casual and fast dining experience, this limited service typically involves a lower price.
Diner - These casual and often family style restaurants invariably serve American food such as hamburgers, French fries, sandwiches, and breakfast food served on the grill. Classic diners display their desserts in a glass case, and are characterized by a casual atmosphere, counter, and late operating hours. These are generally small businesses and are often seen as quintessentially American. Diners offer table service and affordable pricing. (Some diners have been called "greasy spoons" because most of the foods served are fried.)
Destination Restaurant - This is a restaurant that has a strong enough appeal to draw customers from beyond its community. This eatery is known more than just its food, but for the ambiance, chef, and patrons. Many are often said to be places where you go "to see and be seen."
Hibachi style - This style of restaurant typically specializes in Japanese cuisine. At this casual dining style restaurant, patrons usually sit around a grill while a chef prepares the food orders in front of them. These chefs are usually highly trained entertainers as well as being adept with techniques to stack, toss, and flip food as it is cooked.
Mongolian barbeque - Patrons create a bowl with an assortment of ingredients displayed in a buffet fashion. The bowl is handed to the cook who stir fries the food on a large griddle and returns it to the customer. These casual restaurants offer limited table service and fixed pricing as well.
Pub - While originally know for their selection of beers and ales and not for the food, the modern day pub's success relies greatly on the cuisine as well as the wide selection of alcoholic beverages. Service and restaurant experience can vary dramatically.
Speakeasy or Private Kitchen - A typical speakeasy is based in an ordinary residential apartment. Customers gain access by ringing the bell before the door is opened from the inside. The apartment is set up as a simple restaurant, providing quality homemade food and drink. Advertising is usually by word of mouth, since there are typically no signs outside of these private businesses. Some speakeasies require that patrons call ahead to make a reservation.
Tratorria - Quite simply, a tratorria is a small moderately-priced Italian restaurant, serving simple Italian dishes. The atmosphere is usually intimate and bustling.
Carmen M. Schmidt
Associate Producer, Check, Please!
WTTW