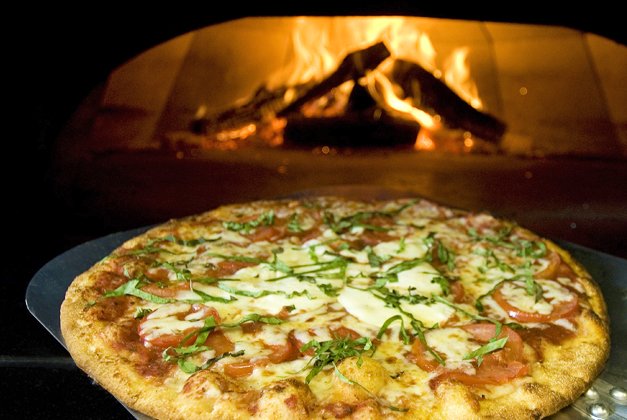 Whether I have a craving for an overwhelming portion of chicken parmesan or the city's tastiest bowl of bottomless salad, Graziano's is the place I go to satiate my hunger. For more than ten years, Graziano's Brick Oven Pizza has sent me home with doggy bag after doggy bag of Italian classics. Good for lunch or dinner, alone, with my wife, or with a large group of family and friends, the exposed brick walls, accessible seating options, and friendly service keep me coming back... for the food!
A typical meal for me begins with an appetizer and is followed by the best house salad in the Chicagoland area, a portion sized entrée I never finish, a glass of wine or cocktail, and dessert. Staples in my rotation for appetizers are the polenta, bruschetta, or often one of the dozen or so specialty pizzettes. When available the skirt steak polenta, often a daily special, takes the crown. House salad is always next, and bottomless.
If only stopping by for lunch, the Italian Turkey Sandwich gets the job done. Dinner, however, requires a bit more heavy lifting. Although I do not have an allergy and don't pretend I am on a diet, I like the option of gluten free or low-carb dishes to keep my wife happy. If we ever have children, or just decide to borrow my niece, I know I can count on Graziano's to keep them full and entertained, giving kids the chance to watch their pizzas cook in the wood burning oven.
In the city of big shoulders and waistbands, the best options are the Tuscan brick chicken (chicken breast and balsamic marinade with roasted potatoes), chicken parmesan, or bowtie pasta with vodka sauce (rich and creamy). If you are looking for something with a little more kick, try the penne arrabiatta (spicy tomato sauce and a few red pepper flakes) with an oversized meatball.
And what would a nice Italian dinner be without dessert? The profiteroles are outstanding, but don't be afraid to dig into a messy sundae, piece of tiramisu, or grab an espresso from the bar. And when leaving with tomorrow's lunch feel free to grab a root beer barrel for me.
Graziano's
5960 West Touhy Ave.
Niles, IL 60741
(847) 647-4096
http://www.grazianosrestaurant.com