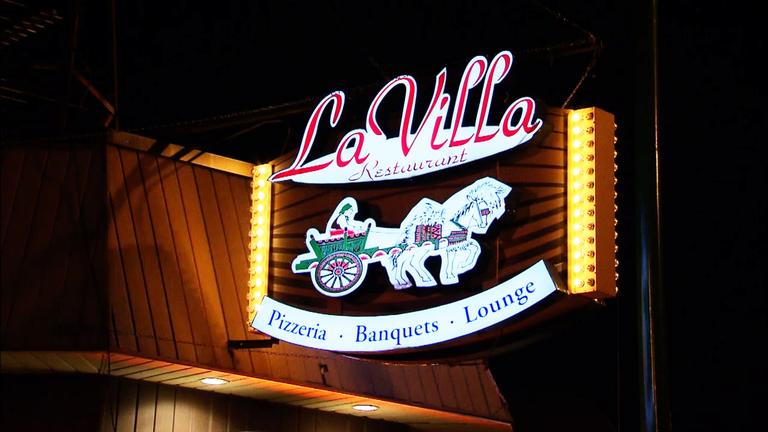 Each week on Check, Please! we have the pleasure of watching three people from different walks of life tell us about one of their favorite restaurants. They come excited and hopeful that everyone at the table will enjoy their selections as much as they do. And, why not? When you find a great place to eat, it's fun to turn on others to it. But what happens when the restaurant you adore is not so lovingly accepted?
This week's guest reviewer Steve shares his favorite Italian eatery, La Villa. When I first heard the name of this restaurant, it brought back memories of a certain carryout pizza place from my high school days. Sure enough, La Villa has been around for a while and this was indeed the delicious cheesy pizza I remembered. The restaurant is a classic family-friendly Italian place where the food is made from scratch and the hostess gives you a big hug when you walk in the door. To add to its charm, Tommy Moran, an Irish singer and accordion player, croons unexpected and delightful tunes Thursdays through Saturdays while you enjoy a meal served in heaping portions. It's hard not to like La Villa as our two other guest reviewers Kristin and Michael discovered.
Then there was Table Fifty-Two, located in the Gold Coast. Kristin, our returning all-star guest reviewer, was bubbling with enthusiasm for the delicious signature biscuits, delightful seafood and steaks, and the amazing desserts. While Steve and Michael agreed that the desserts were delectable, they pointed out that they had some problems with the service. The combination of great food and great service is what brings people back but we all know that restaurants, like people, have bad days. Our friend Steve – diplomatic and thoughtful – was quick to offer that he would give it another try.
Co-Owner and Executive Chef, Art Smith presides over Table Fifty-Two. An award-winning chef, he is known for creating delicious and inspired dishes using organic, locally grown products. Chef Smith is a well known author of many celebrated cook books, a television personality, the former specialty chef to Oprah Winfrey, and the list goes on. In 2003, Chef Smith established Common Threads, a nonprofit organization that teaches low-income children to cook wholesome and affordable meals. The idea is to prevent childhood obesity and reverse the trend towards unhealthy eating. Common Threads serves over 1,000 children in seven locations throughout Chicago. He's an inspiring culinary leader, not to mention the creator of the Hummingbird cake!
So, go out there any try this week's restaurants, and let us know what YOU think!
Happy eating!
Carmen M. Schmidt
Associate Producer, Check, Please!
WTTW