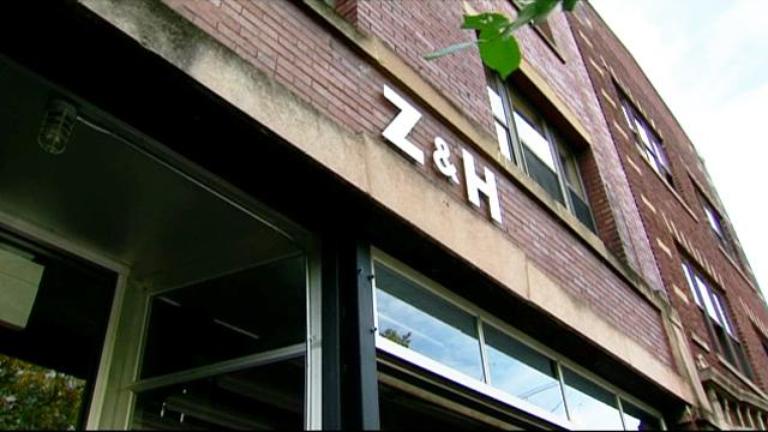 New episodes of Check, Please! are back. Just like the weather, this week we're featuring a couple of restaurants that are truly out-of-the-ordinary and one that is sure to be the topper for a fun night out on Michigan Avenue.
If you're in the Hyde Park neighborhood and have at least $10 in your pocket, guest reviewer Elliott tells us you have to try the unique gourmet sandwiches at Zaleski & Horvath Market Café. The name is a mouthful, but so is the place. Zaleski & Horvath looks like a deli, possibly a coffee shop, or even an organic grocery, but don't let that fool you. It really is one of the tastiest sandwich shops in Chicago. The owners are serving up food with a conscience. As many ingredients as possible are purchased from local growers and meat purveyors. What's more, these sandwiches are not just your run-of-the-mill turkey and swiss! There are sandwiches like the Jamon, Jamon which includes Serrano ham, manchego cheese, quince paste, dijon, mixed greens, and roasted tomato on French bread. Vegetarian options are plentiful and if you're a picky eater there are create-your-own options as well. Visit their website and you will also find an incredible selection of daily soups. All of our guests loved their uniquely crafted sandwiches and eclectic environment. We've heard it said many, many times on Check, Please! but this one truly is a gem – delicious and the price is right!
Guest reviewer Ed took us to a truly unique culinary experience in Lincoln Square at Jibek Jolu Central Asian Restaurant. Listening to our reviewers discuss this restaurant was quite a history lesson. Jibek Jolu, which means Silk Road, is the only Kyrgyzstani restaurant in Chicago. Kyrgyzstani flavors are a mix of many cultures due to the nomadic nature of the people and the influences of neighboring countries. You'll find Russian, Turkish, Afghani, Chinese, and even Korean styles of dishes at Jibek Jolu. The menu is dominated by meat, potatoes, dumplings, and noodles. Jibek Jolu is not a restaurant for vegetarians, but certainly for adventurous eaters willing to try a unique cultural cuisine. The noodles are hand-pulled on the premises and the house salad is served hot including fried beef, onions, garlic, and cucumbers in a soy sauce. You can be sure you are having an authentic Kyrgyzstani experience because Grandma is busy cooking in the kitchen at this family run business.
I think my favorite part of this week's show was the discussion about the Michigan Avenue gastro pub, The Gage. Situated across the street from one of Chicago's most visited tourist attractions, Millennium Park, The Gage offers the perfect fine dining experience for native Chicagoans or visiting tourists. On that point, Alpana and the guest reviewers practically broke out into an enthusiastic tourism commercial for Chicago! "Welcome to Chicago – we're glad you're here!" It was a silly moment, but fun to watch. With such a great location, The Gage is the perfect place to end your day of sightseeing in our beautiful city. The energy in this restaurant is electric and the food and spirits are top-notch. All of our guest reviewers were very pleased with their meals. That is until guest reviewer Ed's dining neighbor poked her nose across the table, just inches from his sour cherry strudel, to admire his dessert. Alpana calls this "food-dropping." While it is a compliment that others "ooh" and "ah" at your order, let's all be good foodies and keep our noses out of others dishes, okay?
Happy Eating!
Carmen M. Schmidt
Associate Producer, Check, Please!
WTTW