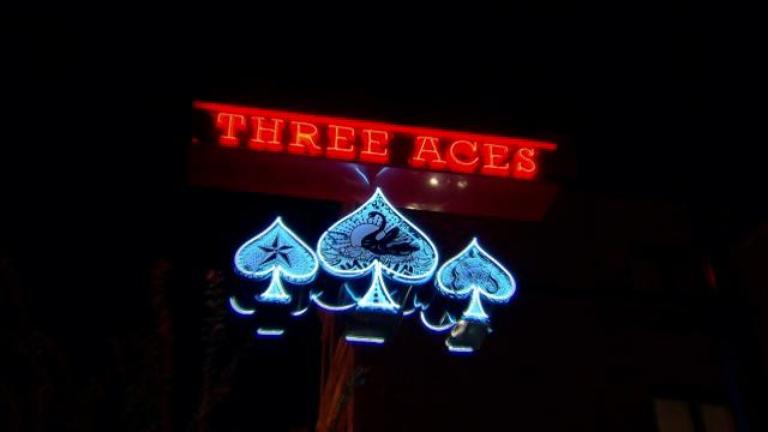 I am so excited about this week's show! The restaurants are all so different and so delicious! Each restaurant provides a very unique culinary experience, some more unexpected than others.
Tattoo shop owner/guest reviewer Paul introduces us to Three Aces, a "gastropunk" bar as described by co-owners Anthony Potenzo and Lyle Aker. Our guest reviewers had to see past the dark beer bar, tattoos, and rock n' roll vibe to discover the deliciously modern Italian menu, but secretly I think they really loved it. This is one of those "don't judge a book by its cover" situations. Five-star chefs are not always found in white table-clothed restaurants. Under this restaurant's tough exterior you will find perfectly prepared food. Traditional Italian dishes like mussels and braised pork shank are served along with a selection of gourmet pizzas and, a fan favorite, the Ace burger. What makes the Ace burger so good? Well maybe it's the perfectly cooked beef or the aged chedder, bacon jam, aioli, and other trimmings all served on a hearty pretzel roll. I'm making myself hungry just writing this!
Then, the Check, Please! train pulls into the station...Sushi Station to be precise. I was so excited to see this restaurant on the list for this season. My family and I love going to Sushi Station so it's a personal favorite. The sushi is served on small plates, usually four pieces each, and goes around the restaurant on an enclosed, refrigerated conveyor belt. When you see a sushi you like, you lift the little glass door and grab it before it gets away. Sounds very gimmicky, right? But this routine is actually quite popular in Japan. As guest reviewer and former resident of Tokyo John Paul tells us, this is called kaitan zushi. It's a buffet that comes to you! This might seem like the fast food of sushi, but the freshness, quality, and variety offered are undeniable. The service is great too. If you don't see something you like on the belt or you're looking for something hot with your meal, just tell the wait staff and it's there before you know it. My favorite rolls are the Carribbean Roll (slices of avocado, masago, and shrimp over crab salad topped with mayo and plum sauce) and the simple Bostation Roll (tuna, avocado, masago, and crab salad). The best part about this place are the small plates, priced right, so you can be daring without spending an obscene amount of money to try something new. My kids don't like sushi, but there's always something on the hot menu they enjoy. They love to sit along the conveyor belt and wait for my husband and me to spot our favorites so that they can quickly grab it for us. It's a great family night out! I'm afraid I must disagree with guest reviewer Paul on only thing; I think it's a great date night place as well. I actually think it would also be a great place for a first date, because it's so unique and fun that it wipes away those jitters!
In keeping with unique culinary experiences, guest reviewer Meredith revealed her favorite little hot spot, Ruxbin. Chef Edward Kim is definitely in touch with what is pleasing to the taste buds. His cuisine is an eclectic mix of Pan Asian, French, Latin American, and other international flavors. Our guest reviewers raved about the flavor he pulls from unexpected ingredients. Chef Kim is spot-on when he describes a typical American pantry as being a little bit of everything. I have Italian pastas and sauces, Puerto Rican spices and vegetables, Chinese noodles, and so much more in my pantry. He's right...modern American cuisine is actually a "fusion" cuisine. While the food steals the show at Ruxbin, the service and ambiance are icing on the cake. Be prepared, though. It's very small. We affectionately call this "intimate" on our show. There are only 32 seats and they don't take reservations. As guest reviewer Paul discovered, it fills up quickly. The secret is out, people love this place, and if you're lucky you may be asked to wait to be seated. It's that good.
Well there you have it. Three memorable culinary experiences that you must try. I hope you will. Write to us and to tell us about it!
Happy Eating!
Carmen M. Schmidt
Associate Producer, Check, Please!WTTW