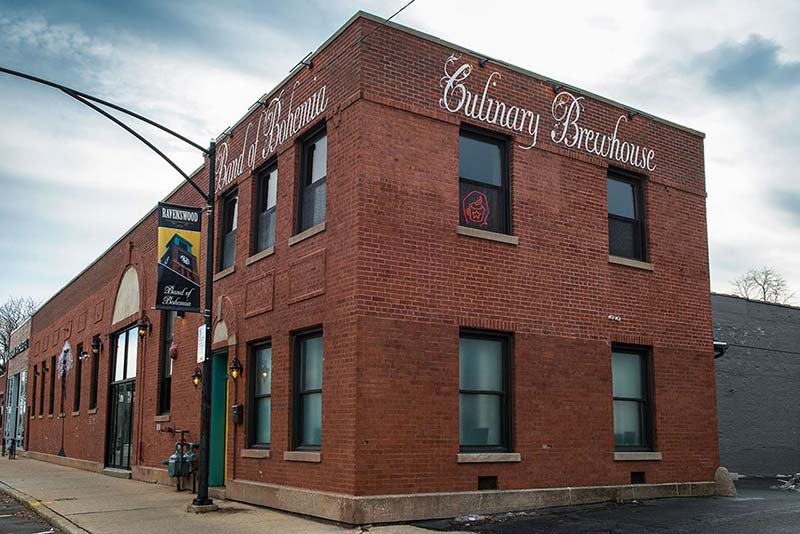 Hello! Ravenswood Corridor has been dubbed "Malt Row" due to the proliferation of breweries and distilleries opening in the area. While many of these breweries are traditional in nature, Band of Bohemia is a brewhouse with a twist. Billed as a "culinary brewhouse" and the first brewpub to be awarded a Michelin star, it will take only one visit to realize this is not your grandpa's pub. This week I spoke to the Band of Bohemia team to learn about their inspiration. Here's what they had to say:
Cat: You call Band of Bohemia as a culinary brewhouse. What does that mean and how did you arrive at the concept?
Michael Carroll, Owner: The process of describing who and what we are took a lot longer than you might think. We labored over it for months to come up with a term that best describes what we are looking to do – conceptually, visually, and spiritually. The ideas of "farm to table," "local," "organic," "gastro-pub," "eclectic," and so on didn't really fit what we were looking to create. Then one evening at the Duke of Perth, the idea came about after much debate… laboring and writing it out on a piece of paper. This paper – with "Culinary Brewhouse" written on it – was handed out to the team. And just the look of it was right. The words spoke to who we are. A brewpub that is so much more. A place that has a real focus on not only food, but beer, coffee, tea, and cocktails. A true culinary paradise. A true Bohemian paradise.
Cat: What is your approach to brewing?
Michael Carroll: The approach to brewing is more rooted in wine. That is not to say we don't take a typical approach with over-utilizing hops, but we add nuances to the beer with the essential purpose to pair it with food. Strong, abrasive beers have a much harder time pairing with food, so we take a more subtle approach. We add ingredients that can be overlooked but, when food is taken into account, that's where the marriage begins.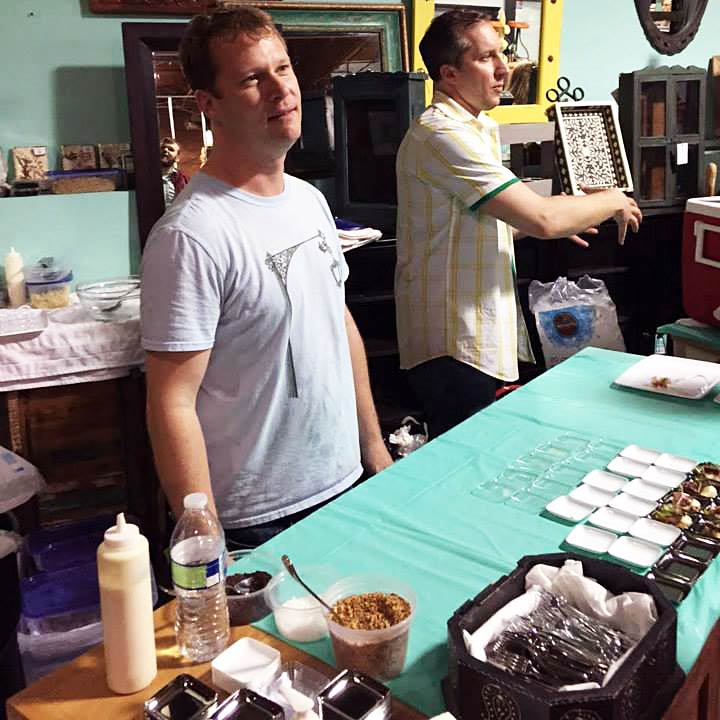 Michael Carroll and Craig Sindelar
Cat: Can you talk about the inspiration behind the beer at Band of Bohemia?
Craig Sindelar, Owner: Sometimes whimsy, sometimes ingredient inspired, but almost always seasonally driven.
Cat: The menu is organized by which beer best compliments the dish. So what comes first when creating the menu – the food or the beer?
Craig Sindelar: We reverse engineer our menus, so Michael first develops a recipe for an ale, which will frequently have nuances of fruit, spice, vegetable, and/or other palatable ingredients that complement the beer's complex mash-build and desired outcome. The recipes for the ales are then passed along to the chef, so that he and his team have time to conceptualize their selection of dishes and create a tasting for Michael and me. This gives the chef three to four weeks advance notice before the beer is released.
Cat: What is your favorite or most unique pairing?
Tom Santelle, Head of Coffee & Tea: One of my favorite pairings, and one I think that'll go down as one of our best, is on our menu right now. We have a Rohan duck breast, glazed in fig and Thai spices, with green curry and Bok Choi paired with our Indian Pale Ale (an ale brewed with roasted grape, kaffir lime, cardamom, and clove). It's an elegant pairing that rounds out assertive spice with more assertive spice. The duck's game hangs under the fig for a great contrast. It really shows off what Chef Davis can do with a singular beer.
Stay tuned and some more inside dish right here on my blog!
Cheers,
Catherine
For an additional serving of inside dish follow Catherine on Instagram @catdeorio and Twitter @CatCalls.