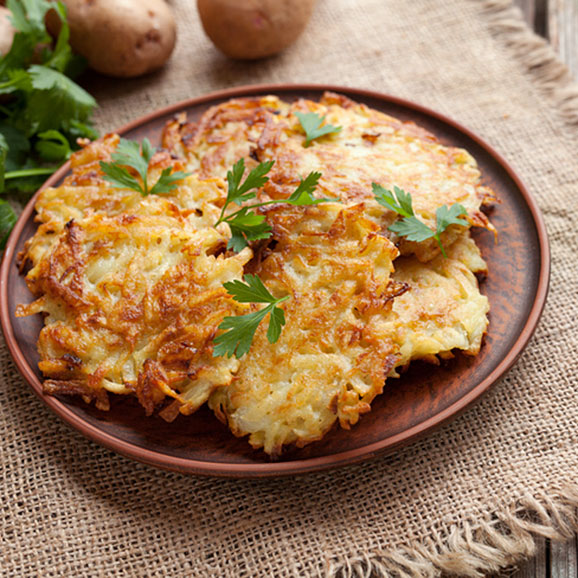 Latkes
Hanukkah, Oh Hanukkah
Come light the menorah
Let's have a party
We'll all dance the hora
Gather round the table, we'll have a treat
Dreidels to play with, latkes to eat.
And while we are playing
The candles are burning low
One for each night, they shed a sweet light
To remind us of days long ago.
– Traditional Hanukkah Song
Hanukkah, of course, is the eight-day Festival of Lights beginning on the 25th day of the Jewish month of Kislev, commemorating the successful revolt against an oppressive king and the subsequent rededication of the temple in Jerusalem. This year, Hanukkah happens to coincide with the traditional Christmas holiday – beginning on Christmas Eve, December 24, and running through New Year's Day, January 1. While there is an understandable reluctance to lump Hanukkah together with Christmas, the two events have one obvious parallel – each presents an annual opportunity to celebrate with family and friends while indulging in a variety of seasonal dishes that have special relevance to the occasion. For Hanukkah, these tend to fall into two main categories: fried foods and dairy.
Fried foods are eaten to commemorate a miracle that occurred more than 2,000 years ago – the story of the small jug of oil that famously kept the Temple Menorah burning for eight days, when there was only enough to last for one. Because of that, no Hanukkah celebration is complete without:
Jelly doughnuts, also known as sufganiyah (a Hebrew word derived from "sponge"). Traditionally, these are filled with strawberry jam, but in recent years, other infusions such as chocolate cream, vanilla cream, cappuccino, and caramel flavorings have been used. These are very similar to the Berliner or Bismarck (Germany), the pączki (Poland), the ponchik (Russia), and, of course, the American jelly doughnut. Once these come out of the fryer, they are rolled in powdered sugar.
Latkes, which we know as potato pancakes, were originally made from ricotta cheese. Potato latkes became popular later because potatoes were easy to grow and inexpensive. These are sometimes mixed with garlic or onion before cooking, and are usually served with a generous dollop of sour cream or apple sauce.
Knishes are small pockets of dough customarily filled with mashed potatoes, and either baked or fried. Other fillings include ground meat, sauerkraut, onions, kasha or cheese. The ultimate comfort food, they came along a bit later in the game, originating in Eastern Europe and arriving here in America with Jewish immigrants to the Lower East Side of Manhattan and Brooklyn, where they were sold from push carts.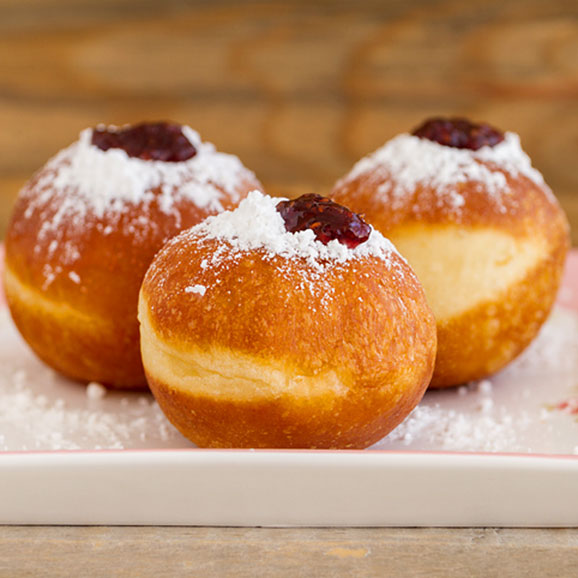 Sufganiyah (jelly doughnuts)
Dairy foods are incorporated in Hanukkah celebrations to pay tribute to Judith (Yehudit) of Bethulia, whose town was under siege and its citizens suffering from starvation. Judith bravely plied a tyrannical military leader on the other side with wine and very salty cheese, and once he became intoxicated and passed out, she decapitated him with his own sword. Voila (and brava)! Her people were saved, and they were able to mount a successful surprise attack to take the town back from their oppressors.
Not surprisingly, Hanukkah recipes that feature dairy incorporate cheese, cheese, and more cheese. Also eggs, in such dishes as the popular noodle kugel (a pudding or casserole made with egg noodles), quiche (lots of eggs and cheese), and a "fizzy milk foam" – a delicious beverage composed of chocolate syrup, instant coffee powder, soda water, ice cubes, cocoa powder and sprinkles for garnish, and (naturally) milk.
Cocktails are plentiful on the menu, too – the ever-popular Manischewitz blackberry wine can be combined with flavored sparkling water and frozen berries to make a refreshing Manischewitz Spritzer. Also popular are "blue and silver" drinks (the colors of the season), many of which get their azure hue from curacao liqueur. A kids' version is even available, substituting blue raspberry Kool-Aid for the curacao.
Hanukkah is a joyous celebration – a great time to connect with family and friends and uphold time-honored traditions. As you light the menorah, spin the dreidel, sing traditional songs, and observe the eight magical days of the Festival of Lights, you can also enjoy wonderful (and meaningful) food. Happy Hanukkah!