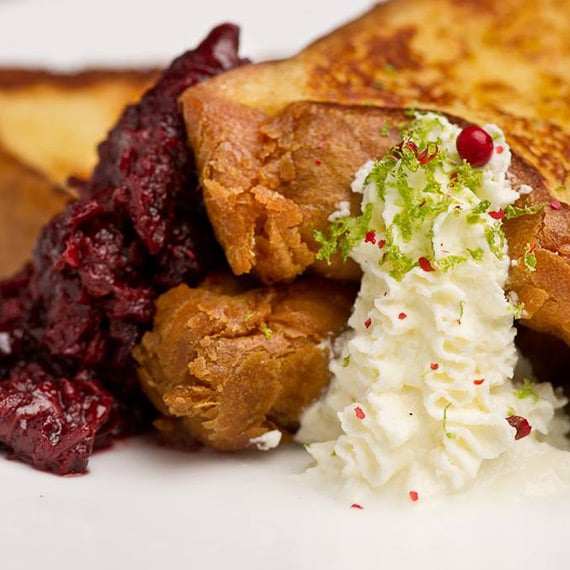 If there was ever a word that could make you forget that Monday morning is lurking right around the corner, it's brunch. Yes, that convivial, starch-and-protein-laden repast that allows you to sit back, indulge, enjoy the company of friends and family in a cozy atmosphere, and recharge for the week ahead. And just maybe, dull the aftereffects of the night before.
How and where did brunch get its start? In Farha Ternikar's Brunch: A History, we learn that this "in-between" meal seems to have originated in the United Kingdom in the 19th century with "the 'hunt breakfast,' where servants would prepare a day's catch after the hunting party returned, resulting in a later-than-usual eating time." Its first literary reference appears to be in the Aug. 1, 1896 issue of Punch: "To be fashionable nowadays we must 'brunch'. Truly an excellent portmanteau word, introduced, by the way, last year, by Mr. Guy Beringer, in the now defunct Hunter's Weekly, and indicating a combined breakfast and lunch." (It's a good thing he didn't name it after himself, or we'd all be "Beringering.")
Mr. Beringer's creation arrived in the New World at about that time, where, in New York, it was initially "known as the 'varsity meal' for its association with (hungover) college students." Its American incarnation included items with which we associate brunch today, with the spoils of the "hunt" having been replaced with eggs, toast, and "bacon, bacon, and more bacon."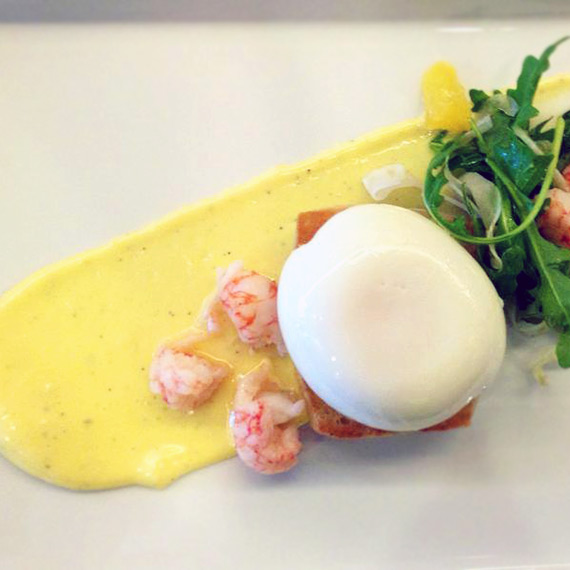 Eggs Benedict at JAM
For some reason, brunch in America among the mainstream seems to have gone somewhat out of vogue for a while, and its return in the 1930s has a distinctly local connection. According to Smithsonian Magazine, "Hollywood stars making transcontinental train trips frequently stopped off in Chicago to enjoy a late morning meal," notably at the Pump Room at the (then) Ambassador Hotel. Hotels, by the way, were big proponents of brunch, "since most restaurants were closed on Sundays and, with church attendance flagging after World War II, people were looking for a new social outlet that also let them sleep in a bit. Restaurants soon hopped on the bandwagon and began offering the decadent spreads of food and signature morning cocktails."
Here are a few popular brunch mainstays and how they got their names:
Eggs Benedict – the most popular story about its origins is that it was named in the 1860s for a regular patron of New York's venerable Delmonico's, a Mrs. LeGrand Benedict, who, bored with the usual lunch offerings, demanded something new from the restaurant's chef, Charles Ranhofer. Hence, a split and toasted English muffin topped with a poached egg and a thin circle of ham, and slathered in…
Hollandaise – this rich sauce composed of egg yolks, butter, salt, pepper, and lemon juice, had existed in France for at least two centuries before it found its perfect match with Eggs Benedict (and asparagus), and its name was a nod to the King of the Netherlands, who was visiting the country at the time it was conceived.
French Toast – did not originate in France, but in 17th century England. However, some variation of it may have been around since the Roman Empire. It is believed to have been invented as a way to make use of slightly stale bread that would otherwise have been discarded.
Mimosa – a mixture of champagne or sparkling wine and orange juice, plus a dash of triple sec. It is thought to have been invented in 1925 at the Ritz Hotel in Paris, named for the yellow blossom of the same name.
Bloody Mary – there are many variations on the recipe for this "complicated" cocktail, but the main ingredients are tomato juice and vodka, with Worcestershire or Tobasco sauces and a variety of different spices. Its likely creator was Fernand Petiot at Harry's New York Bar in Paris in the 1920s, where it was quaffed by such luminaries as Ernest Hemingway and F. Scott Fitzgerald. No one can agree on the origins of the drink's name; it has been associated with everyone from Queen Mary I of England to silent film icon Mary Pickford to, according to Reuters, "a waitress named Mary who worked at a Chicago bar called the Bucket of Blood." (There's that Chicago connection again.)
Whether you save it for special occasions such as Mother's Day or Easter Sunday, or enjoy it at your local diner every weekend, brunch provides an opportunity to relax and treat yourself, and perhaps, serves as a reminder that you only live once…probably.