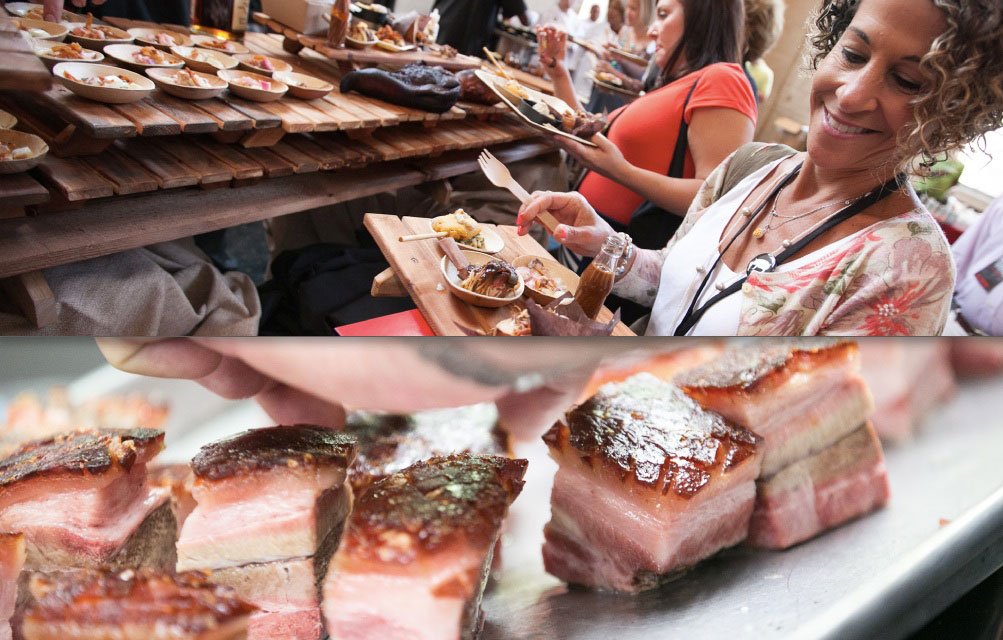 The perfect exclamation point to punctuate summer is a hog-filled culinary blowout, and Cochon 555 is rising to the occasion with a BBQ-themed event at Goose Island's Barrel Warehouse over Labor Day weekend. In line with Cochon 555's annual tour de force of porcine cookery, the organization is making an encore performance to cap off summer and showcase various styles of sustainable BBQ in Chicago.
Heritage BBQ presented by Goose Island Beer Co. launches its five-city BBQ tour in Chicago on August 30, wherein five area chefs get their own whole hog, tasked with infusing their eclectic stylings into the BBQ theme. Vying chefs include Chrissy Camba of Filipino-American Laughing Bird, Carlos Gaytan of French-Mexican Mexique, Abraham Conlon of Macanese Fat Rice, Cary Taylor of honky-tonk Big Star, and Nathan Sears of German-inspired The Radler and D.A.S. Using their respective heritage hogs, each chef cooks up six different dishes for the hordes of hungry pork-lovers. A panel of judges votes on their favorites and crowns the "BBQ King of Queen."
For the VIP experience, guests can opt into the Pilot Light Lounge for a more intimate, food-filled foray. Here, chefs Paul Kahan, Matthias Merges, and Jason Hammel serve up special bites and cocktails, with proceeds benefitting Pilot Light, an organization that provides children with the intel and tools necessary to create a healthy relationship with food.
The BBQ will also feature Goose Island Bourbon County Brand Stout and vintage ales, a pop-up butcher shop with The Butcher & Larder's Rob Levitt, summer citrus cocktails, a bourbon bar, a cheese bar, Crispin ciders, a mezcal bar, and an ice cream social provided by Jeni's Splendid Ice Creams.
Goose Island Barrel Warehouse
603 N. Sacramento Boulevard, Chicago
Website