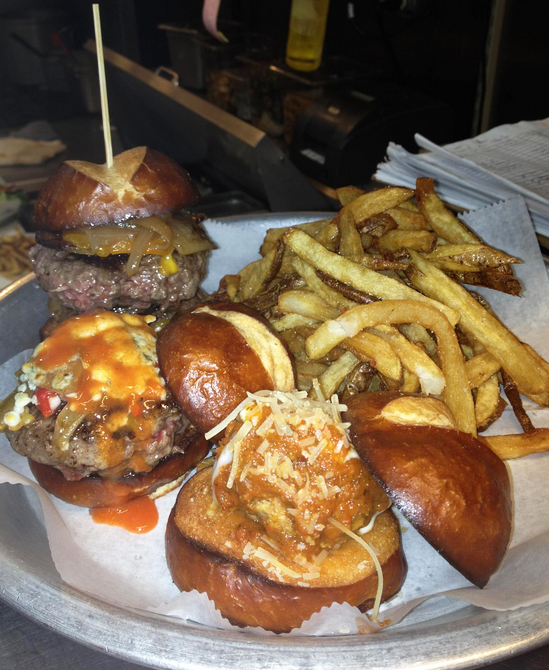 While completing a spirits course at Southern Wine & Spirits Spirit Academy, I was introduced to Lockdown. After class, my friend Tony and I would grab more drinks and a bite to eat switching off who would choose the place. So, after a particularly intoxicating lesson on Cognac, we were both in need of something to soak up a bit of the juice – it's amazing how quickly those sips sneak up on you! And so he took me to Lockdown where I indulged in my first Rueben-hamburger hybrid – I assure you that is not a typo – it is a hamburger on marble rye topped with corn beef, bacon-Guinness sauerkraut, and cheddar cheese, and definitely not for those without a hearty appetite! This type of burger is not the exception, but the rule here. Lockwood's menu boasts a myriad of options – from a standard burger to the one all of my guests commented on: The Fat Elvis. Ever think you would enjoy peanut butter on a hamburger? Well there's a first for everything. And when you meet owner PJ Zonis, these not to be forgotten burgers make a whole lot more sense. I met PJ when we were both guests on a radio show and he is just as colorful as the food he is serving up. His enthusiasm (often expressed via expletives) is contagious, and his energy makes me look like a shrinking violet. This burger joint is a culinary manifestation of his larger than life personality.
Tune in this week to find out what all the hype is about and to meet PJ, see what's cooking at the Kingsbury Street Café next to VIPs strip club, and visit downtown-style restaurant The Portage, tucked away in the heart of quiet neighborhood.
Cheers,
Catherine
Catherine De Orio is the host of Check, Please! Follow her on Twitter @CatCalls and Instagram @catdeorio.