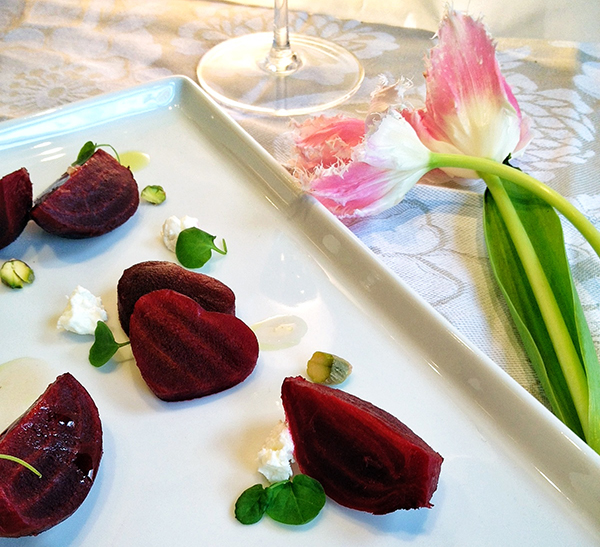 Heart "Beet" Salad
Happy Valentine's Day! I'm sure many of you have big plans tonight. But for those who will be entertaining at home (and hopefully tuning in to a new episode of Check, Please! featuring three of our guests' restaurant picks!), I have a fun and easy seasonal salad recipe to share with you.
YOU MAKE MY HEART "BEET"
Roasted beet, goat cheese and pistachio salad
Serves 4
Ingredients
10 red baby beets, approximately 1 lb.; unpeeled, rinsed and tops trimmed)
4 ounces goat cheese; crumbled
1/4 cup microgreens (watercress, arugula, or mache); rinsed and trimmed
3 Tablespoons pistachios; shelled, toasted, and chopped
2-3 Tablespoons olive oil
Salt
Pepper
Directions:
Preheat the oven to 400. Toss beets with olive oil and season with salt. Place on a baking sheet and roast for 45-50 minutes, or until they can be easily pierced with the tip of a knife. Remove from oven and peel.* Quarter the beets.
Arrange beets and cheese on serving tray or individual plates. Sprinkle with microgreens and pistachios. Drizzle with vinaigrette.
*Kitchen Tip: Using gloves when peeling the beets will prevent your hands from getting stained.
Styling tip: Thinly slice beets and then use a small heart-shaped cookie cutter to cut the beets into hearts.
Pistachio Vinaigrette
Ingredients
3 Tablespoons pistachio oil**
2 Tablespoons freshly squeezed lemon juice
1/4 cup shallots; finely minced
1/2 to 3/4 teaspoon kosher salt
1/4 teaspoon fresh cracked black pepper
**Can be purchased at Williams-Sonoma and amazon.com
Directions:
In a small bowl, combine shallots and lemon juice. Add oil in a slow steady stream, whisking until it is emulsified. Season to taste with salt and pepper.
And that's it! Enjoy!
Have a wonderful weekend!
Cheers,
Catherine