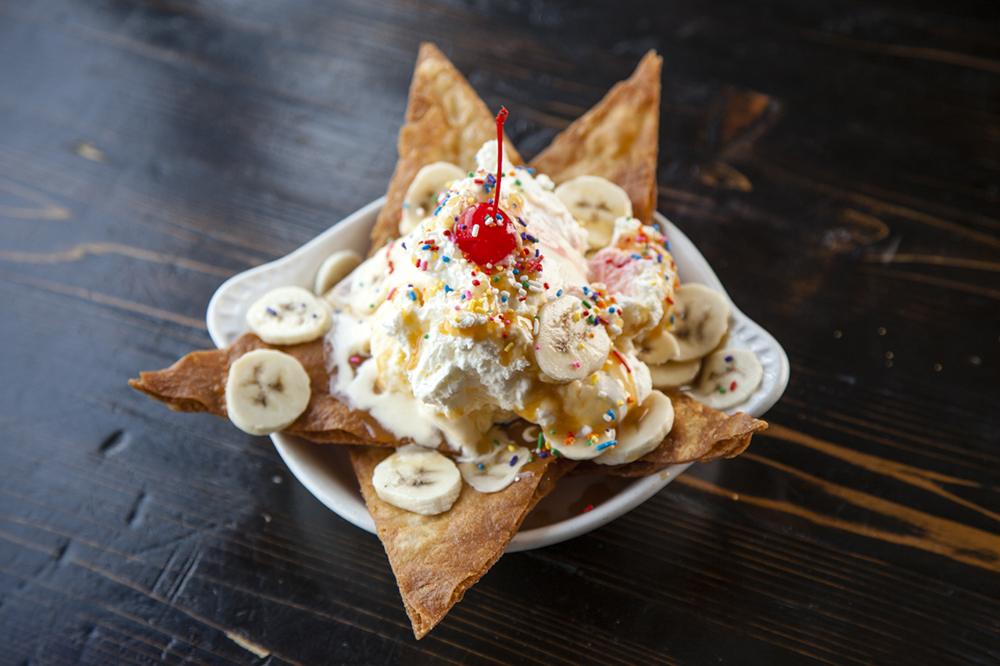 State fairs are one of fall's quintessential traditions, with rides and games and deep-fried foods on sticks aplenty. It's a soulful slice of pure Americana, comforting and fun in every way. But for many Chicagoans, it can be hard to get away from the city and trek to the country. Thankfully, several restaurants in town are embracing the spirit of the state fair by serving up some scrumptious wares that would be right at home at any county fair.
In terms of savory noshes, corn dogs are some of the most essential of state fair fare. It captures the essence of everything fair food is all about: it's deep-fried, it's on a stick, and it's meaty. Reap the rewards of this succulent indulgence at The Publican, which serves maple sausage corn dogs during Sunday brunch. Dunked in waffle batter, these fried breakfast sausages are served with grilled peaches, lemon, and whipped cream. Things take a nautical turn at Old Town Pour House with lobster corn dogs. The saline sausages make for a stellar starter course, adjoined with spicy tarragon mustard sauce. The crown jewel of corn dogs is the foie gras corn dog at Bangers & Lace. It's befitting that a sausage-centric bar would go hog wild with its deep-fried sausages, compiling a French garlic sausage with seared foie gras, and brioche corn bread, serving the heart-stopping behemoth with orange marmalade and brown butter caramel. In non-corn dog news, Big Star's "walking taco" has "state fair" written all over it. Served in a Frito bag, the snack features a gooey miscellany of corn chips, ground pastor, pinto bean dip, queso Chihuahua, chili sauce, and green onions.
When it comes to fair-inspired desserts, you have to go big. Big in the sense of dessert nachos, which you'll feast on at Rockit Burger Bar. This sweet riff on the bar food staple features cinnamon-sugar tortilla chips heaped with vanilla ice cream, fruit, and caramel sauce. The ultimate fair-y dessert is the funnel cake, which can be found at Parson's Chicken & Fish, a Mecca of all things deep-fried and delicious. Parson's version is pretty traditional and heartwarming, emboldened with honey and brown butter sauce. There's always room for a good ol' fashioned banana split too. Get your fix at Graham Elliot Bistro, a homey dessert striated in mason jars with layers of coffee-chocolate sauce, salted pretzels, and caramelized hazelnuts.
The Publican
837 W. Fulton Market, Chicago
(312) 733-9555
Website
Old Town Pour House
1419 N. Wells Street, Chicago
(312) 477-2800
Website
Bangers & Lace
1670 W. Division Street, Chicago
(773) 252-6499
Website
Big Star
1531 N. Damen Avenue, Chicago
(773) 235-4039
Website
Rockit Burger Bar
3700 N. Clark Street, Chicago
(773) 645-4400
Website
Parson's Chicken & Fish
2952 W. Armitage Avenue, Chicago
(773) 384-3333
Website
Graham Elliot Bistro
841 W. Randolph Street, Chicago
(312) 888-2258
Website